'Counting On' Fans Can't Get Over What Derick Dillard Recently Called Jill Duggar on Instagram
The latest season of Counting On may have come to an end, but fans can still easily keep up with their favorite members of the Duggar family via social media. And while family members like Jessa, Jinger, and Joy-Anna, for example, will likely return to our screens in the future, fan-favorite Jill Duggar is unlikely to appear on TLC's television programming ever again. She can thank her controversial husband, Derick Dillard, for that, as his hateful Twitter activity of the past got the two of them removed from Counting On and banned from the network altogether.
That doesn't mean fans are finished with the Dillards, though. Jill and Derick still post all the ins and outs of their lives on Instagram. And recently, Derick gave Jill a nickname that many of his fans couldn't help but notice.
Jill Duggar and Derick Dillard's relationship is under constant scrutiny from fans
They may no longer be on TV, but fans still have majorly polarizing opinions when it comes to how they feel about Jill and Derick. Many assumed there'd be a rift in their marriage after Derick got them both kicked off of TLC's programming. It seems that wasn't the case, however, as Jill has proved time and time again with her many loving posts detailing her relationship that their covenant marriage is still going strong.
While Jill may post photos of her many date nights with Derick, OK! Magazine notes many fans still think their relationship is totally contrived. "It looks forced. Just like your marriage," one fan commented on this Instagram photo of Jill and Derick kissing. Another added, "Sorry, but this is so awkward." And many others have slammed Jill and Derick for their other PDA moments, too, as well as their strange date-night behavior.
Fans noticed Derick gave Jill a colorful nickname on Instagram
Derick doesn't post as much content as Jill does to his own Instagram, especially when it comes to his relationship with his wife. But he did post a sweet birthday message to Jill recently, as she just turned 28. Not only did he wish her a happy birthday, but he also gave her quite the nickname. "Happy birthday to my smoochie darling sweetie sweet muffin baby doll with cinnamon on top @jillmdillard This is where I brought you exactly 5 years ago today, and life with you has just gotten better each day since ;) I love you with all my heart!" he captioned the post.
The nickname didn't go unnoticed by his followers. "That's quite a nickname for her," one of his followers commented, and another added, "The most sickening thing I have ever read. Reads like a 6 year old wrote it." Yet another slammed the extensive nickname by commenting, "if they want to 'have fun' with words like this then they could do so in private. Not online! And LOL, it doesn't seem like it's out of love for her – it's more like he's mocking her."
Is he trying to dispel rumors that he's not actually in love with her?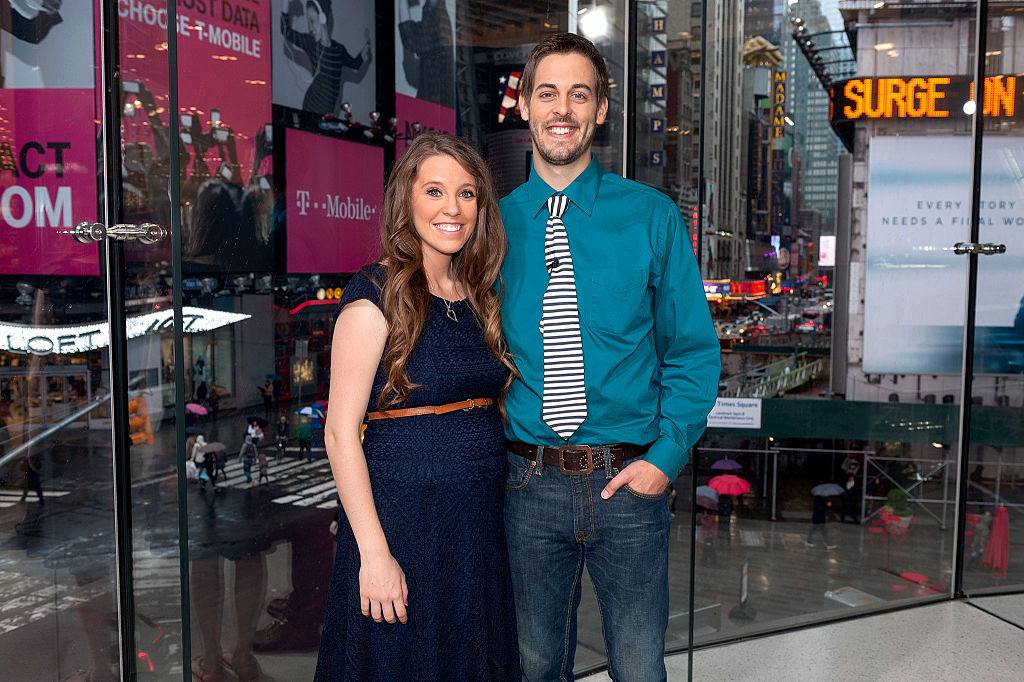 We can't forget that while Derick posted a sweet message to the Dillard Family blog about Jill and his own mom on Mother's Day, he posted a photo of his son to the 'gram instead. To that, fans criticized. "Why don't you post a Happy mothers day post for your wife? I mean she carried YOUR CHILDREN in her body for 9 months, and had to have a C-section (which is a major surgery) for the both of them. Selfish and ungrateful of a husband much? [sic]," one of his followers slammed. Derick then posted about Jill on Instagram after Mother's Day (perhaps to quell fan hate). But is he now attempting to prove his love with this overly-sappy post?
We're not so sure what the goal was here with the nickname, but the two certainly seem happy and secure in their marriage no matter what fans have to say. Maybe we'll see Derick posting more loving photos with Jill in the future.
Check out The Cheat Sheet on Facebook!