'Counting On': Fans Slam Jill Duggar For Not Paying Attention to Her Children
Jill Duggar loves taking photos and videos of her kids. Recently, the majority of her Instagram posts have centered around her two young sons, Israel and Samuel. Now that Derick Dillard is in law school, Duggar has plenty of time to spend at home with her two boys. But a recent photo has some fans suggesting she isn't paying enough attention to her little ones.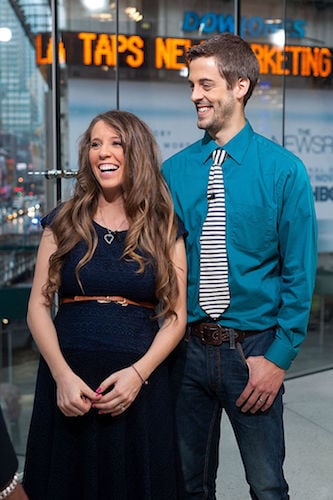 Duggar loves to post her sons to social media
Anyone who follows Duggar on Instagram knows that she pays a lot of attention to her two kids. Recently, she's been focusing a lot on her sons on social media, since she spends so much time at home with them. Duggar is a stay-at-home mom who homeschools the boys, so she spends nearly every waking moment with them — especially while her husband studies hard to earn his law degree. Plus, some have noticed that Duggar doesn't appear to be spending much time with the other members of the Duggar family (it's unclear if there was some sort of falling out), which could explain why she has held her kids so close to her lately.
One post showed the boys using charcoal as chalk
Duggar recently posted a photo and video of her sons making a mess on her patio with charcoal. According to the post, she turned her back from the boys for "like 3.2 seconds," and suddenly, they'd had a field day with old charcoal from the grill. The boys decided to draw designs on the couple's patio, and Duggar couldn't believe what had happened in the short amount of time she was gone. The family just recently built a brand new home, though it didn't take long for Duggar's sons to have a little too much fun.
Some fans called Duggar out for ignoring her kids
Though Duggar seemed to laugh at the fact that her kids essentially destroyed her patio (the charcoal will likely come right off with a bit of water), not everyone on Instagram saw the humor in her post. In fact, it seemed to trigger the idea that Duggar was wrong for losing track of what her children were doing. "It isn't [kids will be kids]. It's [mommy isn't watching kids]. That took way more than a few seconds to accomplish," one user wrote, suggesting that Duggar must have left the children unattended for quite some time in order for them to have made such a mess on the patio. The comment received nearly 30 likes, suggesting others agreed that Dillard should have been paying closer attention to the boys.
Many people came to her defense, saying their own kids do the same
Although some were not pleased with Dillard's parenting, others chimed in to show their support and suggest that similar things have happened to them, too. "My two are the same way!" one user wrote. "I have [two] and they do the same," someone else added. "My boys do this all the time," another person said. It's clear that Duggar isn't the only mother who loses control of her kids sometimes. After all, that's what navigating parenting is all about — learning from your mistakes (i.e. don't leave the kids on the patio for more than a few seconds).