'Counting On' Fans Slam Joy-Anna Duggar and Lauren Swanson for Capitalizing on Their Heartbreaking Losses
Counting On fans know that the Duggars take a lot of heat on social media, and most of the criticism is leveled against the family's ultra-conservative views and strict rules. Some of the backlash they get is rightfully earned and other times there is no rhyme or reason to the negativity. But their latest misstep on social media has created a lot of division amongst Counting On fans, and it has everything to do with how Joy-Anna Duggar and Lauren Swanson mourned their tragic miscarriages.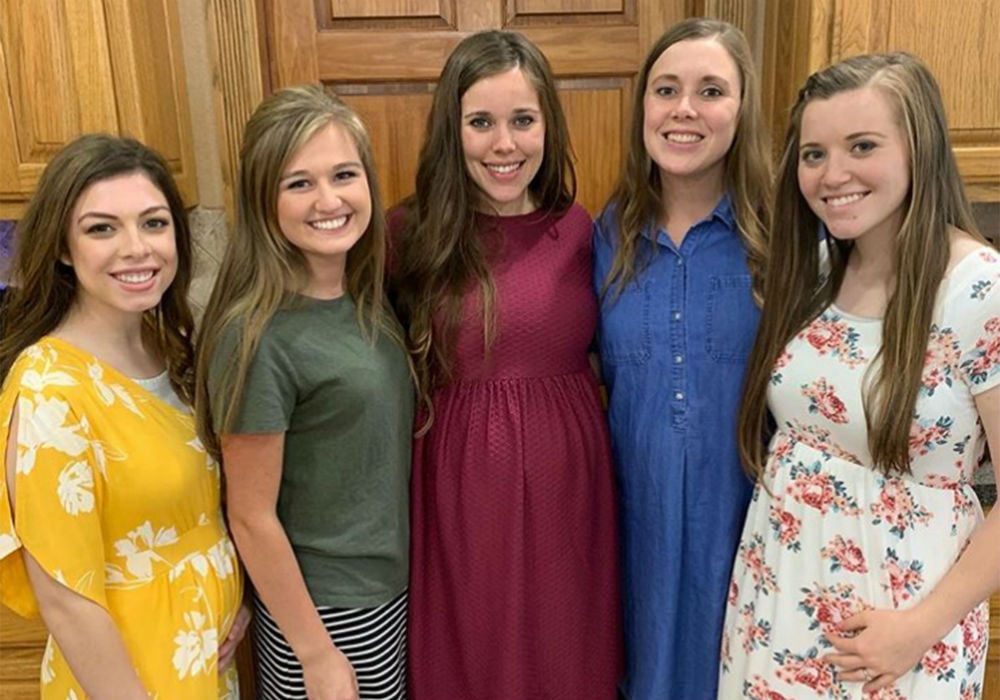 Joy-Anna and Lauren suffer miscarriages
This past year has seen more Duggar women pregnant than ever before. The pregnancy boom is not surprising given how one of the family's main goals is procreation.
While the Duggars are celebrating the expansion of their family, there has been some heartbreak along the way. Early this year, Lauren Swanson and her husband, Josiah Duggar, experienced a painful miscarriage. This summer, Joy-Anna suffered the same fate with her husband, Austin Forsyth.
Both of the Counting On stars were completely shattered by the news and have yet to fully get over the loss. Joy-Anna, for instance, left her cousin's recent baby shower because her emotions were getting the better of her.
Despite the loss, both Lauren Swanson and Joy-Anna have been open about their miscarriages on social media. Last week, Joy-Anna shared a photo of a necklace that bore her daughter's name, Annabell Elise. The item was a gift from her sister-in-law, and Joy-Anna told fans that she's lucky to have such a great family.
Swanson has also been vocal about her miscarriage on social media. But now that she is pregnant once again, it appears as though she is finally turning over a new leaf.
Although it has been interesting to see their reactions on social media, not everyone has been positive about their openness.
'Counting On' fans blast Joy-Anna Duggar and Lauren Swanson
According to The Hollywood Gossip, some Counting On fans recently accused Joy-Anna and Swanson of using their miscarriages as a way to increase their following on social media. A few even believe that Swanson has been posting on her husband's behalf to make it look like she is a great mom.
"Then, on mother's day, Josiah posted to Lauren (or so the account claims, the word choices are oddly similar to what Lauren would write but whatever) about how it's her first Mothers Day and how he wishes her baby could have experienced how great of a mom she could be," one fan shared.
Given the sensitive nature of what happened to Joy-Anna and Lauren, it is difficult to say that they are using their respective losses to gain followers.
Other members of the Duggar family seem to be taking notice of what's going on. This could be one reason why Amy Duggar has been so secretive about her pregnancy, though we cannot say for sure.
A fan recently asked Amy if her delivery will be featured on the new season of Counting On. Although fans would love to see Amy at the hospital, she revealed that it will be a private event.
What's ahead on 'Counting On'
Speaking of losses, the new season of Counting On will feature Swanson and Josiah opening up about their heartbreaking miscarriage.
Taking to Instagram, the couple revealed that they wanted to remain silent about what happened but decided to reveal the truth because they knew Counting On fans would ask questions.
They also noted that they understand what others experience during a miscarriage and that they are not alone in their suffering.
Joy-Anna Duggar and Lauren Swanson have not commented on the backlash they have received from fans. It is unclear if Joy-Anna will try to have another child, though it is likely that she and Forsyth will try again.
The couple currently has one child, a son named Gideon Martyn Forsyth. The two announced their pregnancy at the beginning of May and found out about the miscarriage two months later. Doctors broke the news on the same day Joy-Anna and Forsyth decided to name her Annabell.
Josiah and Lauren, meanwhile, are now expecting their first child. The pair tied the knot last summer and are due to welcome their baby in a few months. No word yet on if the birth will be featured on the show.
The new season of Counting On premieres October 15 on TLC.