'Counting On': Fans Speculate That This One Thing Might Mean Jedidiah Duggar Is Courting
The Duggar family of TLC's 19 Kids and Counting and Counting On is known for keeping their single adult children off social media, for the most part. Most of the Duggar kids haven't gotten their own Instagram and Twitter accounts until engagement and marriage.
That's why Jedidiah Duggar, a Counting On cast member and twin to Jeremiah Duggar, is sparking courtship rumors with his latest move.
The 20-year-old hasn't been in the public eye much on the show, but he recently shared what he's looking for in a future wife. He also got his own Instagram account, causing fans to speculate about possible wedding bells for Jed.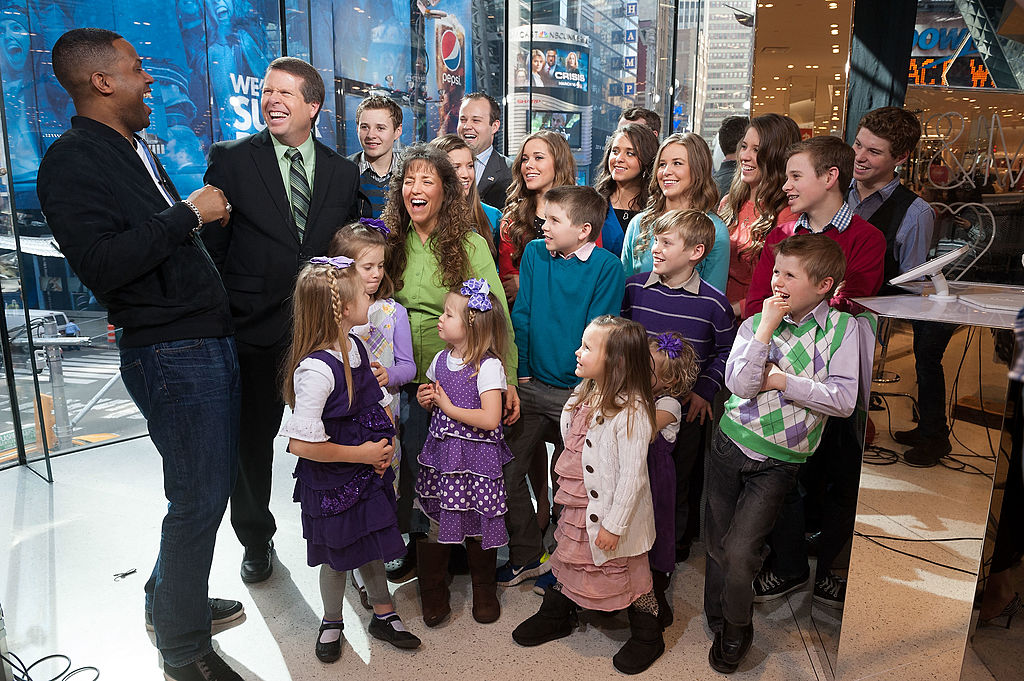 The 'Counting On' star recently got his own Instagram account
Jedidiah Duggar posted on Instagram for the first time on Oct. 26 on his brand-new personal account.
Sharing a photo with his brother and two friends, he wrote about 7 Brew Coffee, a new shop down the road from him in Lowell, Arkansas. He also posted an Instagram story of the massive down-the-block line. Jill Duggar Dillard's husband Derick Dillard replied, "We got ours this evening!"
Jed's second post was a birthday message to his sister, Joy-Anna Duggar Forsyth, now married to Austin Forsyth.
The 20-year-old Counting On cast member wrote to his now 22-year-old sister on Oct. 28, "Happy birthday, Joy! I'm really grateful for your friendship. Thanks for being patient with all of us younger brothers growing up! It's so fun to see you now as a wife and mother. Love you very much! Let's eat some cake!"
Jed follows conservative public figures and family members
Jedidiah Duggar has over 3,000 followers and follows just 29 Instagram accounts, as of Oct. 28. The accounts he follows seem to fall in line with the family's publicly stated religious and political views.
Jed follows President Donald Trump, Fox News, the National Rifle Association (NRA), Vice President Mike Pence, the Republican Party, and Governor Mike Huckabee, as well as local Arkansas organizations like Arkansas Tourism and the Arkansas Razorbacks.
He also follows several members of the Duggar family, such as Jessa Duggar Seewald's husband Ben Seewald, Josh Duggar's wife Anna Duggar, and Jinger Duggar Vuolo's husband Jeremy Vuolo. Additionally, Jed follows several members of the Bates family, the Duggars' close friends who share many of their views.
Fans think Jedidiah might be officially courting
Jed first sparked courtship rumors when mother Michelle Duggar shared a photo and flattering caption of him back in August.
"Jed, thank you so much!! He bought me this sign as a gift from the Tontitown Grape Festival. Such a tender-hearted guy!" the Duggar matriarch wrote next to a photo of herself with Jedidiah.
Since he hadn't been featured on many episodes of Counting On or the Duggar Instagram previously, fans on Reddit and elsewhere speculated that he might be courting or looking to court. What's more, it was once rumored that Jedidiah showed romantic interest in Kendra Caldwell before she eventually married his brother Joseph.
Now, some Counting On fans believe that Jed might be looking more seriously for a partner or might be courting already. "Welcome to insta! Why did you decide to join? Courtship?" one commenter wrote under Jedidiah's first Instagram post.
The 20-year-old recently shared what he's looking for in a future wife
The Counting On star also shared what he's looking for in a future bride on a recent episode. In addition to saying that he'd like to be part of a "team" with his wife, he also shared that he wanted to find a partner who shared his religious views.
"Well, my dream girl is gonna be somebody that loves the Lord and is very respectful to her parents," Jedidiah said to his brothers.
Although there are some hints that Jedidiah might be the next Duggar to enter into an official courtship, 29-year-old Jana Duggar also has her own Instagram account and doesn't appear to be courting yet. Still, Jed's twin brother Jeremiah hasn't entered the realm of social media, so it's possible that the courtship rumors might carry some weight.