'Counting On' Fans Think There's Something Dark About Jinger Duggar and Jeremy Vuolo's Marriage
Jinger Duggar and Jeremy Vuolo just celebrated their three-year anniversary. The two have quickly become some of Counting On fans' favorite cast members; their Los Angeles life puts them on a far different path from most of Duggar's family members. However, some still think that there is something darker going on behind the scenes of this charming couple.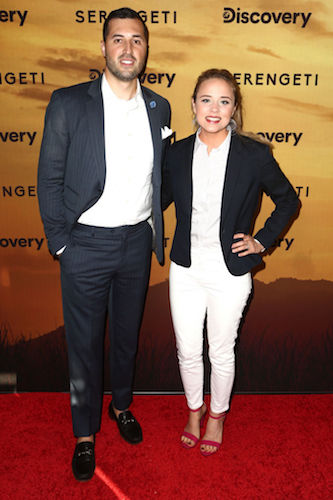 Duggar and Vuolo recently celebrated their three-year anniversary
Duggar and Vuolo met unconventionally; they were introduced through Jessa Duggar and Ben Seewald, and they seemingly hit it off right away. Jim Bob Duggar gave his blessing for their courtship, and soon enough, they were married. Since then, they've welcomed one daughter together and have been doing things far differently than Duggars' other family members. Since marrying Vuolo, Duggar has started to express herself a bit more; she wears tank tops and shorts now, and she recently dyed her hair blonde. Plus, it appears the two do believe in birth control, since they've only welcomed one baby in their three-year marriage.
A few things about their relationship have been off-putting to fans
Though some fans adore Duggar and Vuolo, others aren't as convinced that Vuolo gives her the freedom she should have. In the past, fans have picked out a few things about the couple's relationship that seemed a bit off-putting. Vuolo once admitted that he tells Duggar whenever he has temping thoughts about other women — something fans feel isn't appropriate to do to her. Also, in Duggar's Instagram profile, all of her business inquiries are directed toward Vuolo's email rather than her own; some see that as intrusive and overbearing.
Some think that Vuolo makes Duggar feel extremely insecure in the marriage
Fans have voiced their concerns regarding the roles in Duggar and Vuolo's marriage; some worry that Duggar's actions reflect insecurity rather than freedom. Reddit users discussed the couple's relationship in a thread, and people seemed to all come to a similar conclusion.
"My hunch is that she feels insecure [and] like she's not keeping Jeremy's attention," one Reddit user wrote. "If my husband told me he needed me to prevent him from the temptation of cheating on me with other women I'd probably feel insecure too. Jeremy is [expletive] trash," another person added, referring to Vuolo's openness about his temptations. "… This blonde hair makes me wonder if Jeremy is into blondes and trying to mold her into his ideal," someone else said.
The two don't appear to outwardly have a lack of love
Though fans have their hunches, Duggar and Vuolo don't seem to have a bad a relationship. He posts loving photos of his wife, and in their three-year anniversary post, he said that the past three years with Duggar "have been the greatest of my life." Fans will always have theories about what goes on behind the scenes in relationships, but from what we can tell, both of them seem extremely happy. It almost seems that Duggar always wanted a life with a bit more freedom, and Vuolo has given her that. The two definitely appear to have genuine love for each other.