'Counting On' Fans Think This is Why the Duggars Marry So Young
The Duggar family is one of the largest families in the United States, and they definitely don't play by typical, modern-day rules. The family is very religious, but the most interesting thing about them might be how quickly they get married. They have short courtships, short engagements, and wed very young. But why?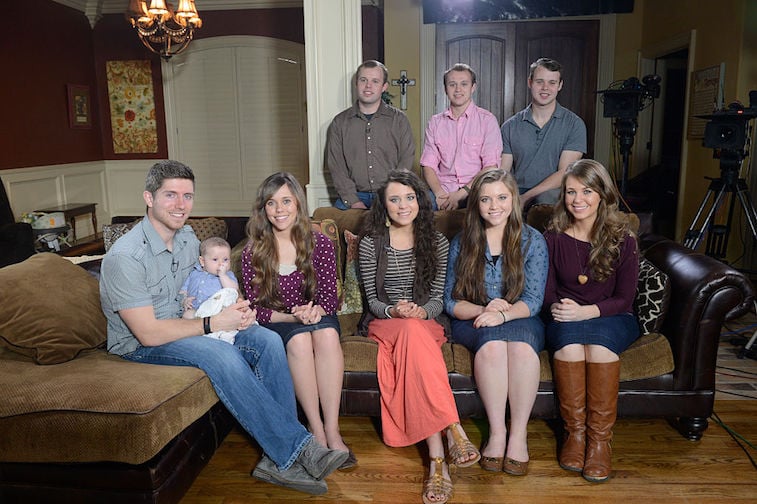 The Duggars are very religious
This family of 21 is not your average family for several reasons. First and foremost, they're one of America's largest families. The parents, Michelle and Jim Bob Duggar, have 19 biological children, all of whom were birthed naturally and without any epidural. We give Michelle props for that. They also adopted Michelle's niece's child, giving them a total of 20 kids. They had so many children because the family doesn't believe in birth control. The family believes that the number of children they have is up to God, so they don't do anything to prevent pregnancy. Now, their kids are having kids, too; Josh Duggar and his wife, Anna, have five children and one on the way. Jessa Duggar and her husband, Ben Seewald, just welcomed their third child; Jessa is only 26.
In the Duggars' eyes, women are made to bear children
The Duggars live their lives very traditionally. The women bare the children and care for them while the husbands work. The Duggars don't go to college or play sports; they practice their religion, and that is essentially what they each dedicate their lives to. The family believes that in God's eyes, women were created to reproduce, which is one reason why people think they marry at such a young age. However, fans of the show feel that there is a more promiscuous reason as to why the Duggars are always so eager to marry the people they court.
Some fans think the Duggars' 'urges' prompt quick weddings
Fans have several theories about why the family gets married so young, but the main reason they think so is because of the Duggars' "urges." Fans have the idea that since the Duggars can't experience any level of intimacy before marriage (they're only allowed to give side hugs), it only makes them want to explore that intimacy even more. And once they meet someone they click with, those urges only persist. While the Duggars have never admitted to that, it would explain why some of them get married before they even leave their teenage years.
Some Duggars' courtships have lasted less than one month  
The older Duggars courted for longer than the younger Duggars. Josh and Anna courted for nearly two years before they tied the knot. And Jessa and Ben courted for nearly 10 months before they were ready to get married. However, the Duggars who were married later have courted for much less time. Jinger Duggar and Jeremy Vuolo only courted for about a month, and the same goes for John Duggar and Abbie Burnett. Joy Anna wed her husband when she was only 19, and Kendra Caldwell was also only a teenager when she and Joseph Duggar wed.
Check out Showbiz Cheat Sheet on Facebook!