'Counting On': Is Anna Duggar Self-Conscious of Her Marriage to Josh Duggar?
Josh and Anna Duggar's marriage problems were widely publicized back in 2015, when her husband's sexual abuse scandal from the early 2000s was brought to light. Around the same time, Josh Duggar admitted to having Ashley Madison profiles and being unfaithful to his wife. He also admitted to a pornography addiction. For the next two years, Anna and Josh worked hard to fix their marriage — as faithful Christians, they don't believe in divorce. But Anna continues to show signs that she's self-conscious of her marriage to Josh.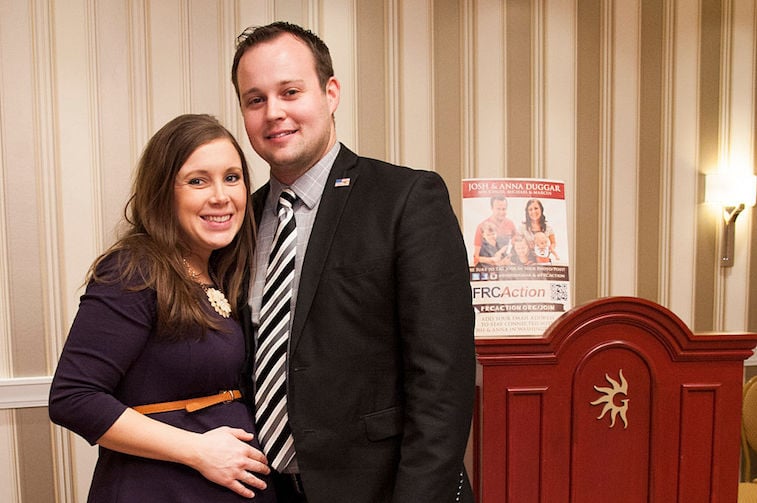 Josh's sexual abuse scandal and cheating was leaked in 2015
2015 was a devastating year for Anna Duggar. Josh and Anna had been married for about seven years when the media broke the story that Josh had sexually abused several girls as a minor back in the early 2000s; some of the abused were his own family. The problem had been swept under the rug by his parents when the family earned reality show fame, but something like that could only stay a secret for so long. In 2015, InTouch Weekly released the story. But that wasn't all Anna had to go through. Around the same time, Josh also admitted to having more than one Ashley Madison account (Ashley Madison is a website to set up extramarital affairs) and to cheating on his wife. 
The couple spent two years trying to rebuild their marriage
It wasn't easy for Josh and Anna to overcome what had happened. 19 Kids and Counting was canceled as a result of the leaked sexual abuse, and a new show was created: Counting On, which focused on the other Duggar children. Josh and Anna retreated from the spotlight in an effort to work on their marriage. Since they are both so religious, they do not believe in divorce.
The two worked to rebuild what Josh had torn down. Then, in 2017, Anna announced another pregnancy. "For nearly the last two years, we have quietly worked to save our marriage," they wrote in their pregnancy announcement. "Beauty comes from ashes and we cannot wait to see and kiss the face of this sweet new boy!"
Anna has subtly shown that she's self-conscious of her marriage to Josh
Though Anna and Josh have tried to move on from everything that happened, Anna has subtly made it clear that it hasn't been easy to forget. In her anniversary post to Josh, she mentioned "the shadows of sorrow we've walked through," referring to that difficult year. The comments on their anniversary post were limited, as though Anna knew people would be negative. Anna has chosen to limit the comments on all of her posts, too, which is a move often done by people who are trying to prevent negativity. Despite seeming like she's moved on from all that happened, it's clear she still cares what people think of her decision to stay with her husband.
Some have rooted for the couple, while others still question how she stayed with him
The opinions about Josh and Anna's marriage differ among many people. Those who are deeply rooted in faith often root for her and are happy to see that she made it past the troubles with God's help. But others can't help but question how she could have stayed with someone like Josh. In the end, though, it was Anna's decision to make things work with him, so if she's happy, then it is what it is.