'Counting On': Jessa Duggar Clapped Back at a Follower Who Questioned What She Does for a Living
The Duggars have been featured on television for years, and fans have made it clear that they have favorites amongst Michelle and Jim Bob's 19 children. And one Duggar we've been keeping up with for years is Jessa. Jessa now has three children with husband Ben Seewald, but fans remember when she used to help all of her younger siblings out in the big family home on 19 Kids and Counting. While her life looks a lot different now that she's well into adulthood, we're still glad we get to see what she's up to on social media.
Most of Jessa's followers are supportive of her and her life, but every once in awhile, she has a witty response to someone who questions what she does in her life. Here's what she just said to a follower who attempted to troll her social media.
Jessa Duggar is posting less to Instagram due to her busy home life
While Jessa is certainly a fan favorite, her social media presence has changed quite a bit over the last few months. Fans adore seeing her husband and kids on her Instagram, of course. But since having her newborn daughter, Ivy, her followers have wondered where she's been — and if she's OK.
As fans grew concerned that something happened to Jessa after a month-long social media absence, it was the Duggar family who addressed the situation and reassured everyone that the Duggar daughter was just fine. "She's doing great! Busy taking care of her little ones!" the Duggar Family Instagram responded to a comment on this post of Ben Seewald and his and Jessa's son, Spurgeon, riding on a carousel. And since that post, it seems Jessa has made more of an effort to prove to her followers that she's doing just fine by making posts about Ben and their three kids.
A follower just questioned what she does for a living
Jessa's back on the 'gram, and she's been posting a lot of her kids and husband as of late. Of course, being back on social media means her followers who troll her are willing to take a stab at her latest content. And recently, it was a post of Ben that got a ton of attention. She added this photo of her husband with a very well-groomed mustache — and in the caption, she used the Declaration of Independence as a guide for talking about his facial hair.
"When in the course of human events it becomes necessary for one person to dissolve the beard— keep the 'stache, at least for a day or two," she started the post. And while most of her followers thought her writing was funny and brilliant, a few others had less pleasant responses. "What exactly do u do for a job?" was one of the top comments.
Here's her brilliant response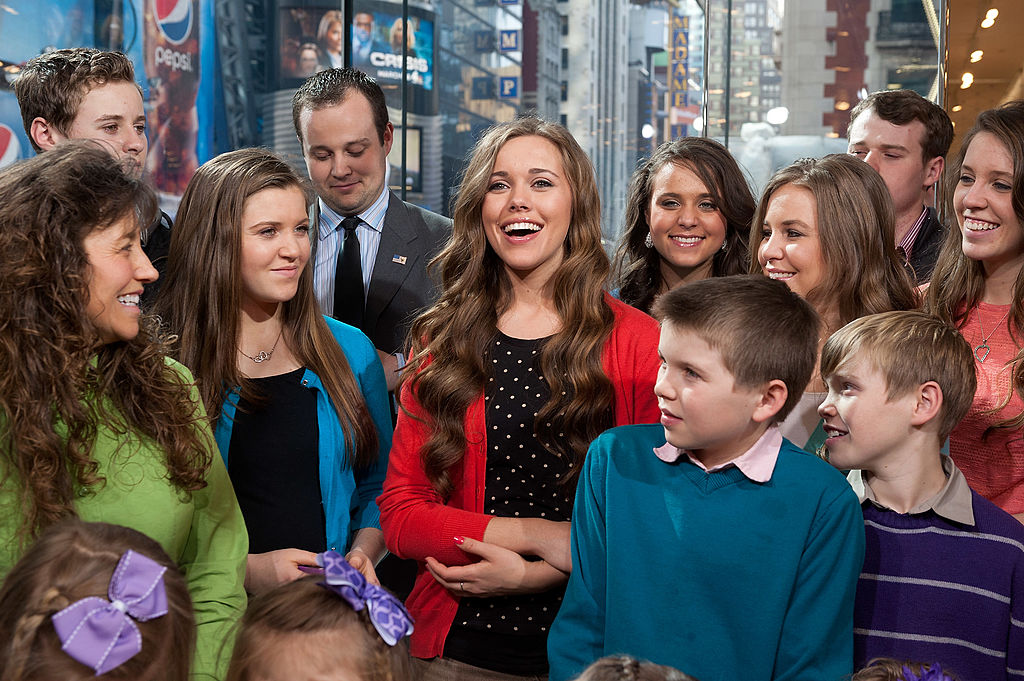 Jessa's no stranger to clapping back at those who troll her, and she seemingly always has a witty way of letting everyone know she's aware of the negative commentary that occurs on her 'gram. When the follower questioned what she does for a living, she wrote back, "I'm currently caring for 3 kids 3 and under. 24/7, 365. Still gotta work on sick days, and vacations too for that matter. It's hard work, but so rewarding. Honestly though, I feel so blessed to be able to stay at home with them! I know not every mother has that opportunity."
Fans loved Jessa's subtle way of shutting down the hate, too. As one follower commented on the thread, "Oh Jessa, you are so nice to answer that very tacky question." And another wrote, "Staying home with your kids is a full time job. Good for you for being able to do it."
The subtle shade on her 'gram has never gotten Jessa down before, so we're sure she'll continue posting no matter what. Keep on keepin' on, Jessa!
Check out Showbiz Cheat Sheet on Facebook!