'Counting On': Jill Duggar Appears Annoyed That Derick Dillard Brought Up Pregnancy Questions on Instagram Live
While we were first introduced to the Duggar family years ago via TLC's 19 Kids and Counting, they're still managing to steal the spotlight today with Counting On. Fans remain divided on who their favorite members of the family are — but there's no doubt Jill Duggar and her husband, Derick Dillard, are often talked about. Duggar and Dillard are no longer featured on Counting On due to Dillard's homophobic and transphobic tweets of the past, but they still have a hefty following on Instagram.
Recently, Duggar and Dillard made a rare appearance on Instagram Live — and Dillard brought up a pregnancy question a fan had for Duggar. She didn't look too happy about it, though — and fans noticed.
Derick Dillard and Jill Duggar have stated they want as many kids as possible
The Duggar family absolutely loves kids, and Jill Duggar and Derick Dillard are no different. They currently have two sons of their own and have stated in the past that they'd absolutely adore having more children if it's in God's plan. Duggar told ABC News all the way back in 2014, "Both of us want as many kids as God will give us and we've talked about adoption. My parents have kept popping them out so we'll see how [our] fertility is!"
Duggar and Dillard's youngest son is 2 years old at this point, so fans are starting to wonder when the couple will announce they're expecting another child, too. Since the two recently moved into a new home, some believe this was their way of making room for a bigger family as well. And eagle-eyed fans have also recently questioned if Duggar has been hiding a baby bump under all of her oversized clothes.
Some think Jill Duggar can no longer get pregnant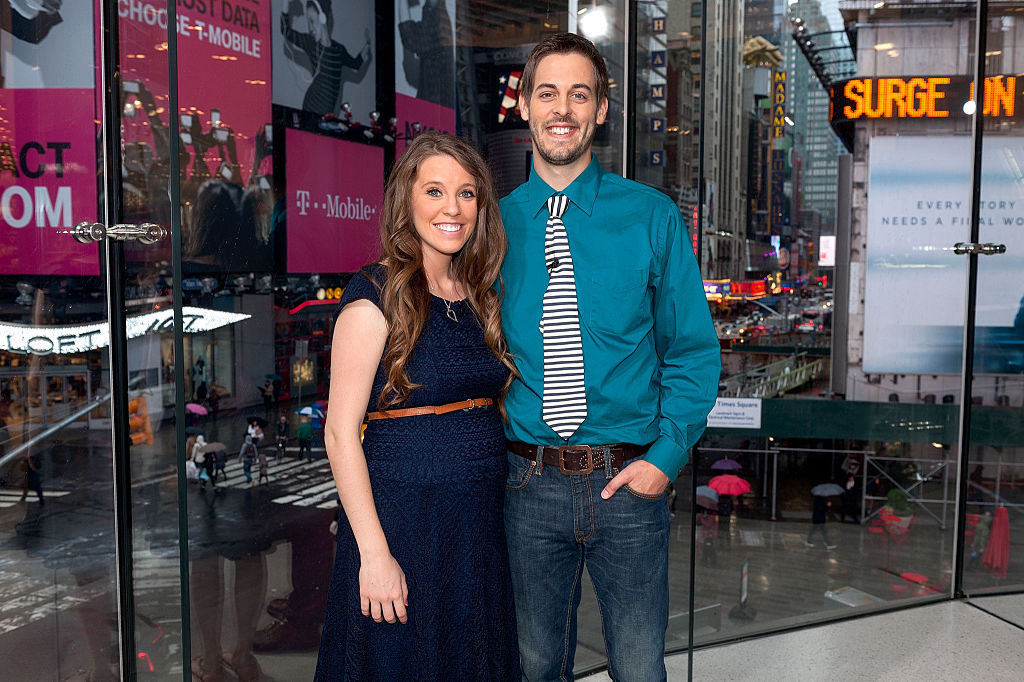 While Duggar and Dillard have said before that they can't wait to have more kids, many are starting to wonder if Duggar can even have more children in the first place. In Touch Weekly notes Duggar's first two pregnancies were extremely difficult, as she's already been rushed to the hospital for emergency C-sections in the past. As one Reddit user commented, "It seems like she has a very difficult time bearing children. I'm not a doctor so I'm not sure what the prognosis is regarding future pregnancies when you've already had two cesarean sections."
Other Reddit users recommended that if Duggar could get pregnant again, it'd be paramount for her to have a "qualified physician supervise her pregnancy the whole way through instead of just showing up at the ER after laboring at home for three days." Another Reddit user added that even with her traumatic previous births, Duggar will probably try again. "I'd say that unless she had some major complications that resulted in her literally not being able to get pregnant again (such as an emergency hysterectomy), she will have more children via c-section."
Fans noticed how annoyed Duggar looks with Dillard when he mentions pregnancy in a recent video
Duggar and Dillard recently went on Instagram live with Duggar as she was cooking dinner — and Dillard made a surprising comment about pregnancy. TV Shows Ace notes when Dillard echoed a fan comment to Duggar asking if she was pregnant, she quickly responded, "No." Dillard then added, "Jill's not pregnant. We're not gonna be pregnant this year." Duggar then looked at her husband surprisingly and later questioned, "We aren't gonna have a baby or we're not gonna get pregnant?" To that, Dillard added, "We're definitely not having a baby this year. That's biologically, pretty close to impossible."
The entire conversation appeared quite awkward, and as soon as Duggar could change the subject back to cooking, she did. Fans noticed she looked ultra uncomfortable during the interaction, too. "The way she looked when asked if she was pregnant either meant 'no but well thanks for saying I have a belly' or 'wow yes but I'm nowhere near sharing so no!'" one Reddit user said. And another added, "For all her talk about 'best hubby ever,' most of the times we see her unscripted, she's annoyed with him."
Will Derick and Dillard plan to have another baby in the future? Only time will tell — though it looks like no new Dillard children will arrive in 2019.
Check out Showbiz Cheat Sheet on Facebook!