'Counting On': Jim Bob Duggar Seemingly Avoids Josh Duggar as Homeland Security Refuses to Comment on Raid
Counting On star Jim Bob Duggar is giving his oldest son, Josh Duggar, the cold shoulder. Josh made headlines after his business was reportedly raided by the Department of Homeland Security, dragging the Duggars into yet another scandal. And during a recent outing, Jim Bob seemingly avoided Josh, sparking rumors that he has finally had enough with the disgraced 19 Kids and Counting star.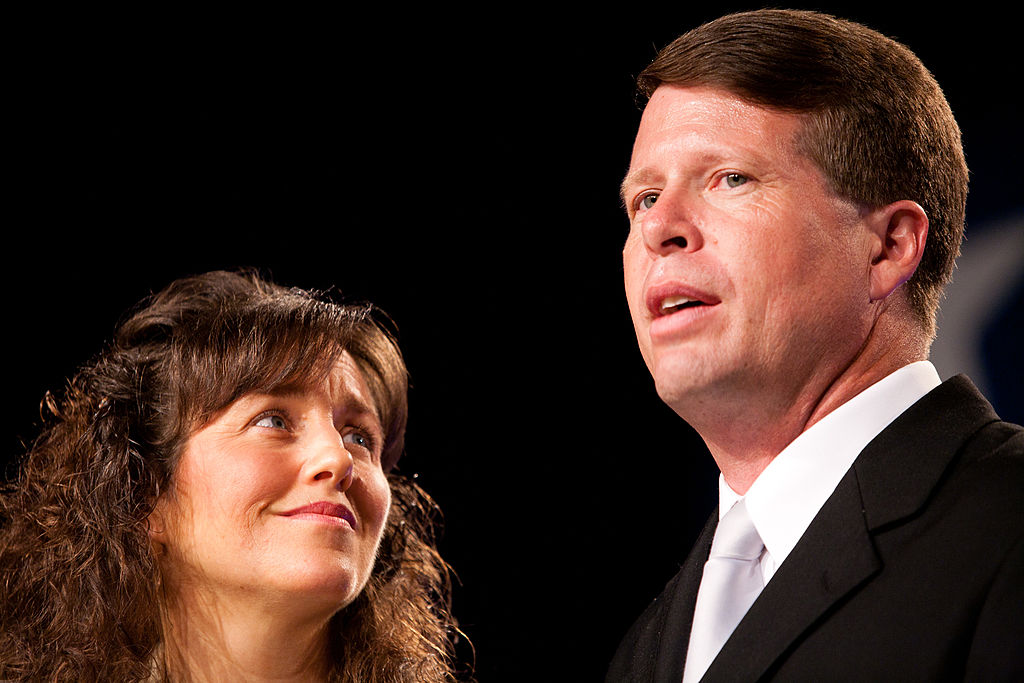 Are Jim Bob and Josh avoiding each other?
The Duggars recently enjoyed a family trip to Branson, Missouri, where they went to a theme park called Silver Dollar City. Eyewitnesses claim that it looked like Jim Bob Duggar and Josh were avoiding each other throughout the trip.
"They seemed like they were trying to distance themselves," the source shared. "We saw Jana off with a female friend, Josh and Anna were by themselves watching their kids go on rides, and then Jim Bob and Michelle were on their own with a little one too."
According to In Touch Weekly, the insider added that Josh and his wife stuck with their little ones all day long, and that he seemed like he was spacing out a lot. At no point did the source spot Jim Bob and Josh together, which is very interesting given what recently happened.
Jim Bob has not commented on the trip to Silver Dollar City, so it is difficult to say if he was avoiding Josh or not. But if Jim Bob Duggar is keeping his distance, it probably has something to do with Josh's rumored investigation.
After all, Josh has already embarrassed the family with multiple scandals and Jim Bob will likely do everything in his power to avoid another one.
Are Josh and Anna rattled?
Earlier this month, reports surfaced that Homeland Security agents had visited one of Josh's businesses in Northwest Arkansas. We have no idea why DHS agents are interested in Josh, but the alleged raid may have rattled the couple.
The eyewitness claims that Josh and Anna were acting weird around their kids at the amusement park and did not seem like they were engaged with the world around them.
At one point, Anna lost track of one of her children and looked like she was headed for a nervous breakdown.
"Josh and Anna were sitting on the asphalt within the park while their kids ran around from ride to ride. It was so weird that they were a bit far from their kids, but all of a sudden Anna was looking really frantic," the insider stated.
Luckily, Jim Bob Duggar found the little one on a ride and quickly informed Anna. The source noted that Anna looked visibly relieved after she talked with her father-in-law, which suggests the two sides of the family are at least somewhat talking to each other.
Jim Bob Duggar releases statement on the investigation
In light of the reports about the investigation, Jim Bob issued a statement online denying that the raid ever took place.
The Counting On star said that none of the members of his family are currently under investigation and that a raid on Josh's business never happened. He also admitted that he usually does not respond to rumors, but the serious nature of the reports made it necessary to reply.
While Jim Bob Duggar is refuting the claims, a spokesperson for the DHS refused to deny that they raided Josh's place of employment. The FBI, however, has issued a statement refuting their involvement in the matter.
"[I do not dispute the information that] HSI was present there [Duggar home] pursuant to an ongoing federal criminal investigation," the spokesperson shared.
The agency deals with an array of criminal activities, so it is difficult to say why they are interested in the Duggars. This includes looking into financial crimes, fraud, human trafficking, immigration, and smuggling.
Inside Josh's history of scandals
This is hardly the first time Josh has been in the hot seat. Back in 2015, reports surfaced that Josh had molested underage girls when he was a teenager. Even worse, four of his victims were his own sisters.
The scandal led to the cancellation of 19 Kids and Counting. Although the family has recovered from the controversy in the past few years, Josh has never appeared on the spin-off, Counting On. Despite rumors that Jim Bob Duggar went to TLC to try to get him back on camera.
That same year, Josh confessed that he cheated on Anna on several occasions. His admission came after the website, Ashley Madison, was hacked. He also revealed that he was addicted to pornography and was planning on going to rehab to address his sexual issues.
Despite everything Josh did, Anna has stuck by his side. In fact, they are now getting ready for the birth of their sixth child and just celebrated 11 years of marriage.
Neither Josh nor Jim Bob Duggar have updated fans on the rumored investigation since the official statement.
Catch up with the Duggar family when Counting On airs Tuesday nights on TLC.