'Counting On' Fans Can't Help But Notice How Different Jinger Duggar Acts Around Her Family
Jinger Duggar, who has earned a reputation as the most modern Duggar in the family, recently welcomed a ton of family members to check out her new California home. Though the visit was probably very exciting for Jinger and her husband Jeremy Vuolo, fans couldn't help but notice that Jinger seemed to act more reserved around the Duggars than she does around her husband and daughter.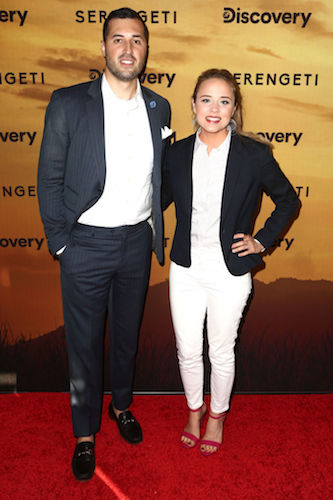 Jinger's family made a cross-country trip to come see her
Earlier this summer, Jinger moved out to California with Jeremy and Felicity, her husband and daughter. Jeremy enrolled in graduate classes in Los Angeles, so the family picked up the lives they had built in Laredo, Texas and headed west. Now, Jinger is much farther away from her family, but it doesn't mean she isn't close with them anymore. In fact, the Duggars took a massive, cross-country road trip to come visit the Vuolos. They stopped at the Grand Canyon for a few days, then continued on to meet Jinger in California.  
The Duggars had plenty of time to bond with one another
During the trip, Jinger seemed excited to have everyone spend some quality time with her family — especially Felicity. Anna and Josh Duggar's children were on the trip, as were some of Jinger's younger siblings, and everyone gave Felicity plenty of attention. It also gave the older Duggars some quality time; Abbie and John David Duggar attended as well, and Abbie and Jana Duggar wore matching outfits to Disney (likely unplanned, but still fun). Plus, Michelle and Jim Bob were able to dote on Felicity, and Jinger posted photos of her grandparents spending quality time with her daughter.
Jinger's outfits went right back to super-reserved once her family came to town
Though Jinger seemed excited to have her family back in town, her behavior shifted once her mother and father were around. She posted a photo at the beach with her daughter, and fans couldn't help but notice that she was completely covered from head to toe. She wore a jean jacket over a dress and had leggings on underneath. "I can understand respecting your parents' wishes and wearing skirts when you're in their home… But now they're in Jinger's home… Says a lot about how afraid she is of her parents," one user wrote on Reddit. Fans seemed to agree that Jinger was likely covering up more out of respect for her father's rules.
She wears shorts and tank tops when she's around her husband
Jinger has developed a very different style now that she spends most of her time with only her husband and daughter. She started wearing pants and tank tops after she and Jeremy got married, but since then, she's expanded her self-expression even more. She dyed her hair blonde before the family moved, and she was recently photographed wearing short-shorts while out in Los Angeles — something no other Duggar has ever done. However, it's clear that when she's around her parents, she covers up, likely because she reverts back to respecting their rules when she's in their presence.