'Counting On': Jinger Duggar Just Revealed How She Spends Her Fall Nights in California
Jinger Duggar has become a fan favorite among Counting On viewers. The reality television star is slowly stepping away from her family's ultra-conservative values in favor of a more modern, ordinary life. Though she's still very religious and is married to a pastor, Duggar has been carving her own path since moving out back in 2016. And now that she's soaking up the sun in California, she's letting fans in on how she really spends her time.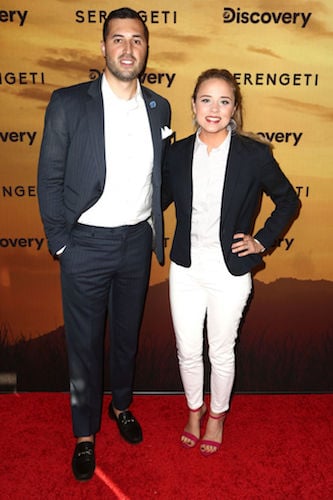 Duggar married Jeremy Vuolo and has become more independent ever since
Duggar and Vuolo's relationship is more unconventional than most of her siblings' relationships. She didn't meet Vuolo at church, nor did her father set them up. Rather, she met him through Jessa and Ben Seewald, who had met him while on a trip to Texas. But Jim Bob Duggar approved their courtship nonetheless, and ever since they wed, she's been living a much different life from her siblings. She and Vuolo moved to Texas, where she started wearing pants and tank tops. She now dyes her hair, wears shorts, and has formed hobbies that don't revolve around religion.
The two recently moved to California
Duggar and Vuolo made a major change to their lifestyle over the summer. The couple, along with their year-old daughter, moved out to Los Angeles so that Vuolo could take graduate classes. Since the move, the family has seemed to adapt well to their new home. They've explored many different neighborhoods and restaurants, and they've attended exciting events such as professional soccer games, the Los Angeles Zoo, and the aquarium. Felicity seems to be loving life out there as well, and though the Vuolos practice their religion strictly, Duggar is also learning that she can still be a modern American while being close to God.
Duggar said she loves to bake now that the California weather is cooling down
On November 4, Duggar posted a photo letting fans in on her Monday evening in L.A. She said that she loves to bake pumpkin spice muffins, which happen to be an "all-time favorite" of Vuolos, too. Duggar said baking the pumpkin muffins is her "way of greeting fall as the weather finally cools down here in L.A." Fans loved to see Duggar getting into the fall spirit, and many could relate to her love for pumpkin spice muffins as well. Fans shared their favorite fall baked goods in Duggar's comment section, which ranged from pumpkin rolls to applesauce chocolate chip cookies.
The couple has also been spending plenty of time with their daughter
Duggar and Vuolo have been enjoying fall days with their daughter, too. They're new to California, and while they've made plenty of friends, the experience has also seemed to bring them closer together as a family. The three are always trying new restaurants together and taking little adventures. Every now and then, Duggar and Felicity will visit Vuolo at his graduate school. Though Duggar does miss her family back home (and they recently paid her a visit), she seems to be adapting well to her new life and enjoying the modern lifestyle she's now created for herself.