'Counting On': Jinger Duggar's Valentine's Day Photo Shows Just How Amazing Her New Hair Looks
Jinger Duggar and Jeremy Vuolo have started leading a much more modern life than most of Duggar's siblings. The two moved to California last year, and they seem to be thriving in their new home. Duggar recently made a big change to her hair: She dyed it even lighter and cut it just below her shoulders. And her recent photo shows fans how good the style looks on her.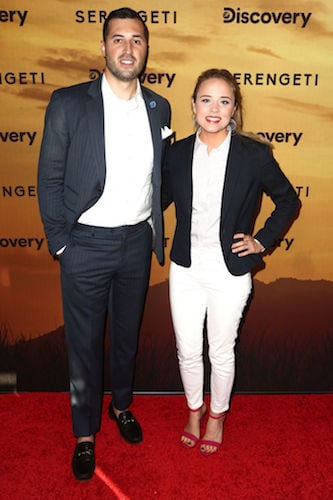 Duggar and Vuolo have changed the household rules
When these two first started courting, they were immediately on the fast track to marriage. The two had met through Jessa and Ben Seewald, and they started courting in 2016; they were married that same year. Now, more than three years later, they have developed their own set of house rules that strays from Michelle and Jim Bob Duggar's convictions.
Duggar and Vuolo relaxed a bit on the lifestyle Duggar's parents live. Duggar started wearing pants, and the two attended events and made friends that didn't have to do with their church or religion. They separated themselves a bit from Duggar's family (though they all still remain close).
Duggar has been becoming more of her own person
Ever since Duggar moved away, she's found more of her own personality. She's become very active on Instagram and has steered away from religion in her posts. She typically only documents the adventures her family goes on now that they've settled into their California home.
Just before the two announced their big move to Los Angeles last year, Duggar surprised fans by dying her hair blonde. Then, when she arrived in Los Angeles, she appeared to darken her hair a bit. But she recently made a major change once more: She dyed it lighter and cut most of it off.
Her recent Valentine's Day photo shows how amazing her hair looks
In Duggar's Instagram photo to debut her new look, her hair was waved and most of it was behind her shoulders. But in her recent Valentine's Day photo, fans saw a better angle of the new hairstyle, and it showed how light and short Duggar's hair really is — and how good it looks on her.
"Big fan of her hair!!!" one fan wrote. "Jinger, your hair is gorgeous!!" someone else said. "Y'all are adorable! Love your hair, Jinge!" Duggar's sister, Jessa Seewald, commented.
Some fans are concerned for Duggar's modern life
Though Duggar appears to be happy, some fans have voiced concern over her being exposed to such a modern life — mostly because it's something she wasn't used to growing up. These days, Duggar watches television and listens to modern music. But it isn't always easy to be exposed to a whole new lifestyle when one has been so sheltered their entire lives.
Whether Duggar is having a hard time with her new life or not, she does look very happy. And she and Vuolo seem to have a very strong relationship — and a lot of love for their daughter and new life.