'Counting On': Josh Duggar Allegedly Seemed 'Spaced Out' During Duggar Family Outing
Whether you keep up with the Duggars on TLC's Counting On or you just hear about them on social media, there's a lot going on with the Duggar family at all times. Jim Bob and Michelle are the ones responsible for bringing their 19 children into the spotlight, too. And while many were fascinated with the family at first, most can't forget Josh Duggar's scandals of the past.
Now, it seems Josh might be in even more trouble. The Department of Homeland Security was reportedly holding investigations on his car lot. And while none of the Duggars have verified this to be true, outlets are reporting some strange behavior on his part.
Homeland Security allegedly visited a business owned by Josh Duggar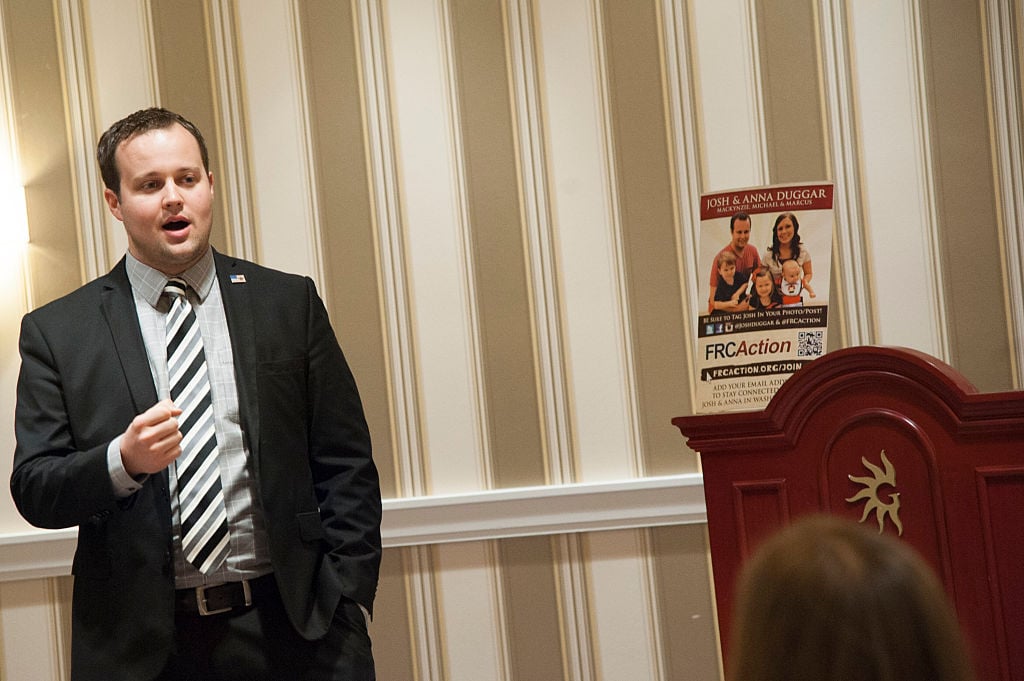 Josh Duggar has fallen out of favor with the public ever since molestation allegations came to light in 2015. And now, it looks like he may be in trouble with the law once again. 5News reports Homeland Security investigators haven't yet denied that they raided a Northwest Arkansas business that Josh owns. And Fox News added more details. The news outlet noted that investigators were at Josh's car dealership.
Original reports focused on Homeland Security investigators arriving at the Duggar family's home in Arkansas, but that wasn't entirely factual. In fact, the Duggar Family Instagram added a text post to their Instagram Story regarding the rumors — and they denied any involvement with law enforcement.
"We were shocked to see a news report today state that our home was raided by federal law enforcement agencies. This is not true," the Instagram Story read. "To the best of our knowledge, it's also not true that any member of our family is the target of any investigation of any kind."
Sources claim Josh appeared 'spaced out' during an outing
We're still not sure exactly what's happening with Josh and the investigation. But sources are now claiming he's acting a bit off. In Touch Weekly noted several of the Duggars, including Jim Bob, Michelle, Anna, and Josh, all went to Silver Dollar City theme park in Missouri after the raid rumors broke out. And an eyewitness told Radar Online that Jim Bob and Josh seemed to put a lot of distance between each other.
Josh and Anna also brought their kids along — but the insider added that the couple was totally apart from the other Duggars. "Josh and Anna were sitting on the ground out of the way of the kid's area. They were only with their children," the insider claimed.
Not only that, but the source added that Josh appeared "kind of spaced out, watching his kids run from ride to ride."
Anna also reportedly seemed unlike herself
It seems Anna might be a bit rattled from the investigation as well. Radar Online reports Anna seemed to lose track of one of her and Josh's five children while they were at Silver Dollar City — and she looked frantic trying to find the child.
"Josh and Anna were sitting on the asphalt within the park while their kids ran around from ride to ride," the insider told Radar. "It was so weird that they were a bit far from their kids, but all of a sudden Anna was looking really frantic."
Thankfully, the child was found with Jim Bob's help. And Anna's continuing to post updates about the holidays and her family to Instagram despite ongoing rumors about what's going on with Josh and his business. Josh and Anna may have just been having an off day while at Silver Dollar City — or perhaps the raid rumors really did shake their family. We're sure we'll get more details as they come!
Check out Showbiz Cheat Sheet on Facebook!