'Counting On': Josh Duggar Returning To Reality TV? Where He Was Spotted With TLC Cameras Rolling
After spending years out of the public eye, disgraced reality star Josh Duggar might be making his return to TLC. Following the tragic passing of Josh's grandma, Mary Duggar, the former 19 Kids and Counting star made an appearance at the funeral – and TLC cameras were on hand to capture his speech. Is Josh getting ready for a major cameo in the upcoming season of Counting On?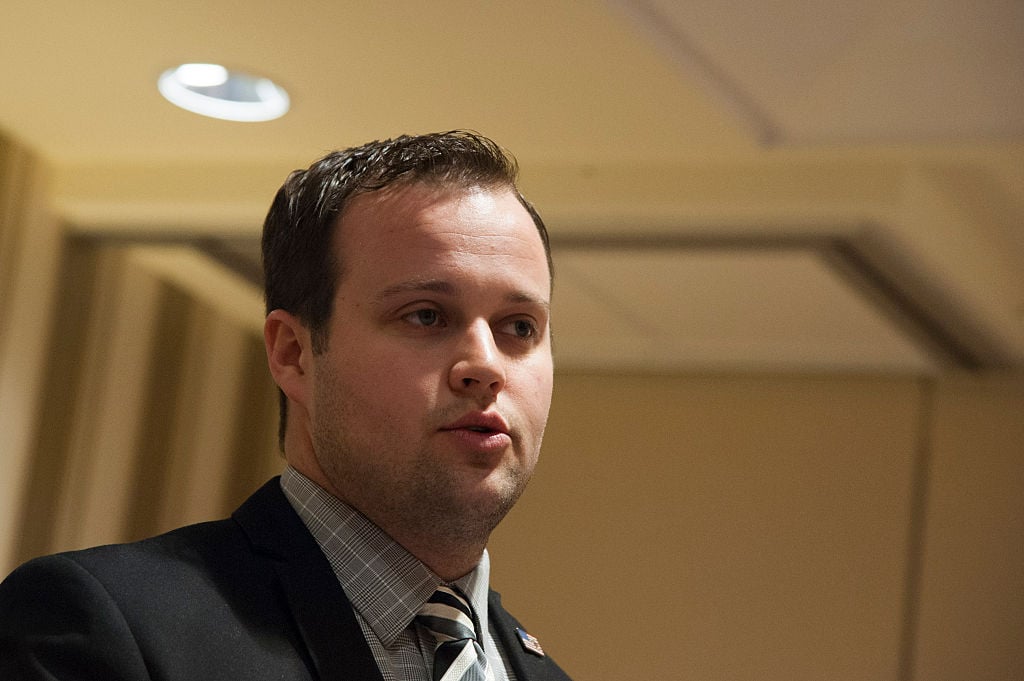 Josh Duggar joins the Duggars in mourning
There is no doubt that Josh made an appearance at Mary's funeral. Jill Duggar shared a photo from the somber event on social media, and the image clearly shows Josh speaking to the crowd from the stage. TLC cameras were also on hand filming the funeral, which means Josh could make his way onto the show in some capacity.
"Yesterday was a very hard, yet beautiful day," Jill wrote. "The service was lovely and very honoring to my Grandma and the one she loved more than anyone or anything else, Jesus Christ!"
Jill posted another photo that featured several men in the family. This includes Josh, Josiah Duggar, and John David Duggar. Also on hand for the funeral was Dillon King, Amy Duggar's partner, who joined the other men as pallbearers.
In the same post, Jill shared some heartfelt words about her grandmother and said she is looking forward to the day when they meet again in heaven. It is unclear if TLC will use any of the footage for the show, but cameras were on hand to capture what transpired.
Is Josh Duggar preparing for a 'Counting On' comeback?
In light of his multiple sex scandals, Josh has been living in the shadows for the past several years. In recent months, Josh has appeared more frequently on his family's social media pages, which suggests that they are warming up to the idea of bringing him back. Although Josh was on hand to honor his late-grandmother, it does not sound like he will be making an appearance on Counting On anytime soon.
The cameras reportedly turned off during Josh's speech and producers have no interest in showing any footage that features him. But with Josh playing such an important part in the funeral, it will take a lot of skillful editing to remove him completely from the footage.
After all, Josh was also one of the pallbearers, so it is possible that he at least appears on camera for a brief time. That said, producers could opt to discard any footage with Josh, which wouldn't be unexpected given his controversial past.
Inside Josh Duggar's scandals
As Counting On fans are well aware, Josh's molestation scandal led to the cancellation of 19 Kids and Counting back in 2015. At the time, police reports surfaced that showed Josh had molested five young girls when he was underage, including four of his own sisters.
The Duggars tried their best to keep the records hidden, which only made things worse. Once the reports came to light, TLC decided to cancel the family's hit show, though they continued their journey, sans Josh, on Counting On.
As if the molestation scandal was not bad enough, Josh found himself in hot water yet again after he was caught cheating on his wife, Anna Duggar. Josh would eventually come clean about his infidelity, and he even admitted that he was addicted to pornography. The disgraced reality star underwent therapy for his issues and somehow managed to keep his marriage intact.
Anna Duggar could be the key to Josh Duggar's return
If Josh has any hope of returning to reality television, his wife will likely play a big part in his comeback. Anna has already appeared numerous times on Counting On, and a recent post on Instagram sparked rumors that Josh could return this season.
Anna shared a video of her children completing a scavenger hunt at their house. Josh made an appearance in the short clip, and some fans believe they could see a TLC cameraman hanging out on the edge of the video. TLC has not commented on Josh returning to the fold, but it does seem like he is gearing up for something big.
Josh Duggar has not said anything about returning to Counting On. The Duggars are notorious for ignoring rumors, so it might be a while before we get any official confirmation.
New episodes of Counting On air Tuesday nights on TLC.