'Counting On': Josh Duggar's Wife, Anna, Didn't Spend Thanksgiving With the Other Duggars
Another holiday has come and gone, and we're already seeing tons of posts about Thanksgiving from the Duggars. The Duggar Family Instagram showed off the many people who arrived at Jim Bob and Michelle Duggar's home to celebrate turkey day. And Jana Duggar also showed off the delicious-looking turkey and festivities that took place in her home. There seemed to be a few Duggars missing from the event, however — and one of them was Josh Duggar's wife, Anna.
We know Anna is ultra-close with the Duggars, but she had her own life-changing event to take care of right around the holiday. Here's what she wrote on her Instagram about not attending the family's Thanksgiving meal.
The Duggar Family Instagram posted all about their Thanksgiving celebration
The Duggar Family Instagram is seemingly run by Jim Bob and Michelle, and they share what's going on at the big Duggar house in Arkansas with their 1.2 million followers. So of course, we got to see what a Duggar Thanksgiving celebration was like in 2019. Their Instagram featured a number of photos showing off just how many friends and family members attended the huge event, and it certainly looked like a full house.
"We love having a house full of people for the holidays and invite those who don't have family in the area to spend the holidays with us! We say, there's always room for one more!" the Duggars captioned their post.
Jana Duggar, the oldest of Jim Bob and Michelle's kids who still lives at home, also showed off the family feast. She shared what she's thankful for alongside a photo of the turkey and additional snapshots of everyone eating.
Anna Duggar just gave birth to her sixth child
Thanksgiving's an exciting time for the famous family, but Josh Duggar's wife, Anna, has even bigger news. While fans have been anxiously awaiting the arrival of her sixth child, she finally announced that her baby girl is here.
"Maryella Hope arrived one day ahead of Thanksgiving Day 2019 and a great reminder to be grateful for all God has done for us!" Anna captioned the post of her newborn, Maryelle. "We are so excited and thankful to God for His special blessing giving us this precious, happy & healthy baby girl!"
Anna explained why she named her daughter Maryella in a separate post, too. She noted that Grandma Duggar's name was Mary, so they wanted to incorporate that into the baby's name. "We chose Hope for her middle name because of the Hope we have because of Jesus' life, death and resurrection. Jesus is the ultimate demonstration of love and hope," Anna added. "During Maryella's pregnancy there were so many unexpected joys, which included several more pregnancy announcements from family members!"
She revealed she stayed home while her kids celebrated with the family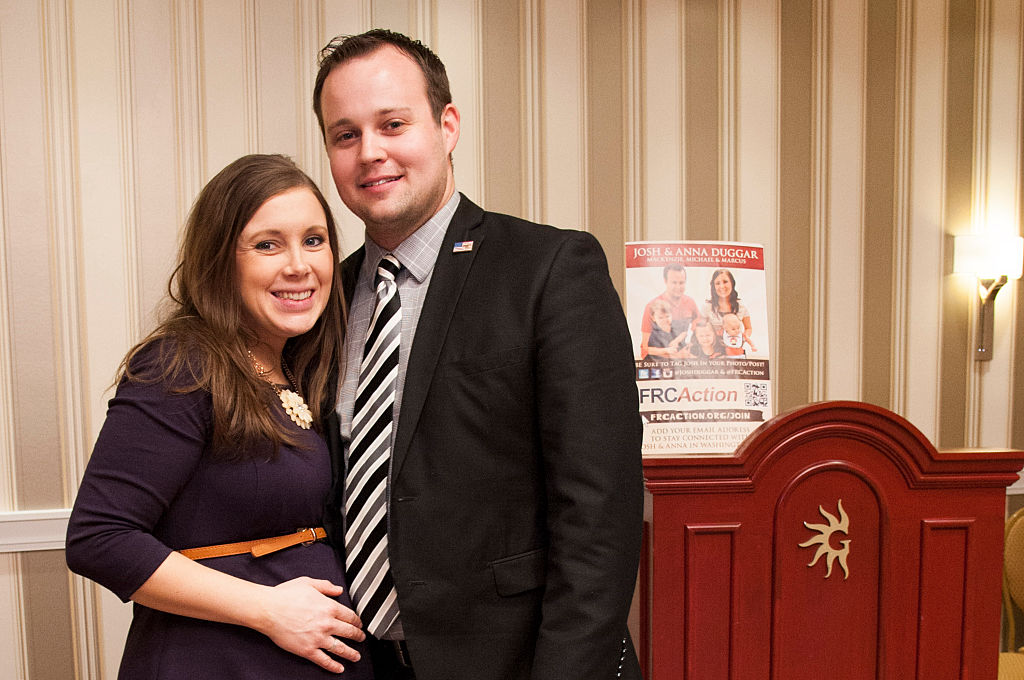 It looks like the baby's arrival thwarted Anna's Thanksgiving plans. "For those who are asking, I've spent Thanksgiving Day in bed resting and bonding with Maryella Hope," Anna mentioned on Instagram. "When it came time for our family to read our Thanksgiving chain, I threw a sweater over my nightgown joined the rest of our family for this special tradition…and then I headed back to bed!"
She then added that her kids went over to Jim Bob and Michelle's place to celebrate turkey day with the rest of the Duggar family. And Jana even tagged Anna in her Instagram post of the celebration. Not only that, but Jana mentioned to an Instagram follower that Anna helped out with making the turkey.
As for Josh, we're not sure if he also celebrated with the rest of the Duggars or if he stayed back with Anna. While Anna mentioned that her kids were going to Jim Bob and Michelle's, she made no mention of her controversial husband. We're hoping he stayed with his wife to help her adjust to life with Maryella, but we can't say for sure.
Check out Showbiz Cheat Sheet on Facebook!