'Counting On': Joy-Anna Duggar Skips Thanksgiving, Is She Feuding With Her Famous Family Too?
Counting On stars Joy-Anna Duggar and her husband, Austin Forsyth, decided to ditch her family's Thanksgiving festivities this year. The couple was not present for Jim Bob and Michelle Duggar's annual holiday dinner, sparking rumors that they might be feuding with her side of the family. So why did Joy-Anna and Austin skip out on a Duggar family Thanksgiving?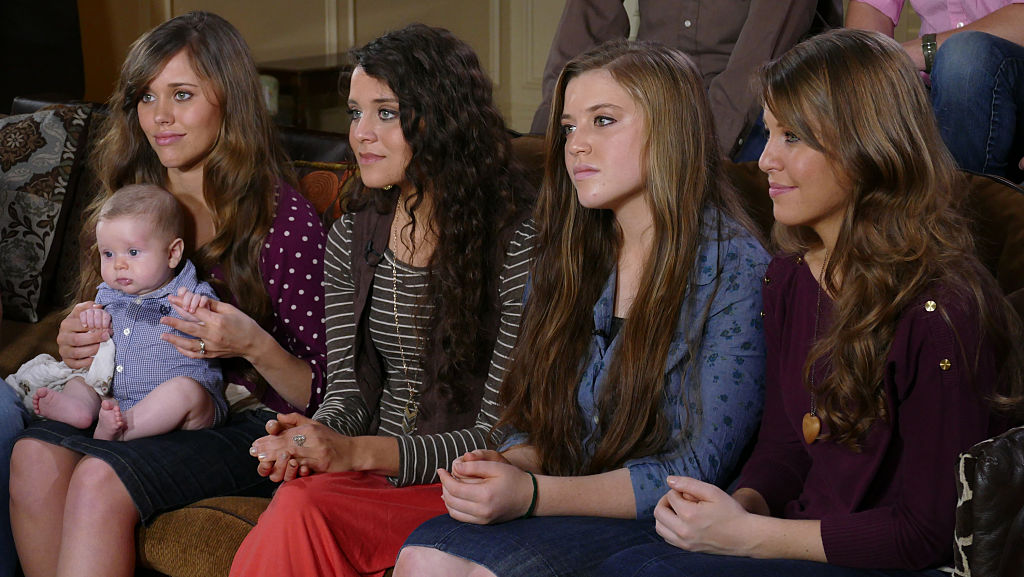 The real reason Joy-Anna skipped Thanksgiving
Most of the Duggars gather at Jim Bob and Michelle's house every year to celebrate Thanksgiving as a family. But this year, there were several noticeable absentees, including Joy-Anna and Austin.
Skipping out on Thanksgiving with the Duggars naturally led some Counting On fans to speculate that Joy-Anna might be feuding with her famous family. We cannot say too much about the feud rumors, but we know exactly why Joy-Anna and Austin failed to appear in the Duggar family photo this year.
According to Pop Culture, the pair headed to Texas a day before Thanksgiving so they could celebrate the holiday with his side of the family. The Counting On fan-favorite confirmed the exciting news on social media last Wednesday and even shared a photo of her family on the road.
"Road tripping with my favorites! [car emoji and highway emoji] Excited to spend Thanksgiving with his family in Texas!" she wrote with the pic.
The photo featured a smiling Joy-Anna and Austin as they posed alongside their adorable son, Gideon, who also appeared happy to be on the road.
'Counting On' fans react to Joy-Anna's post
Counting On fans were quick to comment on Joy-Anna's post, with many expressing their support for the couple's trip to Texas. The two may have missed out on a Duggar Thanksgiving, but they clearly got a lot of love from their followers.
"Wishing your family a Happy Thanksgiving and safe travels!" one of their followers wrote, while another added, "Happy Thanksgiving!! You guys were the best couple last night on Counting on !! You both know how to work together!!"
The last comment was a reference to Joy-Anna and Austin opening up about their marriage on the show. The two revealed that, while their marriage is going great, one thing they could work on is their communication skills.
"I'm hoping to learn a lot, just in every aspect of our marriage 'cause, I need a lot of work," Joy-Anna shared.
Austin added that he would like to be more active in their marriage and take things off of "autopilot." The Counting On star explained how he plans to put more work into their relationship in the coming year, which will hopefully strengthen their marriage over the long haul.
Is another 'Counting On' star feuding with their famous family?
Joy-Anna and Austin got plenty of support from their fans, but their Thanksgiving absence still left some followers wondering if she is feuding with Jim Bob and Michelle.
We cannot say for sure if there is a feud in the making, but it would not be the only one in the Duggar household this holiday season.
Jill Duggar and her husband, Derick Dillard, also skipped out on the family gathering this year. But unlike Joy-Anna and Austin, they did not go out of town for the holiday.
Instead, Jill and Derick stayed home and celebrated Thanksgiving with a group of their close friends. The two confirmed their decision on social media, which only added more fuel to the rumors that Derick and Jim Bob are at odds.
As fans will recall, Derick was fired from Counting On after making some questionable statements on Twitter about the LGBTQ community. He also recently slammed Jim Bob for negotiating all of the contracts with TLC and taking the money for himself.
Inside her new home
While we wait to learn more about the situation, Joy-Anna and Austin are excited about moving into their new home.
After living in an RV and making a living flipping houses, the couple is settling down in a house of their own. The two purchased the home from their parents and are currently remodeling the place before they move in.
"Sooo…WE BOUGHT A HOUSE and YES! We plan to settle down and live in this one for awhile!" Joy-Anna shared.
The house also came with a piece of land that has been in the Duggar family for years. The two Counting On stars got an amazing deal on the place, which should be a nice home for their growing family.
Joy-Anna did not give a time table for when they will move into their new house, but it sounds like things are progressing as scheduled. Hopefully, their new home will be featured in a future episode of Counting On so that fans can get a behind-the-scenes tour of the place.
New episodes of Counting On air Tuesday nights on TLC.