'Counting On': Were Jill Duggar and Derick Dillard Banned from Spending Thanksgiving With Her Famous Family?
There may be some truth to those feud rumors after all. Instead of celebrating Thanksgiving at Jim Bob and Michelle Duggar's home, former Counting On stars Jill Duggar and Derick Dillard skipped out on the family feast. The news added fuel to the rumors that the couple is feuding with her side of the family— and some fans are convinced that the rift between them has grown.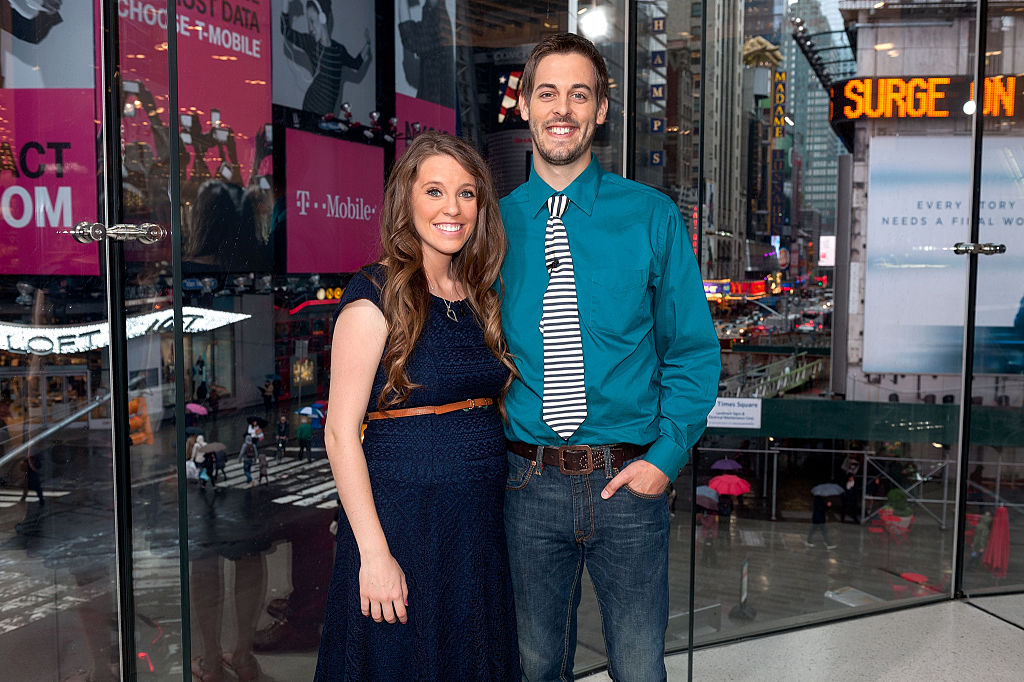 Jill Duggar and Derick Dillard stay home for Thanksgiving
Last week, Jill took to Instagram to share a family photo on Thanksgiving. The former Counting On star posted images of her husband and children as they waited for their turkey to cook in the oven.
"Parade, forts, and turkey in the oven to start off our Thanksgiving Day! So many things to be grateful for! #countyourblessings," Jill captioned the image.
Jill later added that they decided to spend Thanksgiving with their friends instead of family members in what she termed, Friendsgiving. She also noted that her boys had loads of fun playing with each other and could not wait to get to bed.
Counting On fans, of course, wondered if there was another reason why Jill and Derick decided to steer clear of Jim Bob and Michelle during Thanksgiving. The two sides of the family have experienced a bit of a rough patch in recent months.
This led some Counting On fans to wonder if Derick's fractured relationship with Jim Bob was the reason why they stayed away from the family gathering.
Fans chime in on Jill Duggar and Derick Dillard's Thanksgiving
Counting On fans were quick to ask Jill and Derick about their decision to say home for Thanksgiving. Members of the Duggar family usually assemble every year at Jim Bob and Michelle's home and, unless they have a genuine excuse, most of them usually make it.
"Why aren't you with your parents?" one Counting On fan asked, while another added, "Y'all not going to the big house?"
Jill and Derick (who is usually very active on social media) did not respond to the questions. Some followers, however, speculated that they did not enjoy Thanksgiving with the rest of her family because Derick and Jim Bob do not get along.
Unfortunately, Jill and Derick did not reveal a good reason why they stayed away from the family. They did say that they wanted to spend the holiday with friends, but that hardly satisfied fans.
While fans will likely continue to speculate, Derick recently hinted that there may be some truth to the feud rumors.
Derick Dillard dishes on his feud with Jim Bob
Jim Bob and Michelle have been tight-lipped about the rumors surrounding Derick and Jill. But that has not stopped Derick from chiming in on the issue.
A few months ago, Counting On fans asked Derick about all of the feud rumors. After the fans said that they hope the reports are false, he wrote a cryptic message that seemingly confirmed that something is amiss.
"Why do you hope it's not true?" he stated.
Derick went on to talk about how he tried to get TLC to pay for things like the birth of his child. But the network apparently refused to fit the bill, despite the birth being featured on Counting On.
This, of course, is hardly the first time Derick has stirred up controversy in the family. A few years ago, he got himself fired from Counting On after he said some scandalous things about the LGBTQ community on social media.
Does Jim Bob take all the money from 'Counting On'?
As if the situation was not bad enough, Derick stirred up more drama last month when he accused Jim Bob of secretly making contracts with TLC without informing everyone.
Derick alluded to the idea that Jim Bob is making all the money from Counting On and that his children, who are the main stars, hardly make anything. When fans asked if this was true, Derick did not deny it and told viewers that they should ask Jim Bob instead.
"I don't know. You would have to ask him that," he wrote.
There is no telling if the rumors about Derick and Jim Bob are true, but it definitely sounds like he is a bit jaded. Unfortunately, we may never learn the truth because Derick and Jill are no longer a part of Counting On – and probably will not be returning to the series anytime soon.
TLC has also not commented on the Duggar family's situation.
Until we learn more, fans can watch new episodes of Counting On Tuesday nights on TLC.