Courteney Cox Launched Her Instagram Account With a 'Friends' Reunion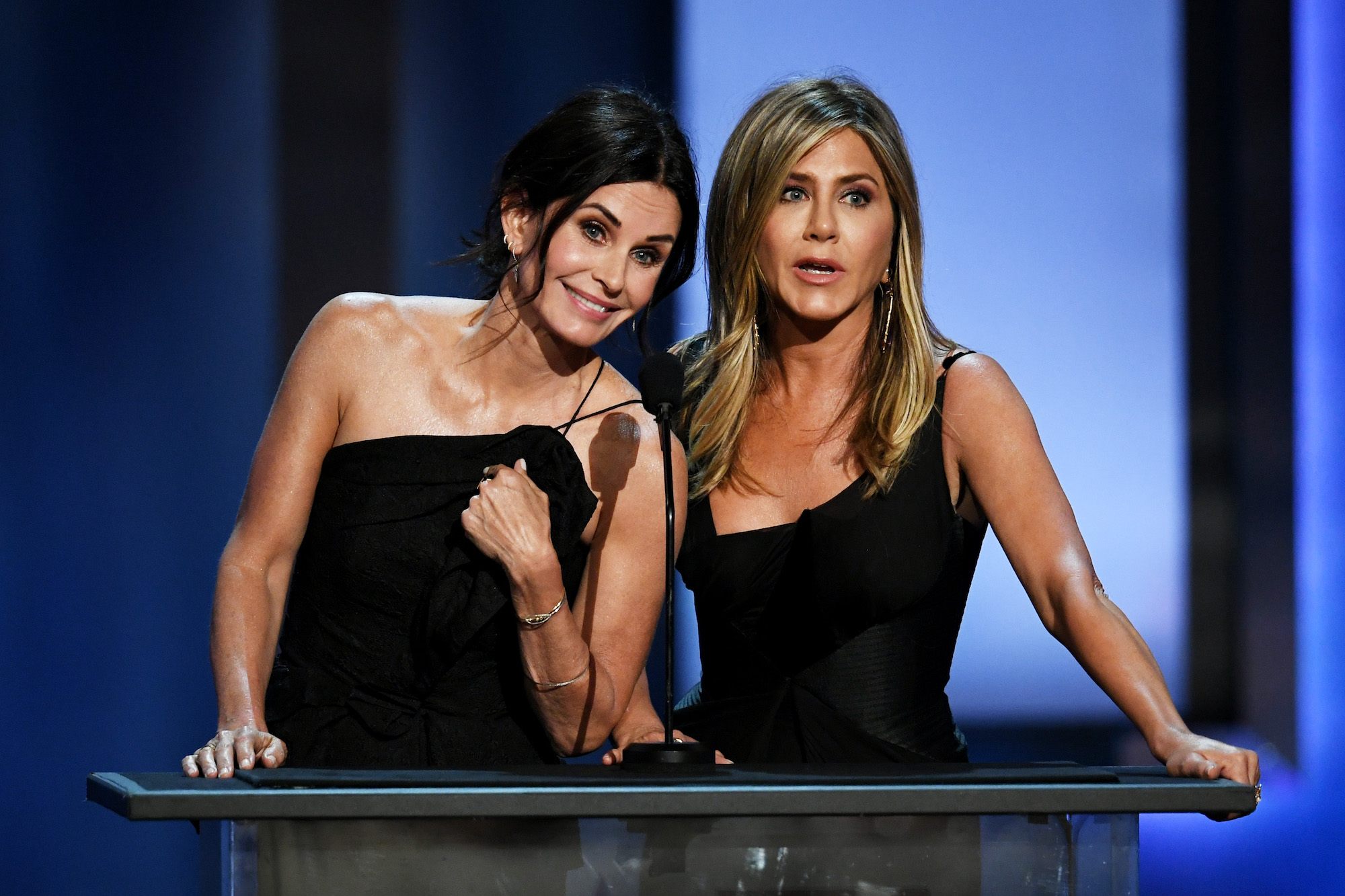 Knowing a celebrity is on Instagram always brings a new level of excitement considering not every superstar is on social media yet. We all know Jennifer Aniston is notoriously absent from social media, though mostly for her own mental health. Courteney Cox has at least kept a Twitter account active.
Even then, she didn't use Instagram until Ellen DeGeneres happened to step in and chide Cox for not upping her social media game. Amazingly, Cox and Aniston were the only Friends alumni without Instagram accounts until the former finally started one.
How did she begin her new Instagram? You'll be surprised at the first pic, which was a mini-reunion everyone was waiting to see.
Courteney Cox's appearance with Ellen DeGeneres
Hello Instagram! I'm here with a little help from my friends.https://t.co/KtJxxkv4Qv

— Courteney Cox (@CourteneyCox) January 29, 2019
Some might say Facebook has become an outdated way to stay connected on social media. Most of the Friends cast had Facebook accounts, and so did Courteney Cox. After recently appearing on The Ellen DeGeneres Show, Ellen happened to notice that Cox only had 55,000 Facebook followers. Compared to Ellen's millions of followers on Facebook (and Twitter), something seemed imbalanced in the social media force.
Cox does have well over a million followers on Twitter, however, even if it seems small compared to the major pop culture impact Friends made on a couple of generations.
You can't appear on Ellen DeGeneres' show without some surprises, so a comment like this from Ellen inevitably led to something bigger.
Creating a mini 'Friends' reunion
We all know Cox and Jennifer Aniston have stayed in contact and are considered good friends. Yet, Ellen apparently couldn't arrange for Aniston to come to the show. Lisa Kudrow made a surprise appearance instead.
It turned into a 2/5ths Friends reunion, complete with a replica of the famous couch from the show. In fact, Ellen had recreated an entire set looking similar to Central Perk we all remember.
Ellen's chiding of Cox about not having an Instagram account gave Cox a guilt trip. It took only hours for her to tweet a link to her new Instagram account.
The first picture she posted was the Kudrow reunion on Ellen's show.
Will Cox maintain her Instagram account?
I don't have an Instagram account yet but doozerproductions does. Give em a follow!

— Courteney Cox (@CourteneyCox) July 23, 2013
Sometimes it takes the pull of an influential celebrity and the public to get superstars to start social media accounts. So far, Cox's first Instagram pic has had well over 75,000 likes, which isn't very common for most first-time pics.
The question now is whether Cox will maintain the account since she's enjoyed maintaining one Twitter account for the last seven years. Six years ago, she even replied to a fan saying she didn't plan to open an Instagram account, even if her production company did have one.
Outside of Ellen's persuasion, is it really a good idea to balance more than one social account when you don't have the most time in the world?
Learning from Jennifer Aniston
We've noted before how close Cox and Aniston truly are. No doubt Cox will gain some guidance from Aniston who did spend time on a related Instagram account once and didn't like the experience.
If Cox feels any pressures about posting more on Instagram, no doubt Aniston will tell her to not worry about it. After all, Cox keeps everyone up to date on her Twitter account anyway. No doubt anything posted on Instagram will only be for very special occasions.
One thing we have to wonder about is whether the entire Friends cast will truly reunite, even if just for an official updated group photo. Now that would probably make Cox's Instagram explode with 100,000 likes in less than an hour.