Cravings by Chrissy Teigen Cookware Set Reviews: What People Think of Her Target Line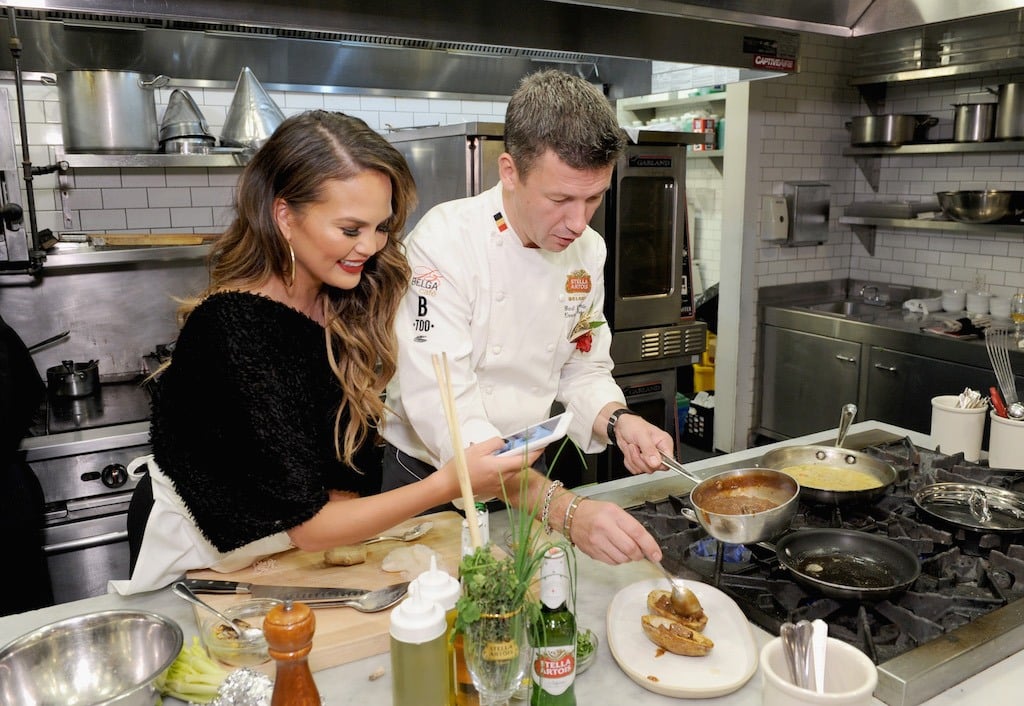 Model turned cookbook author and social media superstar Chrissy Teigen checked another accomplishment box when she debuted her Cravings cookware line at Target in September. The line features forty pieces of kitchen essentials, everything from spatulas to heavy-duty cast iron skillets. The Cravings line has been earning lots of positive feedback from shoppers and chefs alike since its release, with consumers claiming that the pieces routinely outperform their existing pots and pans.
Why Chrissy Teigen created her cookware line
Teigen is a well-known domestic goddess, with a successful cooking blog that led to two best-selling cookbooks, Cravings and Cravings 2: Hungry for More. She has parlayed her knack for creating feel-good food with her sharp sense of humor to become a relatable presence that home cooks feel comfortable turning to and commiserating with.
Teigen wanted to create a cookware line as a logical extension of her love of cooking. She claims that she wanted other cooks to be able to be proud of their kitchen tools and utensils, to make the entire process of cooking fun from beginning to end.
Color and style of Chrissy Teigen's cookware line
All of the pieces in Teigen's Cravings line, from the organic plates and bowls to the cutlery, feature a simple, classic design. The colors are pleasant shades of gray, blue, and cream, so they can pair perfectly with any existing kitchen utensils or work beautifully all on their own.
Teigen also made sure that many of the pieces had what she calls "marks of character," little flecks or raw edges that infuse the organic plates and bowls with a life all their own.
What people are loving about Chrissy Teigen's Cravings cookware
The hype was real when Teigen officially announced her new kitchenware line. Shoppers lined up outside Target stores in their area on the release day, and many pieces sold out quickly, both in stores and online.
The Cravings line by Chrissy Teigen is very affordable, with prices starting around $4 for a drinking glass and capping out at about $140 for an entire dinnerware set. At those prices, many shoppers feel comfortable redoing their entire kitchen and dining areas with Teigen's designs. The Cravings line is also considered to be a hot registry item as well, with top wedding and lifestyle site The Knot providing a breakdown of the various must-have pieces from the cookware collection.
Indeed, the reviews for the line have been overwhelmingly positive. Some of the reviews on the Target site for the various pieces include comments such as, "Chrissy is not just a pretty face – she took the time to make a really quality product," and "I'm in love with everything from this collection."
Chrissy Teigen's favorite piece from her cookware collection
Teigen is well-known for being outspoken and opinionated, so of course, she has a say as to which pieces from the Cravings line are her personal favorites. According to Teigen, if she had to pick one favorite item from the line, it would be the "My Go To" knife, which is made to cut perfectly into everything from cuts of meat to juicy veggies. The "My Go To" knife also happens to be the highest rated product in the collection, as listed on the Target website.
So whether you want to try Teigen's signature slow-scrambled eggs, or one of her decadent new dessert recipes, the Cravings collection is the perfect way to show your love for everyone's favorite fast-talking domestic diva. With an adorable family (including new baby Miles) and a net worth of over $13 million, Teigen isn't slowing down anytime soon.