All the Crazy Expensive Things Kylie Jenner Spends Her Money On
Kylie Jenner is officially the world's youngest self-made billionaire. And with billionaire-status comes the ability to buy pretty much anything your heart desires. It's hard to fathom that amount of money, but Jenner definitely treats herself and her friends very well. Here are some of the crazy purchases Jenner has recently made — including spending hundreds of thousands on her daughter's first birthday party.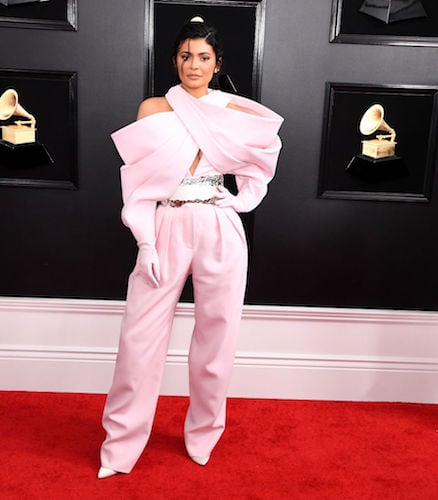 She has an unbelievable car collection
If Jenner wants to get somewhere, she has her choice of transportation. According to Business Insider, the 21-year-old has a massive luxury car collection, including a Bentley Bentayga that retails for at least $229,000. She also has a custom-made Range Rover and Mercedes G-Wagon. Jenner reportedly has at least two Ferraris, one that cost an estimated $250,000 and one that cost a whopping $1.4 million (gifted to her by Travis Scott). She also has several Rolls Royces.
She spent $12 million on a home back in 2016
When Jenner gets home from a long day behind the wheel of one of her luxury cars, she's not going home to a standard three-bedroom, two-bathroom home. She's returning to her 13,000 square foot mansion in Hidden Hills, California. Jenner's property sits on 1.4 acres and comes complete with a garage large enough to house all of her cars. She had a team design the entire interior of the home, which cost $12 million and was purchased back in 2016.
She's purchased more than $40 million in properties over the past few years
If you thought Jenner's luxury mansion was her only hang-out spot, think again. Jenner has reportedly spent more than $40 million on different properties over the past few years. Because when you're a billionaire, why have one property when you can have as many as you want? She also owns a mansion in Beverly Hills and reportedly built a massive home office next door to her Hidden Hills home. She likely gets a lot of use out of that office, since she frequently has meetings for Kylie Cosmetics.
She once splurged on a $50,000 Rolex
Jewelry is one thing you'll hardly ever spot Jenner without. She splurges on all kinds of designer jewelry, including spending thousands of dollars on Cartier diamond rings (which are about $9,000 each). She also bought herself a $53,000 Rolex, Business Insider reported. She has easily spent hundreds of thousands of dollars on jewelry over the last few years — maybe even more. But if she's learned anything from Kim Kardashian, she probably doesn't flaunt her most expensive jewels. We probably don't know the half of what she actually owns.
Her daughter's first birthday party likely cost as much as a lavish wedding
Jenner spared no expense for her daughter Stormi's first birthday party. Although the cost of the party was never revealed, it likely cost somewhere in the ballpark of a lavish wedding. Jenner had a custom-made giant blow-up replica of Stormi's face. Guests then enjoyed carnival rides and a Stormi-themed gift shop full of merchandise celebrating the one-year-old. Jenner even had a live performance of "Baby Shark" at the party.
She spends millions per year on private jets
Jenner doesn't fly commercial for obvious reasons. But shelling out cash for private planes all the time definitely adds up. Jenner reportedly flies private with ExecuJet, which offers flights from New York to Los Angeles for around $60,000. When you think about all the exotic places Jenner flies every year, she easily spends millions on the luxurious flights.
She once spent $150,000 to rent out Six Flags for Travis Scott's birthday
Although Jenner and bofriend Travis Scott are reportedly going through a rough patch (she accused the rapper of cheating), she has definitely spoiled her baby's father in the past. Jenner reportedly rented out Six Flags in Los Angeles for Scott's 26th birthday, which cost an estimated $150,000. She also then paid for the family to take a vacation to Turks and Caicos, one of the most luxurious islands in the Caribbean. She also showered ex-best friend Jordyn Woods in gifts, but it's safe to say those days are over.
Check out The Cheat Sheet on Facebook!