'Criminal Minds' Season 15: Could JJ and Reid End up Together?
Criminal Minds has one final season to go, and fans can't wait to find out what's going to happen. There are so many questions about how things will play out with the characters in the long run. A big question looming over everyone's heads is whether or not Jennifer "JJ" Jareau's (A.J. Cook) confession will lead to something more with Dr. Spencer Reid (Matthew Gray Gubler). Could they really end up together at the end of the series?
JJ reveals her true feelings to Reid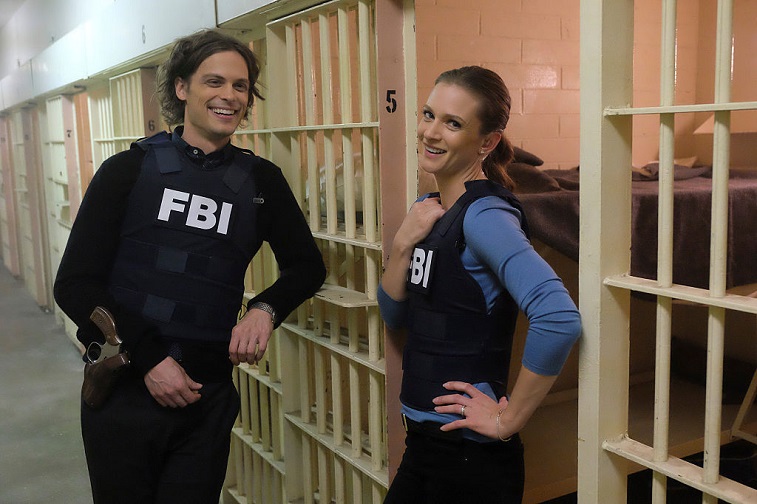 During the finale of season 14 of Criminal Minds, JJ told Reid a secret while being held at gunpoint that could change everything for them both. "Spence, um, I've always loved you. And I was just too scared to say it before. And now things are just really too complicated to say now," JJ said. "I'm sorry, but you should know."
The two of them have been best friends for years and it's hard not to imagine them together in some capacity. They work together constantly so it's totally understandable why JJ would care for Reid, but does he feel the same way anymore?
People aren't exactly on board for JJ and Reid to be together
Fans have strong opinions about the "Jeid" situation. Reddit is full to the brim of people's thoughts about the friends with questionable feelings towards each other. Many people felt it was a rushed set of circumstances and downright wrong on JJ's part as a married woman with a family of her own.
"I say that at this point it's all just unnecessary drama with what could be a rushed resolution what with only 10 episodes left," one Reddit user said. "They made it to 14 successful seasons without having to resort to gimmicky storylines like unrequited love and forced confessions of love. If this were Grey's Anatomy, I'd be perfectly fine with it. But CM has never been that kind of show that's why the finale felt so out of place and forced."
"I hate it. It makes no sense and is just created for drama," another Reddit user commented. "He did have a crush on her in the beginning but she never returned the feelings, she only ever saw him as a friend/little brother figure, and eventually his feelings went away too. And now they do this after all these years, after she's happily married with 2 kids? Regardless of what they do next season with this storyline, they better not screw up her relationship with Will."
Could JJ and Reid really end up together?
From the reactions of viewers and Reid's planned love interest that is set to make an appearance in the final season, things don't look good for Jeid. Considering JJ has a family of her own and she's appeared to be happy with them until now, she will most likely ignore her feelings for Reid in the future. They've been such excellent friends, why ruin it?
There will have to be some sort of closure in regards to JJ's jaw-dropping statement, so things won't just be swept under the rug. JJ and Reid will hopefully get the closure they both need from the situation and remain friends when it's all over. It would be nice to see Reid find someone that makes him happy, so we'll see what will happen with his new love interest. Criminal Minds will be back for one final season.