Critics Are Getting Along With 'Neighbors'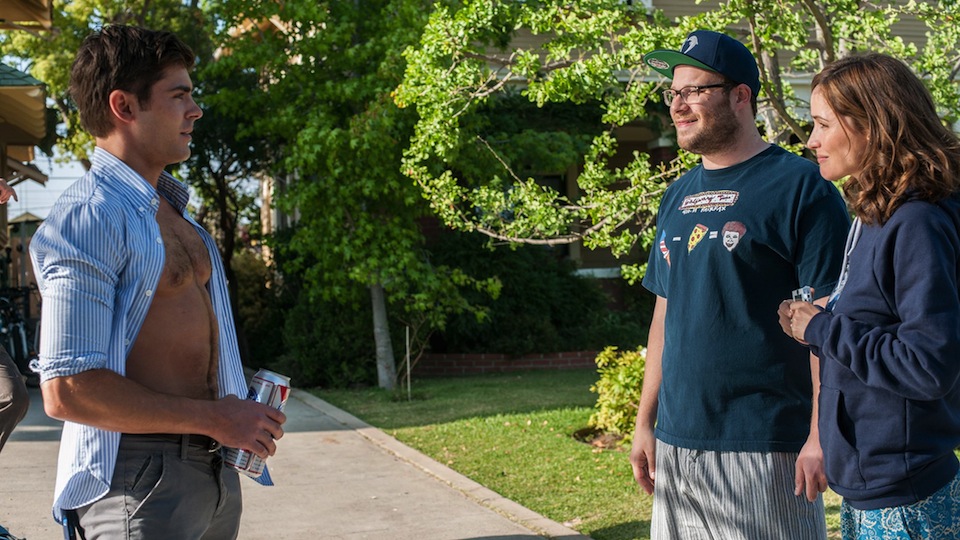 Avid readers of GQ have long known that Zac Efron is a man with serious style. In his post-High School Musical years, he's developed a masterful understanding of trendy casual style. You could feel the darkness brewing underneath those piercing blue eyes, that denim shirt buttoned to the neck, and those snugger-than-snug jeans and boots just on the right side of beaten up. What kind of guy brings a condom to a screening of The Lorax? A guy with a darkness, that's who.
That darkness is up front and center in Neighbors, and critics and moviegoers seem to enjoy the film. It trounced the amazingly bad Spider-Man sequel at the box office, pulling in $51 million to Spidey's $37. The reviews have been mostly positive.
Neighbors depicts a pair of young parents (Seth Rogen and Rose Byrne) who are distraught when a fraternity moves in next door. The fraternity's president is played by Efron, who looks like "something a gay guy made in a laboratory," quips Rogen. Much has been made lately of Efron's struggles with addiction while filming, which casts the menacing performance in an even darker light.
Critics have heaped praise upon Efron for working to shed his pretty boy persona, and especially on Byrne, who does a good job of eschewing the tropes of attractive young women and nagging wives in bro comedies. Neighbors is helmed by Nicholas Stoller, director of Forgetting Sarah Marshall and its spiritual sequel Get Him to the Greek, both of which also earned positive reviews.
Not faring quite so well was Legends of Oz, which features a startling cast of one time A-listers who, one can only hope, did this as a favor to someone somewhere. The Dissolve's Nathan Rabin puts it nicely: "The team is out in full force in the dreadful new 3D computer-animated feature Legends Of Oz: Dorothy's Return, both in front of the camera and behind … The familiar faces are equally devoid of inspiration, even though the filmmakers assembled the hottest voice talents of 1986, including Dan Aykroyd, Bernadette Peters, Martin Short, Jim Belushi, and Kelsey Grammer." Ouch.
Similarly derided was Mom's Night Out, which, from its bad '80s rom-com title to the casting of Trace Atkins as someone named Bones, is an all around mess. The film has a Christian target audience and a strong, misguided moral center. Mom's Night Out manages to make both men and women look like idiots who are incapable of leaving their respective gender roles behind. Christy Lemiere opens her less than loving review thusly. "Depressingly regressive and borderline dangerous, Moms' Night Out peddles archaic notions of gender roles in the name of wacky laughs. But it also wants to be "About Something." It wants to inspire as well as entertain. It's The Hangover aimed at Christian audiences, and if that sounds like an impossible prospect, well, that's because it is."
More From Wall St Cheat Sheet