Critics Don't Think 'Sin City 2′ Is to Kill For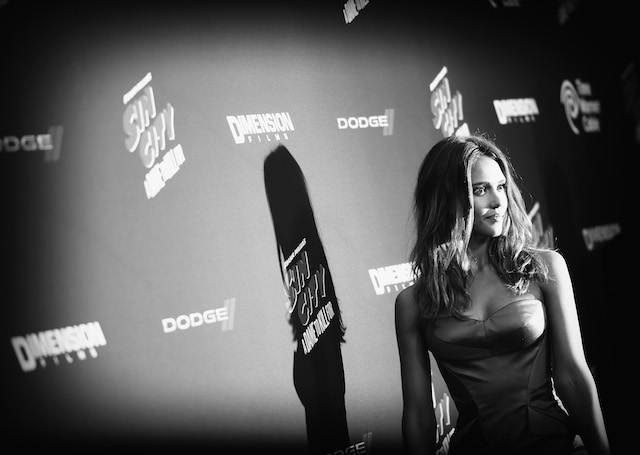 Robert Rodriguez and Frank Miller's long-anticipated sequel to Sin City hits theaters this weekend, but critics aren't loving it as much as they did the first one. While Eva Green's performance as a deranged film noir seductress and the titular "dame to kill for" was praised, overall, critics felt the sequel hit too many of the same notes as the first film and got boring quickly when Green wasn't on screen.
Sin City 2: A Dame to Kill For has been nine years in the making since the original, groundbreaking Sin City that won prizes for its inventive green screen work. This time around the movie's monochrome palate — which makes the film look like Frank Miller's comic strip by using mostly black and white with occasional splashes of bright color — was filmed in 3-D as Rodriguez honed the technique.
Jessica Alba reprises her role as bitter stripper Nancy Callahan and Rosario Dawson also returns as the hardboiled vigilante member of the law enforcement from Sin City's prostitute-run district known as Old Town. Green, who stirred up controversy with her bared breasts in one of the film's posters, is the seductive temptress Ava Lord. Lady Gaga even makes an appearance as the waitress Bertha.
As for the men, Mickey Rourke, Josh Brolin, and Bruce Willis all play down-on-their luck guys looking for justice in a world where they'll never find it. Willis is a ghost, having been killed in the last film trying to protect Nancy Callahan, who spends her storyline in this movie seeking to avenge his death. Joseph Gordon-Levitt has a new role in the sequel, playing a gambler who gets in deep in debt with a powerful politician.
The movie currently has a tepid 50 percent rating on Rotten Tomatoes, which is a big disappointment in comparison to the 76 percent the original film has on the popular review-aggregating website. Critics said that the movie still looks cool, but not really any cooler than the first one did. The only real new element added is Eva Green's character, who was praised for the most part, though some did question her "peculiar allergy to clothing of any kind."
"The movie looks good enough to inspire a million screensavers. It's just that Sin City: A Dame To Kill For doesn't explode onscreen the way the first one did. Miller's monochrome palette, splashed with color that shines like a whore's lip gloss, doesn't startle as it once did. It's like running into an ex-love and realizing that, damn, the thrill is gone," said Rolling Stone critic Peter Travers.
"Pulp and noir were often built on the beautiful shoulders of such characters as Ava, and the main justification for seeing the film is to watch Eva Green claim membership in the pantheon of film noir leading ladies alongside Jane Greer, Gloria Grahame, Marie Windsor, Peggy Cummings, Lizabeth Scott and a few others. Frequently baring all in a way that was not allowed in the '40s and '50s and often lit by Rodriguez (who did triple duty as director, DP and editor here) in a high-contrast style accentuated by slatted light through blinds, Green more than earns femme fatale immortality," said The Hollywood Reporter.
Rodriguez and Miller announced that they plan to make a third Sin City film at Comic-Con earlier this summer. "Robert and I are already talking about Sin City 3. so you'd better show up to 2," Miller told the crowd at the Sin City panel, per Deadline. If a third film makes it to the screen, let's hope it takes less than nine years to get there and that Rodriguez and Miller come up with some new tricks to show us.
Follow Jacqueline on Twitter @Jacqui_WSCS
Want more great content like this? Sign up here to receive the best of Cheat Sheet delivered daily. No spam; just tailored content straight to your inbox.