Critics Slam The Duggar Children For Having Too Many Kids: 'The World Is Already Overpopulated'
The Duggars are essentially famous for having one of the largest families in the United States. They became a household name back in 2008 when TLC gave them their own show, 17 Kids and Counting (it was later renamed to 19 Kids and Counting). However, the show was canceled due Josh Duggar's leaked sexual abuse scandal, so the network created a new show, Counting On, which focuses on the Duggar children sans Josh. But many of the kids are now having kids of their own, and critics aren't happy about it.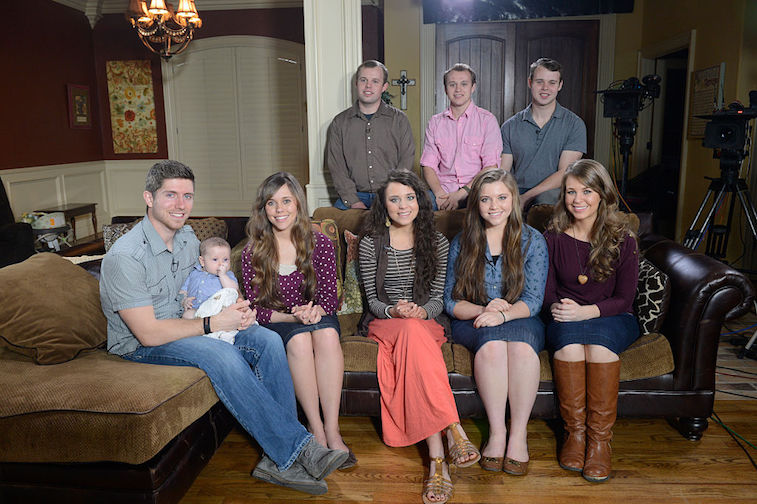 Seven of the Duggar children either have kids or are expecting kids
For years, Jim Bob and Michelle Duggar, the parents of the family, were the only ones with children. But now that the kids are growing up and the new show focuses much more on their lives, we're watching them all start families of their own. Josh Duggar, who is not on Counting On, was the first Duggar to marry and have kids. He has been with his wife since 2008. Jill and Jessa Duggar, the second and third oldest Duggar daughters (Jana, the oldest Duggar daughter, is not married), both wed in 2014. Since 2014, John, Jinger, Joseph, Josiah, and Joy have all wed as well.
In total, there will be 17 grandchildren in the Duggar family by the end of this year
2019 is a big year for Duggar babies. Almost every married Duggar Is expanding their family. Jessa Duggar recently welcomed a baby girl; Ivy Jane is her third child. Josh Duggar and his wife, Anna, are expecting their sixth child. Kendra Caldwell and Lauren Swanson, who are married to Joseph and Josiah Duggar respectively, are both pregnant as well. And Joy Duggar is expecting her second child with her husband, Austin Forsyth, later this year. John Duggar and Abbie Burnett married back in November, and fans are guessing the two will announce a pregnancy later this year. After 2019, there will be 17 Duggar grandchildren in the family — and fewer than half of the Duggars are married.
Critics recently slammed the family members for 'overpopulating'
When Us Weekly posted a photo announcing that Kendra and Joe Duggar had revealed their baby's gender (they're having a girl), fans didn't take too well to the news. "Thank you next. Absolutely no one cares there's way too many of them," one user wrote. "The world is already over populated, stop," someone else wrote. People compared a Duggar pregnancy to a sunny day in Los Angeles, suggesting it isn't news worthy. Others criticized the whole family, saying they only marry to reproduce. People also criticized Lauren Swanson and Josiah Duggar's gender reveal.
While many people love and respect the show, the family has taken criticism in the past
The Duggars aren't for everyone. While there are plenty of people who love and respect the family, there are also many people who can't grasp the strict, traditional life the Duggars live. The Duggar daughters have said they wouldn't have wanted to be raised any other way, but for most Americans, the family's life is simply too much to handle. The Duggars also don't believe in premarital sex, birth control, or abortion, which some critics also don't accept.
Check out Showbiz Cheat Sheet on Facebook!