Who Has Custody of Khloe Kardashian and Tristan Thompson's Daughter?
It's no secret that there have been major relationship issues between Khloe Kardashian and the father of her daughter, Tristan Thompson. Kardashian and Thompson have had a very tumultuous year, beginning when a video surfaced of Thompson with another woman just days before Kardashian gave birth. Now, they're in the middle of another cheating scandal. But what is the custody situation between the two when it comes to their daughter, True?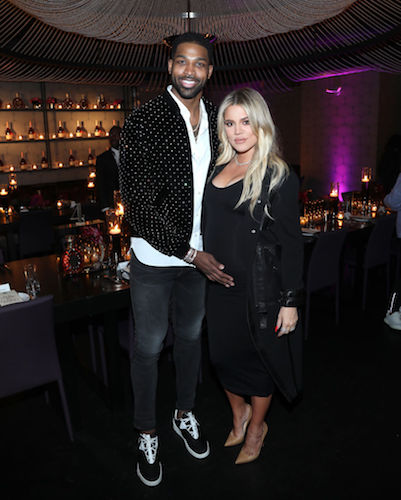 Kardashian gave birth to her first child with Thompson in April 2018
Kardashian and Thompson were dating for some time when Kardashian found out she was pregnant with the couple's first child. She was ecstatic, and everyone was thrilled for her, since she had been talking about having children ever since she started dating Lamar Odom years ago. But as soon as Kardashian was about to give birth, a video leaked of Thompson with another woman. The video was recorded in fall 2017 but didn't make its way to the public until several months later. And just a few days after that, Kardashian gave birth to the couple's first child.
Thompson has cheated on Kardashian several times since they began dating
After the initial cheating video surfaced, things became very hard for Kardashian. But at the same time, she didn't want to give up on the father of her child. Over the next several months, the two worked on their relationship to get back to a good place. But just when things seemed to be going well, Kardashian's heart was broken again when she learned that Thompson had cheated on her with Kylie Jenner's best friend, Jordyn Woods. Since then, Jenner has reportedly cut off her former best friend, and Kardashian has had a very difficult time coping with everything going on.
Kardashian and Thompson reportedly co-parent well despite all of the drama
Although things between the couple are rocky to say the least, they still both want the best for their daughter. When it comes to True, the couple can agree that a sense of normalcy is the most important thing for her. According to Entertainment Tonight, the couple doesn't actually have a formal custody agreement in place, but they both agree that True needs to come first. Right now, Thompson is mid-season and Kardashian has some more free time and flexibility, so True has been spending a lot of time with her mother.
Despite not having a custody agreement, True spends most of her time with Kardashian
It's easy for True to go to work with her mom, but Thompson can't exactly bring his daughter to basketball practice. Plus, Kardashian has a huge family filled with baby sitters, so it's made it easier for Kardashian to have True most of the time. Although True spends more time with Kardashian, it doesn't mean she's not seeing her father. "Khloe and Tristan may have their issues, but Khloe will never deny Tristan a chance to spend time with his daughter," a source close to the family said. For now, the two have a lot of issues to work through, but True's well-being will always be the most important.
Check out The Cheat Sheet on Facebook!