15 Cutest Celebrity Families
You know how when your Facebook friends post constant photos of their kids, you just find it annoying? For some reason, this phenomenon doesn't seem to carry over to our fascination with celebrity families. We're constantly marveling at the cutest of the cute.
Whether they have babies or kids entering their teen years, this list is littered with beautiful famous faces and their equally attractive family members. There may even be a few surprises along the way. Here are 15 of the cutest celebrity families in Hollywood … and beyond.
15. Jimmy Kimmel and Molly McNearney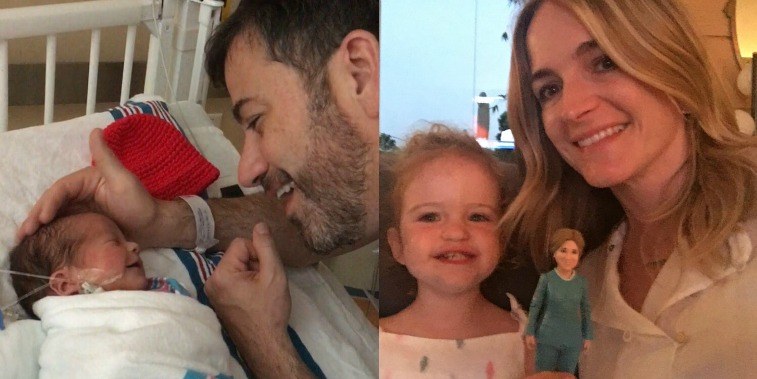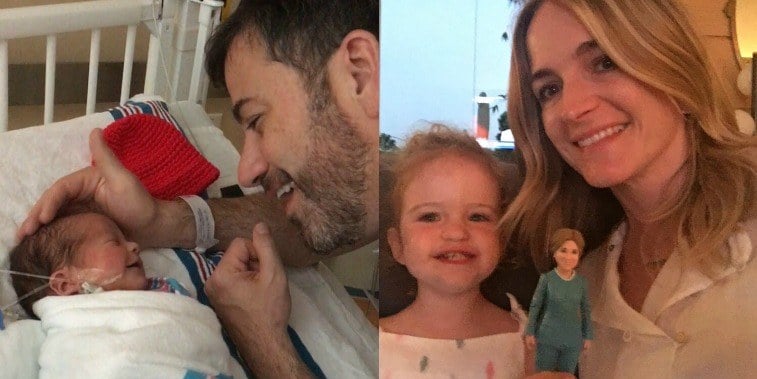 Comedian and late-night talk show host, Jimmy Kimmel, has been around for quite some time, but it wasn't until 2017 that he began to take the spotlight repeatedly. In February, he hosted the Oscars, during which the biggest fiasco in the event's history took place. Still, Kimmel handled it well, and was asked back to host the 2018 ceremony.
Then, in April, he opened his show one evening with a personal story: His newborn son, Billy, had a heart condition, and underwent an operation in his first days of life. Kimmel and his wife, Molly, a writer on his show, now have two children together, Billy, and their daughter, Jane. Kimmel also has two more children from a previous marriage, whom he thanked for their support during Billy's birth and diagnosis.
14. Mario Lopez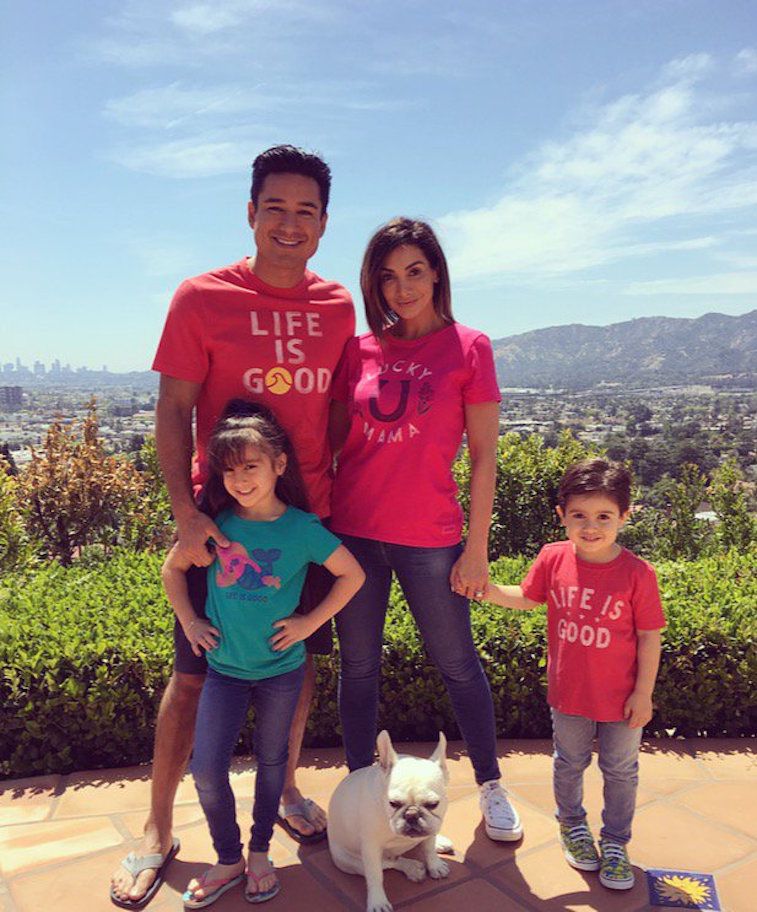 It can be hard to break out from a well-known character and make your own name known, but Mario Lopez is a study in how it's done. Originally known solely as bad boy A.C. Slater from Saved By the Bell, Lopez became a major face in celebrity news, and has hosted Extra since 2008.
Another aspect of his image that he's reshaped? His persona as a player. After a failed marriage and high profile relationships, Lopez married a little known dancer, Courtney Mazza, in 2012. They have a daughter, Gia, and a son, Dominic, and Lopez has managed to make himself appear as somewhat of a wholesome family man ever since.
13. David and Victoria Beckham
When two huge British '90s stars come together, the whole world is joyous. Spice Girl Victoria Adams, better known as Posh Spice, married Manchester United-turned-Real Madrid player David Beckham in 1999, making an undisputedly beautiful couple. Over the next 12 years, they had four children.
Now, Brooklyn, Romeo, Cruz, and little Harper are celebs in their own right. The eldest boys are models, Cruz is following in his mom's footsteps with a singing career, and David is frequently photographed doting on his daughter. The Beckham clan may be done growing for the time being, but none of them are slowing down: Victoria especially, is constantly on the move, building her fashion empire.
12. Alec and Hilaria Baldwin
Like many men his age in Hollywood, Alec Baldwin has given the family thing more than one go. His eldest daughter, Ireland, with Kim Basinger, is a model, and has her own career to take care of. But in 2011, Alec began dating a younger woman, Hilaria, and decided to give married life and fatherhood another chance.
Hilaria, a yoga instructor, has three young children with Alec: daughter Carmen and sons Rafael and Leonardo. The family seems to spend a lot of time out and about in New York, and occasionally gets together with Ireland for some sibling bonding.
11. Brad Pitt and Angelina Jolie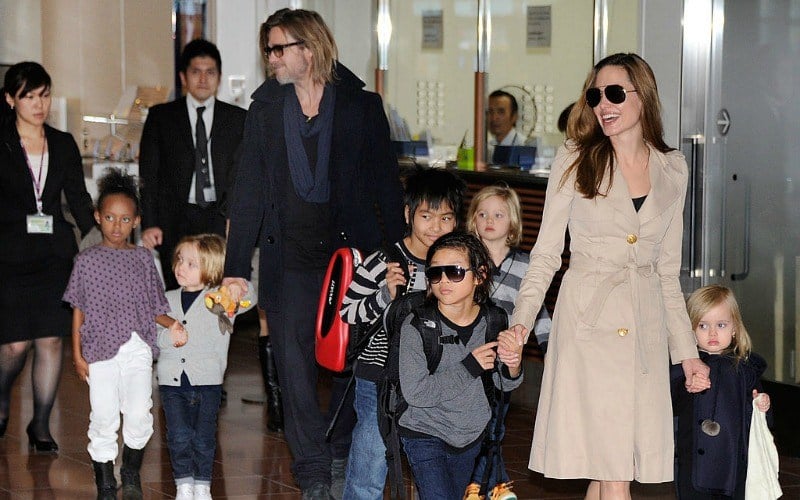 Though sadly this couple is no more, the Jolie-Pitts are a Hollywood institution. The story goes that around the time she broke up with Billy Bob Thornton, Jolie adopted her first child: a son, Maddox. When she and Pitt got together, he adopted Maddox as well, and the pair continued to grow their blended family, adding Zahara, Shiloh, Pax, and twins Knox and Vivienne.
The eight of them appeared to be very happy together and, in 2014, Jolie and Pitt were married. However, just two years later, the pair known as Brangelina, was no more. Though it's hard to say what the future holds for this family, it's nice to reflect on the sweetness of the pack when they were one unit.
10. Sarah Michelle Gellar and Freddie Prinze Jr.
Another 1990s dream couple come to life is that of Sarah Michelle Gellar and Freddie Prinze Jr. While the actress is best known for her iconic eponymous role in Buffy the Vampire Slayer, Prinze did the rom-com scene in the early '00s.
The pair actually met on screen: They starred alongside each other in the slasher flick, I Know What You Did Last Summer and its sequel, and went on to play Fred and Daphne in the live-action Scooby-Doo films.
Gellar and Prinze were married in 2002, and have two children together, Charlotte and Rocky. Both have essentially moved on from acting, with Gellar focused on her company, Foodstirs, and Prinze involved with several of his own ventures. They don't share their kids on social media frequently, but Gellar has an affinity for posting throwbacks on Instagram, so fans of her early work should be pleased.
9. Katherine Heigl
Though her reputation as an actress has wavered, Katherine Heigl's personal life is to be admired. The former Grey's Anatomy star married singer Josh Kelley in 2007, and the pair subsequently adopted two daughters, Naleigh and Adalaide, in 2009 and 2012, respectively.
Heigl was passionate about adoption in part due to her own sister, Meg, who was adopted from South Korea. Those who suspected that she chose adoption as a fallback were likely surprised when, in 2016, Heigl announced that she was pregnant. The actress gave birth to a son, Josh Kelley, Jr., that same year. This blended family may just be the picture of perfection.
8. Ellen DeGeneres and Portia de Rossi
Comedian and TV host Ellen DeGeneres made headlines back in 1997 when she came out as a lesbian both on her sitcom Ellen as her character, Ellen Morgan, and as herself on The Oprah Winfrey Show. After dating actress Anne Heche and the current wife of Jodie Foster, Alexandra Hedison, DeGeneres settled down with Portia de Rossi of Arrested Development fame.
Not all cute families have human offspring. Ellen and Portia have been upfront about their choice not to have children, but they shower their cats and dogs with affection. These pet moms and their "kids" are just adorable.
7. The Kardashians
Love 'em or hate 'em, the Kardashian sisters have some cute children with their respective partners. Starting with the eldest, Kourtney has three kids with her ex, Scott Disick: Mason, Penelope, and Reign. Though Disick and Kourtney have a rocky relationship, they seem to always prioritize the kids.
Arguably the most famous sister is Kim, who has two kids with her husband, rapper Kanye West. Her daughter, North, known as Nori, came along in 2013, and her son Saint was born in 2015. The celebutante has previously expressed a desire to have another child, but has been unable to, due to complications from her previous pregnancies. Still, the families are adorable as they are, and when they get together, it makes for a great photo.
6. Mariah Carey and Nick Cannon
Another now-defunct couple, Mariah Carey and Nick Cannon were quite the hot topic for a couple of years. The singer and actor were married in 2008 and, exactly three years later, their twins Moroccan and Monroe were born.
Carey and Cannon have since divorced, but are the picture of perfect co-parents. In February 2017, Cannon also welcomed another child into his life: a son, nicknamed Sagon, with ex Brittany Bell.
5. Chrissy Teigen and John Legend
Grammy and Academy Award-winning singer-songwriter John Legend has quite a social media presence. Most of this is due to his wife, Chrissy Teigen. The pair were married in 2013, and the stunning model quickly became known less for her swimsuit issue of Sports Illustrated and more for her hilarious tweets and Snapchat videos.
Frequently appearing in those posts? The couple's daughter, Luna. Born in 2016, Teigen and Legend have been open about their struggles with conceiving, and dote on their little girl. Teigen has already announced that they'll be using in vitro fertilization again in the future, so chances are Luna will have a little brother to play with in a few years.
4. Neil Patrick Harris
Grown-up Doogie Howser came out as gay in 2006, soon after he came back into the limelight for his role in How I Met Your Mother. Not long after this, he confirmed his relationship with chef David Burtka.
In 2010, a surrogate gave birth to the Burtka-Harris twins, Harper and Gideon. In the years since, Harris' Instagram has been filled to the brim with adorable photos of his family. The foursome is known for their fantastic Halloween photo shoots, with themed costumes to boot.
3. Beyoncé and Jay-Z
They're almost definitely the highest-paid celebrity couple in the world, and they look good while doing it. Between their two music careers alone, they dominate, but then there's the fashion lines, the endorsements, and even a little activism thrown in for good measure.
Bey and Jay married in 2008, and continued to top the charts while growing their family. In 2012, Blue Ivy Carter was born, and the world would never be the same. For years, Blue was the only apple of their eye, but then, when we least expected it, Beyoncé dropped the biggest news of all: She was expecting twins. Like everything the couple does, this has been shrouded in secrecy, but we know that sometime in 2017, we'll be blessed with two more Knowles-Carter children.
2. Blake Lively and Ryan Reynolds
This couple actually started as friends, meeting on the set of Green Lantern, and once double-dated. But they couldn't ignore their chemistry, and were married in 2012.
The pair soon expanded, adding two daughters, James in 2014 and Ines in 2016. Not only are they super cute as a family, but Lively and Reynolds are still an adorable couple on their own: They often gush about one another on talk shows, and appear in a surprise appearance on Saturday Night Live because, why not? If we're lucky, we'll see this sweet brood continue to grow.
1. Prince William and Kate Middleton
There was no question who the winner of the cute family contest would be. The story of the Duke and Duchess of Cambridge is an actual, real-life fairy tale, after all. The college sweethearts married in 2011 after a lengthy courtship, and subsequently had two children, George and Charlotte.
His and her Royal Highness are constantly in the tabloids, but there's very little for gossip rags to nitpick. The family is the picture of perfection, always upholding royal standards in proper attire and behavior. This extends to the kids, who have likely never been photographed crying, let alone in disarray.
Check out Entertainment Cheat Sheet on Facebook!