'Dancing with the Stars': How Much Is Sean Spicer Being Paid to Compete?
Celebrities are back to trying out their dance skills on television for Dancing with the Stars. Sean Spicer is one of those celebrities, which is getting a lot of attention. How much is he being paid to dance? Here is what he's reportedly making and more.
The celebrities will make $125,000 this season
Celebrities don't just compete on the show to get dance lessons. They also are paid to be on the show.
This season they are reportedly making $125,000 just for agreeing to do this season, according to Variety. They then get more money if they make it further into the show as an incentive to keep dancing.
This would be the same salary that celebrities have received in the past. Gawker previously reported that celebrities who made it to the third and fourth week earn an additional $10,000. Celebrities can make an additional $50,000 by the final two episodes. Spicer is reportedly making more than that.
Sean Spicer being cast has gotten backlash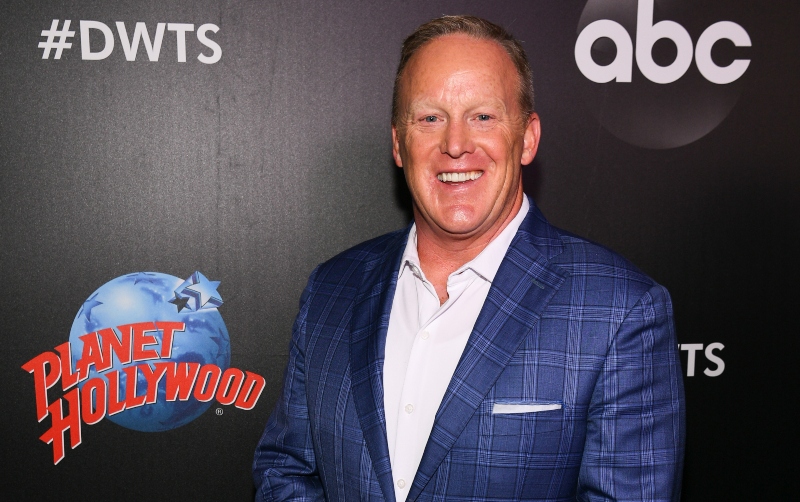 Many fans aren't happy that Sean Spicer will compete this season. Host Tom Bergeron also seems against the casting. He tweeted a statement about it.
Bergeron claimed there was a lunch where they talked about this season's cast. "Chief among them was my hope that DWTS, in its return following an unprecedented year-hiatus, would be a joyful respite from our exhausting political climate and free of inevitably decisive booking from ANY political affiliations," claimed his statement.
"I left that lunch convinced we were in agreement. Subsequently (and rather obviously), a decision was made to, as we often say in Hollywood, 'go in a different direction,'" it revealed.
The host ended the statement with, "Hopefully, when [co-host] Erin Andrews and I look into those lenses again on September 16, you'll be on the other side looking back, able to enjoy the charismatic pro dancers, the unpredictable judges and the kitschy charm that has defined DWTS since 2005."
He will reportedly make $180,000
Fans probably won't be happy to find out that the former White House press secretary is getting a sweeter deal than the rest of the cast.
He is reportedly making more than his fellow celebrities with $180,000, according to Variety. Spicer will then earn more money if he makes it further into the competition.
There is one celebrity who isn't angry about Spicer's casting and that's Queer Eye co-host, Karamo Brown. One fan tweeted, "I'm actually disappointed in @Karamo for lending his celebrity to this."
He replied, "First, I have no say who is on the cast and didn't find out till this morning that he is on! But I'll tell you this… I'm excited to sit down w/ him and engage in a respectful conversations. Only way things get better is if we try to educate those who have different POV than us."
Brown also described Spicer as "nice" and "very sweet" in an interview. Eventually, he deleted his Twitter account after the backlash for his comments.