'Dancing with the Stars': The Most Awkward Dances of All Time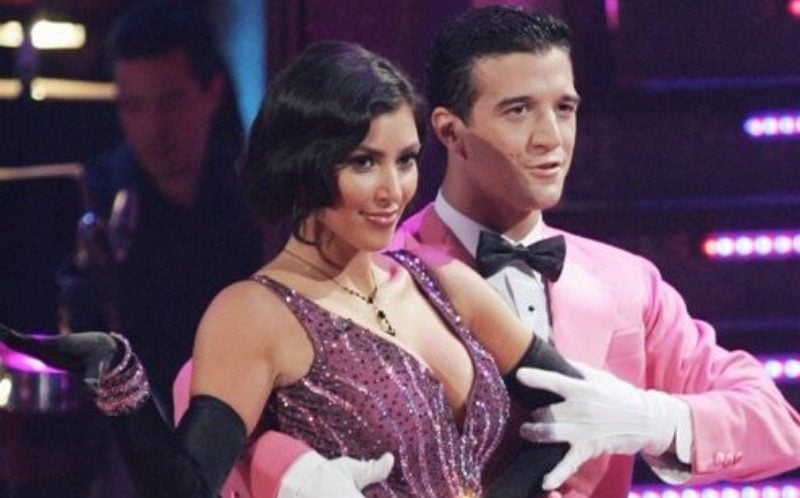 It's that time of year again when your favorite dancing pros and a fresh cast of celebrities are back in the ballroom for another season of the hit reality competition, Dancing with the Stars. The Season 25 lineup was announced on Sept. 6, 2017, and the stars competing for the Mirror Ball trophy include Nikki Bella, Frankie Muniz, Nick Lachey, Terrell Owens, and Debbie Gibson, to name a few.
With a new season comes more live performances that will go down in history as epic, and others that will be so awkward, they'll make everyone wish they could unsee them. You know those performances we're talking about — the ones that make you feel bad for the couple because the dance was just so rough. In honor of a brand new season, we decided to dig up those old performances and relive some of the most awkward dances of all time (leading up to the worst of the worst).
15. Kim Kardashian — rumba, Season 7
Kim Kardashian has no trouble showing her sexy side nowadays. But early in her career, when she appeared on the seventh season of DWTS, she couldn't bring it to the ballroom. Instead of delivering a sultry performance of the rumba, the reality star held onto her partner, Mark Ballas, for dear life and just threw her arm in the air every now and then.
The pair had no chemistry, and it showed, which made the whole performance awkward to watch.
14. Wendy Williams — cha cha, Season 12
Wendy Williams may be one of the queens of daytime talk shows, but while competing on Season 12 of DWTS, she looked like a deer in headlights. When dancing to "I'm Every Woman" with pro partner Tony Dovolani, Williams' facial expressions indicated that, at some points during the dance, she had no idea what was going on.
After she was eliminated, Williams claimed that some elements of the show were fake and that the producers scripted what they wanted the contestants to say.
13. Chris Kattan — cha cha, Season 24
On Season 24, funnyman Chris Kattan spoofed his bad dancer "Roxbury Guys" character from Saturday Night Live, but all the judges saw was a bad dance.
The comedian never looked comfortable, and since his moves weren't great, three of the judges ended up giving him and partner Witney Carson a score of four out of 10.
12. Geraldo Rivera — cha cha, Season 22
Geraldo Rivera's cha cha on Season 22 was a flop. The Fox personality kept a smile on his face, but everyone watching couldn't help but see the awkwardness from the moment he and his partner, Edyta Sliwinska, began their dance.
Needless to say, the judges were underwhelmed and gave the pair dismal scores.
11. Mike 'The Situation' Sorrentino — Argentine tango, Season 11
Jersey Shore star Mike "The Situation" Sorrentino competed on Season 11 of DWTS and gave us some cringe-worthy performances. His fist-pumping dance moves in the club didn't help him out at all in the ballroom.
For most of their performances, The Situation just tried to keep pace with his partner, Karina Smirnoff, but when it came to their Argentine tango, he missed his steps and didn't really dance at all. Basically his only participation was lifting and swinging Smirnoff around.
To no one's surprise, they were eliminated after that dance.
10. Kim Kardashian — mambo, Season 7
https://www.youtube.com/watch?v=VzGEiw_ePUA#action=share
Kardashian made our countdown twice for having absolutely no rhythm. Her mambo routine to "Baby Got Back" was worse than her rumba, simply because of how she looked towards the end of the song. The reality star stiffened up and then appeared to just give up when she stopped moving to the music. This left Ballas with no choice except to swing her around and try to save the dance, but he was unable to.
Her performances were so underwhelming that she was the third celebrity booted from the show.
9. Kate Gosselin — paso doble, Season 10
Dancing pro Tony Dovolani had a few difficult partners to deal with during his tenure on DWTS, and Kate Gosselin was one of them. Things with the reality star were so bad that at one point, Dovolani threatened to quit because he didn't want to work with her.
When they took the stage for their paso doble, it was hard to tell if she was really trying or just going through the motions. Her robotic performance, of course, led to criticism from the judges.
Gosselin's fans kept her around longer than they should have but she was finally sent home in Week 5.
8. Geraldo Rivera — salsa, Season 22
Rivera did not get better after his first disastrous performance on the reality competition show. For some reason, he and Sliwinska thought it would be a good idea for Rivera to impersonate Donald Trump while dancing the salsa. The Trump wig was bad, the orange tan was awful, and their performance was overall terrible.
The judges gave them a score of just 13 out of 30, and the pair became the first casualty of Season 22.
7. Bill Nye — cha cha, Season 11
Bill Nye didn't last long on Season 11 of DWTS but "the Science Guy" did leave us with a memorable, albeit awkward, performance to the song, "Weird Science." During their cha cha, as his partner, Tyne Stecklein, moved about quickly, there was no denying Nye's stiffness. His trouble to keep up with her made the dance a bit hard to watch.
They were eliminated following their Week 2 performance.
6. Tucker Carlson — cha cha, Season 3
Tucker Carlson's cha cha on Season 3 left some people wondering if it was even a dance. That's because the political commentator didn't do much dancing. Instead, he sat in a chair for part of the song while his partner, Elena Grinenko, tried to make something out of nothing. When he did rise, he simply looked as though he was just walking, not dancing.
The lackluster performance did not earn him high marks with the judges, and they were the first couple sent home.
5. David Hasselhoff — cha cha, Season 11
We don't mean to "hassle the Hoff," but we really wish we could erase the images of him dancing the cha cha with his partner, Kym Johnson, on Season 11 of DWTS. The pair danced to "Sex Bomb," and the actor's performance totally bombed. Hasselhoff's attempt at trying to be seductive made the whole thing kind of uncomfortable.
They were the first couple to be eliminated that season.
4. Steve Wozniak — samba, Season 8
Apple co-founder Steve Wozniak is a tech genius, but dancing just isn't his thing. The Woz competed with partner, Karina Smirnoff, on Season 8 and dealt with harsh criticism from the judges following every performance. Watching their samba was so difficult because while it looked like Wozniak was giving it his all (even doing the worm), he just didn't have it.
In an effort to keep him on the show as long as they could, Apple fans everywhere united and voted as much as possible. He and Smirnoff made it to Week 4 of the competition before they were sent packing.
3. Metta World Peace — cha cha, Season 13
Awkward is really the only way we can describe former NBA star Metta World Peace's performance with Peta Murgatroyd on Season 13. The athlete didn't have any rhythm at all and was just stiff throughout. On the plus side, he looked like he was having a great time on the floor.
That performance did them in though and they were eliminated first.
2. Master P. — paso doble, Season 2
There isn't a whole to say about Master P's dancing (if you want to call it that) and time on Season 2 of DWTS. The rapper filled in for his son, Romeo, after the latter had to drop out because of an injury. What made his performances so awkward every time he and his partner, Ashly DelGrosso, took the floor was that his upper body never looked like it was moving.
His lack of focus and dancing talent earned him the lowest scores ever given to any contestant on the show. If that record-low score of eight out of 30 is ever broken, then we will be witnessing some horrific dancing.
Master P and DelGrosso got the boot in Week 4.
1. Michael Bolton — jive, Season 11
It may not have been the most terrible dance ever performed in the ballroom, but it was definitely the most awkward. You cringed watching it, right? We still don't know why singer Michael Bolton came out of a doghouse on his hands and knees. We get that he and his partner, Chelsie Hightower, were doing the jive to the song "Hound Dog" … but having him crawl out of a doghouse on TV? Really?
The pair was sent packing in Week 2 following the all-time awkward performance.
Follow Michelle Kapusta on Twitter @philamichelle.

Read more: 'Dancing with the Stars': 11 of the Most Controversial Eliminations
Check out Entertainment Cheat Sheet on Facebook!