'Dancing with the Stars': The Most Controversial Celebrities to Join the Show
The competition show is always on the hunt to get celebrities to join the cast. They tend to cast a wide net for the type of celebrities they look for from politicians to Olympians to pop stars. But that also means many celebrities have turned the show down.
The show tends to swoop in on celebrities when they are in need of some good publicity. Some celebrities were at the height of controversy when it was announced they were doing the show, which in turn led to public outrage. Other celebrities were just controversial from the start given how they got their fame.
But who were the most controversial celebrities to put on their dancing shoes to win the Mirrorball trophy? Here 15 celebrities ranked from least to most controversial who have joined the show.
15. Kim Kardashian
The reality star seems to be one of those celebrities people either hate or love. Either way, she switched reality shows for a short time to compete on Dancing with the Stars for Season 7. Her partner was Mark Ballas and her time on the show was pretty uneventful.
She was the third celebrity to be eliminated. "This was a huge challenge for me," she told E! News. "Every dance was a huge accomplishment for me, and I did the best I could. And this was the best experience of my life."
In the end, the reality star gained more fans from the experience including host Samantha Harris. "Everyone told me that getting to know her outside of the tabloids and the reality show has been so refreshing," she told E! News "since Kim is such a sweetheart. I feel the same way."
Next: This former bachelor got flack for being cast for this reason.

14. Nick Viall
The former star of The Bachelor was cast for the show and it actually led to some dispute. This is because the former star of The Bachelorette Kaitlyn Bristowe said she wasn't allowed to join the show when she asked because she claimed producer Mike Fleiss was against it. Apparently, he didn't want to promote people going on the show to gain fame so why was Nick Viall allowed to do so afterward?
Next: This reality star was later dissed by her dancing partner.

13. Kate Gosselin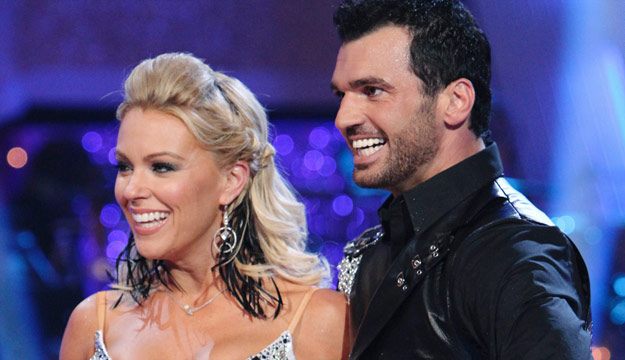 The reality star mother was often in tabloids due to her messy divorce from her ex-husband Jon. Whether it was fair or not, many people judged Kate Gosselin so it was a big deal that she was cast to do the show. Her partner, Tony Dovolani also wasn't a fan of her.
"There was a lot of therapy involved," he told Anderson. When Anderson Cooper brought up their dancing he said "Wait, wait. Anderson, did you just call it a dance? We didn't dance,"
Next: This winner was accused of having an unfair advantage.

12. Alfonso Ribeiro
The Fresh Prince of Bel-Air actor also got flack for having dancing experience. He still competed in Season 19 and won which stirred up the controversy again.
"The only dancing I've ever done was tap dancing and that was yes, on Broadway, but they taught me to tap dance to do the show," Alfonso Ribeiro told OK magazine. "I've never taken any dance classes. When people call me a professional dancer that's actually so incorrect. I've only taken a few jazz classes and obviously tap."
Next: This Broadway actor was also accused of being too experienced.

11. Jordan Fisher
The Season 25 winner also got flack throughout the season because he performed in Hamilton on Broadway and Grease Live!. Like Ribeiro, he also ended up winning the season despite this.
Next: This former professional dancer also angered fans.

10. Heather Morris
Heather Morris was a professional dancer who worked with Britney Spears and Beyoncé. She then went on to be a choreographer and eventually started acting on Glee. So when she was cast to compete on the reality show for Season 24 many pointed out how she has an advantage. But Morris was shockingly the fifth to be eliminated.
Next: This actress' casting angered a former competitor.

9. Leah Remini
The actress' casting caused a stir because she has been very vocal against Scientology. This might not have been considered a big deal if it wasn't for Kirstie Alley who was previously on the show and is also a Scientologist.
Alley's former dance partner, Maksim Chmerkovskiy revealed that this affected his relationship with Alley. "Scientology happened," he said when asked what happened to their relationship. "You can thank [my friendship with 2013 contestant and former Scientologist] Leah Remini for that. A note was sent to a friend telling me I was 'disconnected,' as in, I am no longer allowed to be Kirstie's friend. I find it ridiculous for an adult human being to 'disconnect' from someone. But everyone is entitled to their own insanity."
Next: This disgraced Olympian created buzz for doing the show.

8. Tonya Harding
The Olympic skater and first woman to do a triple axle fell from grace when it came out that her husband and bodyguard were involved in planning her competitor, Nancy Kerrigan's leg getting whacked with a baton in 1994. Tonya Harding became one of the biggest sports villains because of this.
So it was surprising when it was announced that Harding would join the all-athlete season of the show. Especially, since Nancy Kerrigan once competed in the past.
Next: This politician danced on the show after pleading guilty to conspiracy.

7. Tom DeLay
The former House majority leader was indicted on charges of conspiring to violate Texas political fundraising law in 2005, according to CNN. He then ended up resigning and pleading guilty to conspiring to bribe public officials.
He went on to be on the show but didn't finish because of a stress fracture. The conviction was later overturned because the evidence was "legally insufficient."
Next: This boxer competed on the show after multiple charges of domestic violence.

6. Floyd Mayweather
The world champion boxer might have fans from the sport. But he also has a terrible history of domestic violence. He pled guilty to two counts of battery domestic violence and received 48 hours of community service and two days on house arrest in 2001 and 2002, according to Business Insider. A year later he was convicted for battery for fighting two women and pleaded guilty to misdemeanor battery domestic violence again in 2011.
In between all of this Mayweather also competed on Dancing with the Stars in 2007 for Season 5. He was partnered with Karina Smirnoff and they were the fourth to be eliminated.
Next: This Fox News correspondent was notoriously bad at dancing on the show.

5. Geraldo Rivera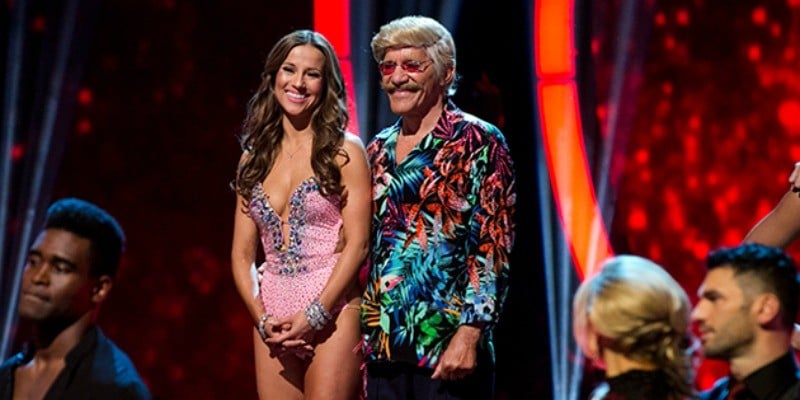 Fox News correspondent Geraldo Rivera made headlines for things he has said throughout the years. But he went on to compete in Season 22. He was notoriously bad and was the first to be eliminated.
Rivera was in the middle of scandal once again after the show when it was revealed Bette Midler claimed he groped her in her interview with Barbara Walters in the '70s.
Next: This actor was accused of flying off the handle at his dance partner.

4. Jaleel White
Unlike other controversial celebrities, there wasn't much to say about Jaleel White when it was announced he was cast. But things took a turn when he started working with his partner, Kym Johnson. Reports claimed he stepped on her foot then yelled at her during a rehearsal. "It was completely exaggerated," White later said according to People.
Mark Ballas reportedly intervened. "These things happen," he said. "This show is a competitive show. Things get heated. … This got severely twisted. We've been in the same room all night, and everything's fine."
Next: This cook was cast on the show after she admitted to using racial slurs.

3. Paula Deen
The cook and her brother, Bubba Hiers were sued by a former employee who claimed she was subjected to racism and sexual harassment while working at Uncle Bubba's Seafood and Oyster House. Paula Deen eventually admitted she has used racial slurs in the past which led to her show getting canceled and her issuing a public apology.
Deen competed on the show for Season 21 shortly after the scandal. This led to some anger but she was able to finish the season out with her partner Louis van Amstel until she was eliminated. Eventually, she reached a settlement with the former employee and the lawsuit relating to racial discrimination was thrown out, according to People.
Next: This actor was accused of lunging at a staffer on the set of the show.

2. Andy Dick
The actor's career and life have been affected by his history of alcohol and drug addiction. He started to become more open about his recovery and getting back on track so it wasn't totally surprising he decided to compete on the show for Season 16.
He ran into trouble on the show too when he returned for the finale. He reportedly was acting erratically to where he lunged at a production staffer's breast and had to be escorted from the ballroom.
After competing he ran into more scandals. He was fired from two movies where he allegedly sexually harassed people on set, according to People.
"I didn't grope anybody. I might have kissed somebody on the cheek to say goodbye and then licked them. That's my thing," Andy Dick told The Hollywood Reporter. "I licked Carrie Fisher at a roast. It's me being funny. I'm not trying to sexually harass people. I didn't grab anybody's genitals."
Next: Protestors stormed the set of the show to address this celebrity's scandal.

1. Ryan Lochte
The Olympic swimmer was cast in Season 23 around the height of a scandal. He along with other swimmers admitted to overexaggerating about being robbed at gunpoint in Rio de Janeiro after it was shown they may have vandalized property while they were there for the Olympic Games. In one episode, two protestors got on the ballroom floor an started chanting against Ryan Lochte for this. They were escorted out and arrested.
Follow Nicole Weaver on Twitter @nikkibernice.
Read more: 'Dancing with the Stars': The Craziest Things Celebrities Revealed After the Show
Check out The Cheat Sheet on Facebook!