Sean Spicer Came Really Close to the Worst Week 7 Score in 'DWTS' History
If you're a fan of Dancing With the Stars, you've probably noticed a few things that are different about this season. For one, the dark cloud of U.S. politics has hovered over the show for all of Season 28.
That's because ABC decided they'd shake the tree by bringing Sean Spicer, pride of Donald Trump's White House, aboard as a contestant this season. On social media and in opinion polls, most DWTS fans have said that casting decision was a poor one.
Meanwhile, a change in the DWTS system has meant that votes from audience members in Pacific and Mountain time zones do not count. As Spicer continues advancing despite having the lowest scores, that's become a black eye for the show.
In fact, it's incredibly rare for someone who dances as poorly as Spicer did on Monday (a score of 18) to continue on to Week Eight. Over the previous 27 seasons, only two contestants ever scored that low in Week Seven — and only one advanced.
Only 2 'DWTS' contestants have ever scored lower in a Week 7 dance
In some ways, you could say Spicer's DWTS appearance has been record-setting. Only one contestant this decade has ever made it to Week Seven and scored lower than Spicer. That contestant was Andy Dick, the comedian who got that far in Season 16 (2013).
After dancing the rumba to Perez Prado's "Cherry Pink (and Apple Blossom White)", Dick and pro partner Sharna Burgess only managed a score of 17. As you'd expect, the couple found themselves eliminated that night.
Before that, you'd have to dig into ancient DWTS history to find someone scoring that low in the contest's seventh week. In Season Four (2007), Billy Ray Cyrus did just that with his score of 17.
Partnered with pro Karina Smirnoff, Cyrus's score came for his attempt at a waltz to Neil Diamond's "Play Me." And, miraculously, he lived to see another dance.
Only Billy Ray Cyrus advanced to Week 8 with such a low score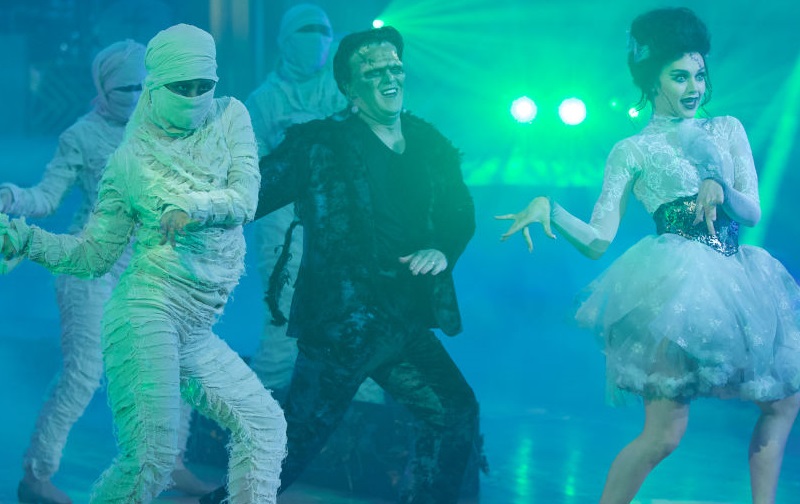 While Dancing With the Stars fans might not have the expertise of Len Goodman or Bruno Tonioli, most know a bad dancer when they see one. And if your timing is terrible — and your body movements still wooden — by Week Seven, the chances are slim you'll survive.
Prior to Spicer (whom Carrie Ann Inaba said was "backsliding" in Week Seven), the only one to advance to a Week Eight was Cyrus. After posting a score of 18 the following week, Cyrus's run ended.
So should we assume Sean Spicer is as popular as Billy Ray Cyrus was in 2007? Of course he isn't. Spicer managed to stay on because of the show's flawed voting system and a conservative movement intent on pushing him ahead regardless of how poorly he dances.
(Along with Trump, Fox News hosts and other right-wing personalities tweet when and where to vote for Spicer.)
It's an odd formula in a season in which ratings are down even more. But maybe that's because Spicer's voters keep bragging they don't watch the show. (They go online to vote merely so they can "stick it to Hollywood" and so forth.) Either way, ABC has only itself to blame for the results.
Also see: The Trump Official Joy Behar Said Will Follow Sean Spicer on 'Dancing With the Stars'