'Dancing With The Stars': Why Pro Peta Murgatroyd Wants Hannah Brown To Win The Mirrorball
Last week, Hannah Brown received some tough criticism from Carrie Ann Inaba. After the former bachelorette performed her jazz routine with her parter Alan Bersten to "Bad Girls" by Donna Summer, the judge told Brown that she felt "something was lacking."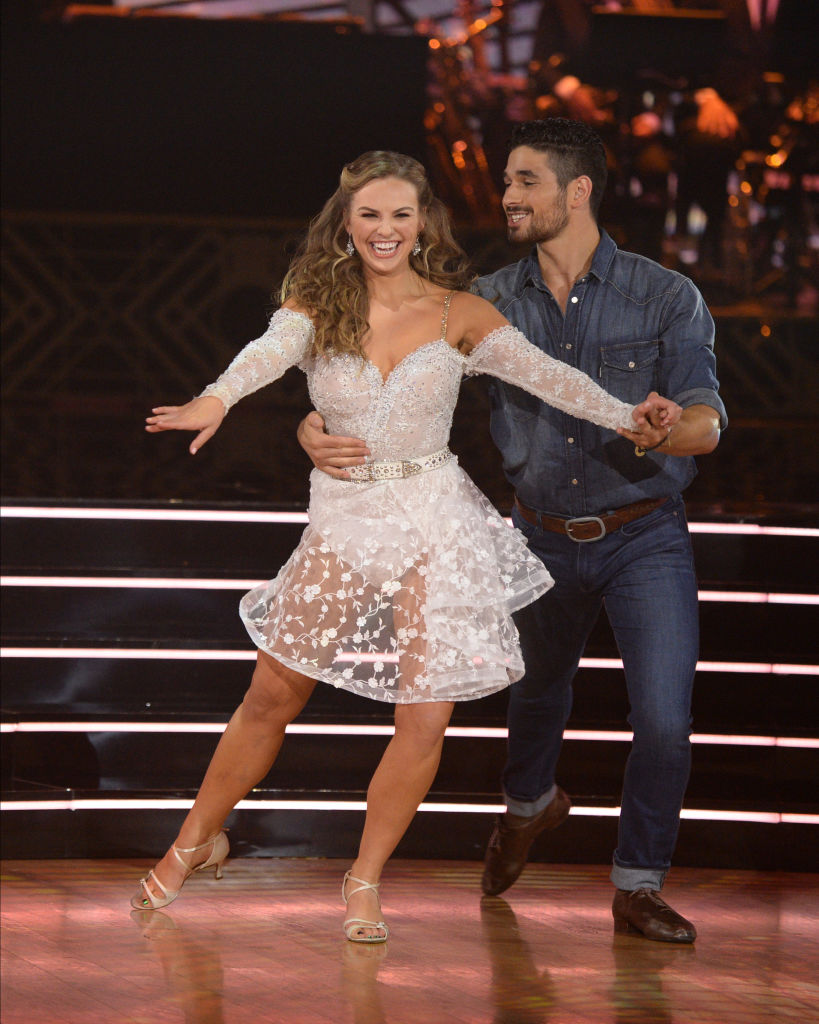 "You are disconnected from the movements. I need you to give your heart. You look and then you look away. You're not really staying in it," Inaba told Brown. "It's almost like there's a bit of shyness in you; you almost close off to the dance. I want you to stay open. We want to get to know you through the dance. We want to see layers that nobody has seen before and I know it's hard to do but, I swear, if you open up and let it go raw out here, we will be here for you."
Hannah Brown is having a hard time competing on 'DWTS'
Shortly after the episode, Brown posted to Instagram about how she's been struggling while competing on Dancing With The Stars.
"I came into this experience a little broken and confused—more than I've shared. Everyday has brought its challenges with my past, my fears, and the uncomfortableness of opening myself up again to be judged on something VERY scary like learning a new skill to perform each week. Last night was really defeating for me and a lot of suppressed emotions started to surface from this amazing, but grueling experience," she wrote.
Peta Murgatroyd hopes Hannah Brown wins 'Dancing With The Stars'
Despite her struggles, recently eliminated Peta Murgatroyd (along with Lamar Odom) thinks Brown still has what it takes to win the Mirrorball.
"I definitely have a special friendship with Hannah that started from the very beginning," Murgatroyd told Yahoo Entertainment. "I think she's a great girl. She's such a hard worker. It's insane the amount of hours that she is putting in and also coming from a reality show, 'The Bachelorette,' and coming on to another one, I think she has handled that so well. I'm rooting for her, because she's got everything it takes to be the winner of 'Dancing with the Stars.'"
But the two-time Dancing With The Stars winner thinks "a lot of other people" could swoop in to win the Mirrorball. In addition to Brown, Murgatroyd believes James Van Der Beek is another front-runner.
"How you handle the stress? How is your partnership standing up and your friendship? Can you go the full ride together?" she said of what it'll take to snag the ultimate title. "It is all about how close you can connect and stay connected with your partner and not get distracted by all the craziness that is surrounding you."
Fans will see Murgatroyd reunited with Odom at the Nov. 25 finale. The dancer says they've kept in touch but haven't seen each other since being eliminated–Odom has moved back to Atlanta.
"We've been texting each other, saying 'Miss you, miss you,' and I can't wait to see him again," she said. "And next time he's in L.A. we're gonna do, like, a double date sort of situation."
Read more: 'Dancing With The Stars': Jenna Johnson On Why She Thinks The Judges Were Hard On Karamo Brown