'Dancing With the Stars': What Sean Spicer Hopes Will Save Him From Elimination
When ABC announced Sean Spicer would be a Dancing With the Stars contestant in Season 28, many people (including the show's host) wondered what producers were thinking. After all, Spicer became famous for his gaffes and bald-faced lies while working as press secretary for a historically unpopular president.
But this is DWTS, and Trump's old press flack hoped to keep the focus on the dance floor. "I did this to have some fun," Spicer told Variety. "And hopefully show what a great opportunity this show is for the country to bring people together, allow you to root for another person regardless of their background."
In short, Spicer came aboard to set politics aside and win over folks with his moves on the dance floor. However, it quickly became apparent that his dancing wouldn't take him far. After the first week, Spicer had the lowest score of any contestant not named Lamar Odom. That didn't change after Week Two.
At that point, Spicer did the opposite of what he said he'd do (messaging was never his thing) and began campaigning with Trump's signature hashtag to stay alive on DWTS. Unfortunately for him, that still might not be enough to save him from elimination Monday night.
Spicer might dance worse than he lies.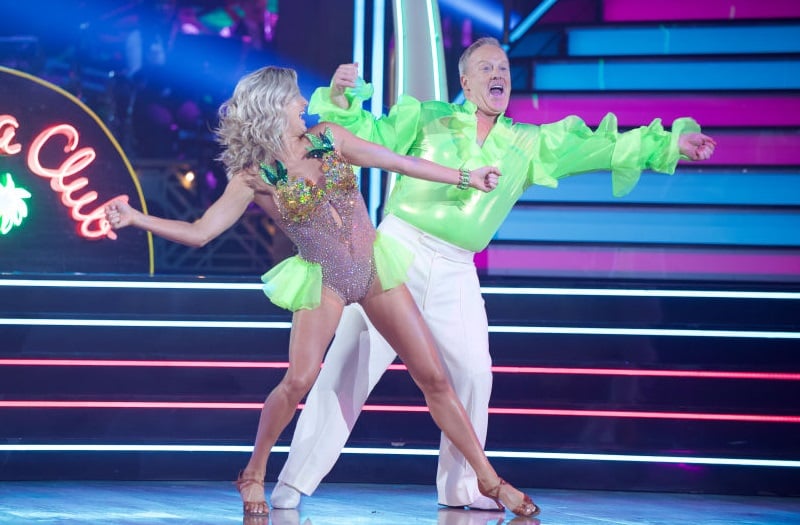 What was the worst lie Spicer told the American people from that podium bearing the presidential seal? That will depends on your taste. For many, Spicer's press briefing on the size of Trump's inauguration crowd stands as his most brazen showing.
But Spicer and ABC hoped all that was water under the bridge as the network decided to bring him aboard at DTWS. However, after three weeks on the show, something else has become obvious: Spicer might be worse at dancing than he is at lying.
The score for his opening-night salsa (12) could hardly be lower, and it seemed like judges actually gave him bonus points for smiling. In the routine that was dominated by moves by pro partner Lindsay Arnold, Spicer aimed to stay immobile as much as possible.
However, when he had to actually dance, his poor timing and lack of conviction in any step could get him kicked out of a beginner-level salsa class. "Your hips — it looked like they were set in cement," judge Bruno Tonioli told Spicer after the first week. He hasn't improved since.
At this point, his only hope is that stays in the basement. Otherwise, Monday could very well be the end, for Spicer, depending on the audience vote.
Spicer hopes Trump supporters will make up for his bad dancing.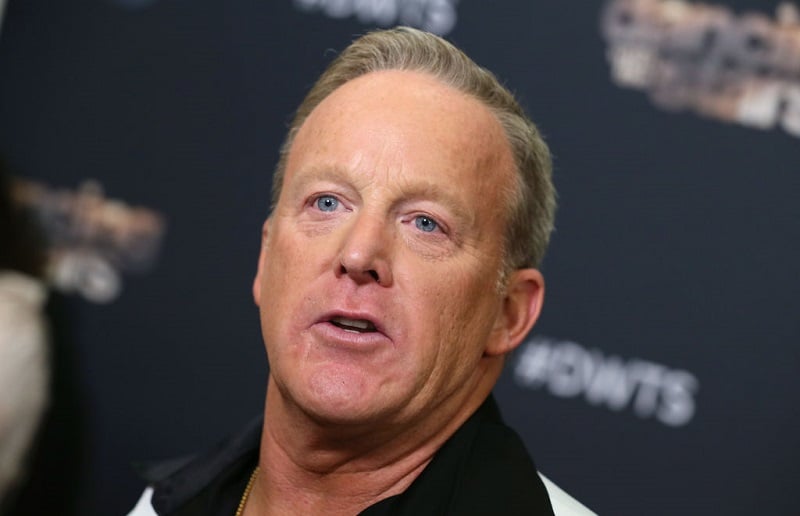 With his chance to move forward on the basis of his dancing gone, Spicer has decided to get political. Indeed, he's already gone back on his word about "bringing people together" and "ignoring their background."
No, he's gone full MAGA — friendly home of the travel ban based on religion and nationality — in hopes of staying on the show. That way, he can earn more money and stay on TV longer.
In other words, Spicer has remained on-brand with this transparent attempt to rehabilitate his image. There will definitely be people out there who see him as someone with "guts" who had to "lay it all on the line" on DWTS and so on, but probably not enough.
Whether he gets eliminated Monday or in a following week, Spicer will keep the reputation he earned in D.C. — that of someone who tosses aside integrity when there's money and influence on the line.
On the bright side, at least most Americans now know they can dance better than Spicer, too.
Also see: Adam Rippon Says 'Dancing With the Stars' Set the Bar Low With 'Liar' Sean Spicer