Danica Patrick Really Wants to Marry Aaron Rodgers and Thinks He'll Propose Soon
Retired racecar driver Danica Patrick revealed in early 2018 that she was dating Green Bay Packers quarterback Aaron Rodgers. Well now, the Pretty Intense podcast host is spilling when she thinks her beau will get down on one knee and propose.
While rumors have been swirling on the internet for months that they're already engaged that's not the case. But Patrick believes that it may happen soon, very soon. Here's what she said about that.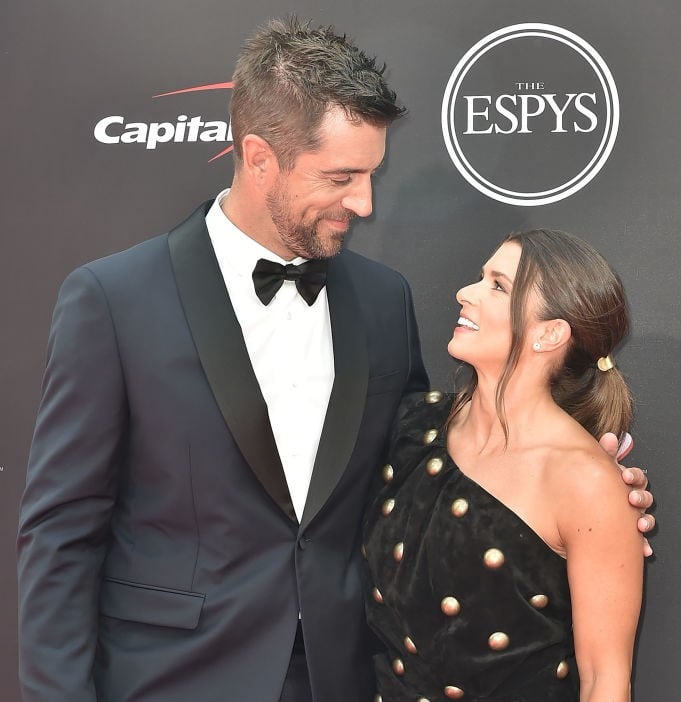 Patrick reveals when she thinks Rodgers will propose
Patrick was asked about her relationship with the NFL star when she appeared on Jenny McCarthy's SiriusXM show.
The former professional racer gushed over the Packers signal caller saying that things between them are "fantastic."
When McCarthy asked when they were getting married Patrick replied, "That's one of those things. You can't be attached to something going a certain way because if you really want something to happen there's that equal energy of being afraid that it's not going to happen, so you just have to let it go and be like, 'Well, am I having fun today? Yep, then life's good.'"
Patrick then joked, "I'll probably get proposed to tomorrow now."
This isn't the first time Patrick has been asked about marrying Rodgers. She previously admitted that it's something she definitely wants to happen.
"I mean I would hope that's the intention. Look, there's no guarantees in life, but as long as you have that intention, that's what matters, right?" she said in an interview with E! News.  
Patrick was married once before
Before Patrick and Rodgers got together the quarterback dated actress Olivia Munn from 2014 to 2017. Patrick meanwhile dated fellow race car driver Ricky Stenhouse Jr. for five years and prior to their relationship, she was a married woman.
In 2005, Patrick wed a physical therapist named Paul Hospenthal who she met when she visited his office while recovering from a hip injury she sustained during a yoga session. In 2012, she announced that they decided to end their marriage.
Not only is Patrick open to getting married again but she also revealed children could be in her future one day as well.
"Full disclosure… I did IVF treatments, I froze my eggs, hormones, I gained four pounds, and I'm five foot one, so four pounds make a difference," she explained during an interview on CNBC's Power Lunch. "I just decided I needed to try something new."
Patrick elaborated more on her decision at the time saying, "I was like, 'Look, I'm gonna take control of my life here, and I don't know where it's going, and I'm not married, and I don't know what the plan is. I just feel like it's one less concern. It's like one less thing to think about. And there's a lot of s**t to think about. Especially nowadays, when I have, like, five businesses."
Read more: Who Has a Higher Net Worth Aaron Rodgers or Danica Patrick?