'Daredevil': What's Coming Next in Season 2
After earning high praise from both critics and audiences alike in its freshman season, Netflix's first original Marvel show Daredevil is set to return this Friday. While details about season two are being kept mostly under wraps, viewers have gotten a few teasers about what they can expect from the upcoming season — including the highly anticipated addition of two fan favorite characters. Here's everything we know so far.
1. The returning cast

Cox will return to the titular role, along with Elden Henson, who plays Matt's best friend, Foggy Nelson. Deborah Ann Woll is also set to reprise her role as intrepid secretary-turned-investigator Karen Page. Also coming back in season two alongside the main cast is Rosario Dawson's "night nurse" character, Claire Temple
On the villainous side, Vincent D'Onofrio's Wilson Fisk (aka The Kingpin) is set to make a comeback as well. Ayelet Zurer will also return as Fisk's love interest and gallery owner Vanessa Marianna
Scott Glenn is set to reprise his role as Matt's former mentor, Stick, for the upcoming second season. Per Deadline, the sardonic character will return for three episodes, with a new mission that Matt wants no part of.
2. A new love interest
Season two will add fan favorite character Elektra into the mix. French actress Elodie Yung has signed on to portray the character, a trained assassin who is sometimes Matt's love interest and other times, his enemy. Per The Hollywood Reporter, Yung's Elektra will join the show as a mysterious woman from Murdock's past, whose dangerous ways could be more than even the Man Without Fear can handle.
Though this will be Elektra's first time on the Netflix series, the show teased her upcoming introduction in season one, in a scene in which Murdock and Foggy discuss a Greek girl Matt once dated. In the comics, Elektra is described as a daughter of a Greek diplomat. Update 12/30/15: Entertainment Weekly has just released a first look at Yung's Elektra, seen above.
3. The new villains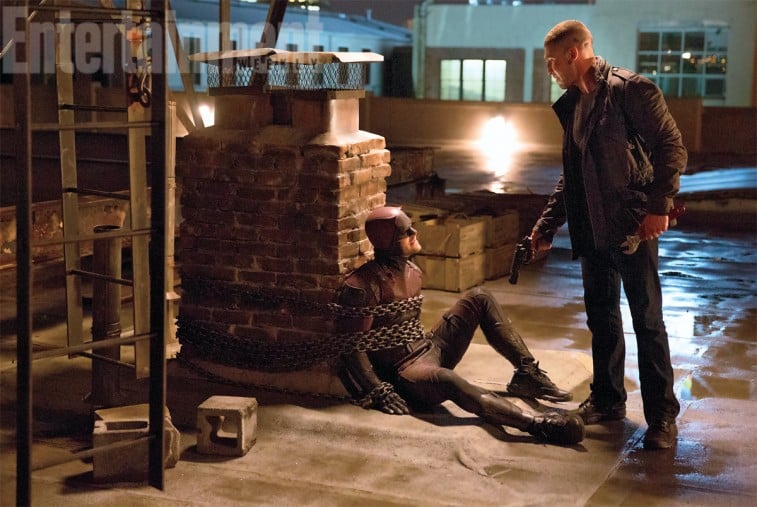 With D'Onofrio's Fisk imprisoned for the time being, a new villain will step onto the scene. The Walking Dead alum Jon Bernthal has been tapped to play The Punisher (also known as Frank Castle). As comic fans know, the character is a martial arts master and U.S. military veteran, with expert knowledge in a variety of weapons and guerrilla warfare. These skills allow Castle to moonlight as The Punisher, a vigilante who — like Daredevil — aims to clean up New York's Hell's Kitchen. The main difference between the two? The Punisher, as his name implies, will use any means necessary to complete his mission, no matter how lethal. Update 12/30/15: Entertainment Weekly has just released a first look at Bernthal's The Punisher, seen above.
While Fisk's not completely out of the picture yet, The Punisher will reportedly be a new central antagonist in season two. As Deadline reported, showrunner Marco Ramirez has dubbed the upcoming season as "Daredevil vs. the Punisher." The two have philosophical disagreements over how to clean up the city. Whereas Punisher basically goes on a vigilante killing spree, Daredevil operates on a more rigid moral compass.
Though specific details of the character's introduction haven't been revealed, Bernthal promised that fans wouldn't be disappointed with his portrayal. "I know how important this character is to you guys," he said at New York Comic Con, per The Hollywood Reporter. "I know that. I know how important this show is to you guys. I know how important he is to law enforcement and the military. I look at this as a huge honor, a huge responsibility. … I give you my word, I'm going to give everything I have."
The Punisher isn't the only one Daredevil will have to face off against in season two. His arch nemesis Bullseye will also reportedly play a role in the upcoming season. That shouldn't come as a huge surprise, as the show teased the character's appearance with an Easter egg last season. In the season one episode "Condemned," a sniper kills one of the crooked detectives at the scene of the bombings and as he packs up his gear, we get a flash of a playing card in the sniper's bag. Bullseye is known for turning seemingly harmless objects into lethal projectile weapons, including playing cards.
4. New showrunners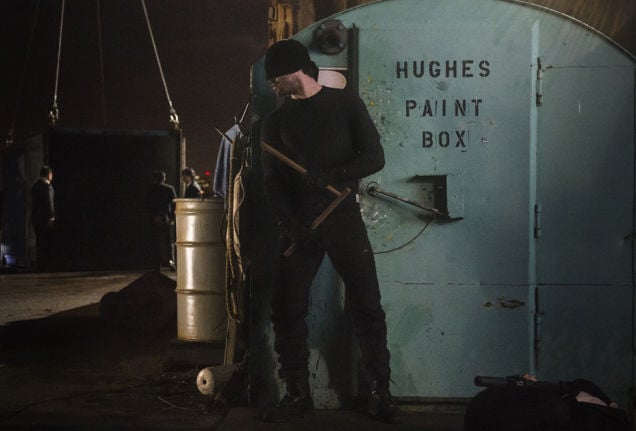 Doug Petrie and Marco Ramirez will take over for showrunner Steven DeKnight in Daredevil's season two. DeKnight himself was a replacement for original series creator Drew Goddard. Both men departed the project on good terms, with Goddard leaving season one to focus on Sony's Spider-Man villain spin-off, Sinister Six, and DeKnight leaving season two to join the team of writers hired by Paramount to plot the next few Transformers movies.
Petrie and Ramirez, both of whom collaborated with DeKnight on Daredevil season one, will now take his place as showrunners. The two will also serve as co-executive producers alongside Goddard (who still serves as a sort of consultant on the series) and Marvel TV Chief Jeph Loeb.
While Petrie and Ramirez will have a lot to live up to following DeKnight's critically acclaimed first season, the two have their fair share of experience working with dark, action-packed, and sometimes violent material. Petrie has written episodes for Buffy the Vampire Slayer, Angel, and American Horror Story. Meanwhile, Ramirez has previously penned installments for Sons of Anarchy and the Starz drama Da Vinci's Demons.
5. Season two will be darker than ever
Daredevil's first season earned high critical praise for delivering a darker and grittier hero story than what we typically see from Marvel. Season two will continue that same tone, as Ramirez told fans during New York Comic Con in October. "If you wanted grounded, you wanted dark, here's Elektra, here's Punisher. You asked for it!" he said.
Petrie backed up the claim, praising Goddard and DeKnight's work on season one and assuring viewers that the new characters will add an entirely new layer to the upcoming season. "With the Punisher and Elektra, we get to test it and take it further and darker," he said, also adding, "We're fans too and the stuff you want to see, we want to see."
Daredevil's season two will hit Netflix on March 18, 2016.  [Update, 1/7/2016: Season 2 premiere date added.]
More from Entertainment Cheat Sheet:
Want more great content like this? Sign up here to receive the best of Cheat Sheet delivered daily. No spam; just tailored content straight to your inbox.