The rich and famous seem to have it all, but delusional fans can pose a threat. These obsessions can be dangerous and even turn deadly, as disturbed individuals will stop at nothing to get to them.
The following celebrities were harassed, threatened, or had terrifying encounters with their stalkers. Perhaps the most terrifying situation involves one star's stalker and the item police found at the scene (page 9).
1. Madonna
Robert Dewey Hoskins stalked the Material Girl in the '90s. On one occasion, he made his way onto Madonna's property and threatened to slit her throat, but her security team shot him in the leg after he jumped the fence.
Consequences: In 1996, Hoskins received a 10-year prison sentence and served time in a mental hospital.
Next: This actor took matters into his own hands to protect himself.
2. Jamie Foxx
In 2009, a man named Steven Taliver posed as a producer to get Jamie Foxx to open the door of his hotel suite in Philadelphia. Taliver barged into the room, but Foxx overpowered and removed him. Taliver fled the scene.
Consequences: Several days later, police caught him and he faced charges of burglary, criminal threats, stalking, false imprisonment, and harassment.
Next: A stalker took the life of this legendary musician.
3. John Lennon
How John Lennon's life ended is chilling because his stalker plotted to kill the singer and even got his autograph before doing so. In 1980, Mark David Chapman traveled to New York City and spent almost an entire day outside of Lennon and Yoko Ono's apartment. When the musician and his wife returned that evening, Chapman shot Lennon several times. The assailant remained at the scene and began reading The Catcher in the Rye.
Consequences: Chapman received a sentence of 20 years to life in prison for the murder.
Next: This "Toxic" star faced a toxic stalker situation.
4. Britney Spears
In 2002, a man named Masahiko Shizawa stalked Britney Spears, saying he loved the pop princess. Shizawa sent Spears countless emails and pictures in an effort to get her attention.
Consequences: A judge ordered him to stay away from the star, but he still showed up at her home and her parents' house. Whatever plan he had for the singer when her security detail confronted him. He then actually tried to sue Spears, claiming that he suffered "extreme emotional distress" because one of the guards pointed a gun at him. That case was thrown out.
Next: Impressing this actress was more difficult than this stalker anticipated.
5. Jodie Foster
After seeing the 1976 movie Taxi Driver, John Hinckley Jr. became infatuated with Jodi Foster, who played a 12-year-old prostitute in the film. When the actress attended Yale University, Hinckley moved nearby and began writing her. She didn't respond, so he decided to "impress" her by assassinating a U.S. president. In 1981, he shot and wounded President Ronald Reagan.
Consequences: Hinckley was found not guilty by reason of insanity and sent to a psychiatric facility. He was released in 2016 on the conditions that he has no contact with the Reagan family or Jodie Foster. He's required to live with his 90-year-old mother and is restricted to a 50-mile area around her house.
Next: A gory threat to this couple led to a prison sentence. 
6. Michael Douglas and Catherine Zeta-Jones
Catherine Zeta-Jones and Michael Douglas dealt with a crazed stalker named Dawnette Knight, who became obsessed with Douglas and believed that Zeta-Jones only married him for his money. Knight sent some disturbing letters to the actress, detailing how she would cut her up into pieces and feed her to dogs if she didn't leave Douglas.
Consequences: Knight was sentenced to three years in prison.
Next: This Iron Man actress kept receiving disturbing letters.
7. Gwyneth Paltrow
For nearly two decades, Dante Soiu stalked Gwyneth Paltrow. He sent the actress threatening letters saying he wanted to use "God's scalpel to cut sin out of her" and sent sex toys and other lewd gifts to her home. He even showed up at her mother's house.
Consequences: Soiu went to a psychiatric facility, but kept writing the Oscar winner upon his release. In 2016, a jury acquitted him of stalking after he testified he only wrote Paltrow to apologize for what he sent her in the past.
Next: Skinny dipping in this celebrity's pool still counts as stalking.
8. Keanu Reeves
Actor Keanu Reeves came face to face with a female stalker after she broke into his home in 2014. The Matrix actor woke up to noises and, when he investigated, found a woman in his library. Two days later, another female entered the star's estate after a cleaning team left a gate open. The crew spotted the woman when she stripped down and swam naked in Reeves' pool.
Consequences: Both women were taken to a hospital and received mental evaluations.
Next: After this star called 911, police found something terrifying at the scene.
9. Sandra Bullock
In 2014, Joshua Corbett entered Sandra Bullock's house while the actress was home with her son. Bullock hid in a closet and called 911 as Corbett banged on her bedroom door. Police arrived and took him into custody. Through an investigation law enforcement, officials discovered that Corbett had planned to sexually assault the star and found two dozen firearms at his home.
Consequences: He received probation and went to a mental health facility after determining that he suffered from bipolar schizophrenia.
Next: A "marriage" to this child star caused some problems.
10. Miley Cyrus
In 2012, Jason Luis Rivera, who believed he and Miley Cyrus were married, got past a security gate and knocked on her front door. The cops rushed to the then-empty residence where they arrested Rivera, who had scissors on him.
Consequences: He was charged with ­trespassing and burglary and spent 18 months behind bars.
Next: This singer's death devastated her loyal fans.
11. Selena Quintanilla-Pérez
Singer Selena Quintanilla-Pérez's case is tragic because someone she once trusted cut her life short. Yolanda Saldívar was the president of Selena's fan club but the singer's family fired her after learning she was embezzling money. Saldivar met Selena at a hotel, where they argued over finances. Saldivar shot Selena in the back as she tried to flee.
Consequences: Saldivar was convicted of murder and received a sentence of life in prison.
Next: It was too late to say "sorry" to this pop star.
12. Justin Bieber
In 2010, prison inmate Dana Martin, who served a sentence for the brutal rape and murder of a 15-year-old girl, became obsessed with Justin Bieber. After several unsuccessful attempts to connect with the singer, Martin decided he wanted the pop star dead. He conspired with another inmate, Mark Staake, and Mark's nephew, Tanner Ruane, to find the Biebs, execute him, and cut off his genitals as a trophy.
Consequences: Martin, Staake, and Ruane were all charged with multiple counts of first-degree conspiracy to commit murder.
Next: This poor singer can't keep her property safe.
13. Rihanna
The singer has had several stalkers over the years. In 2013, a man broke into Rihanna's neighbor's house in L.A. believing it was hers and was later busted by police when he got into the star's actual home. Then in 2014, a homeless man with a long rap sheet named Kevin Mcglynn was arrested after he went to her Manhattan apartment building several times looking for her. In 2017, 33-year-old Salmir Feratovic was booked for criminal trespassing outside of RiRi's place.
Consequences: Feratovic was arrested a year earlier at this location for the same reason, and cops said he possessed a knife at the time.
Next: This pop star has dealt with many obsessed stalkers.
14. Taylor Swift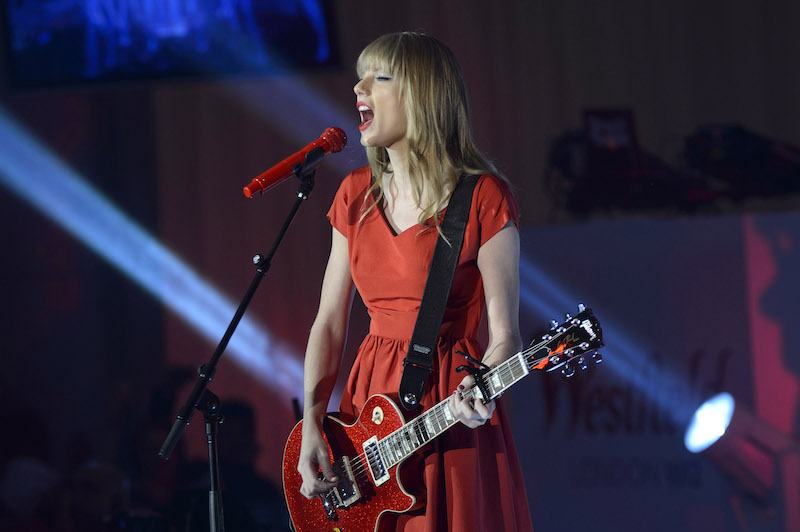 The pop star has faced multiple stalkers. She was stalked by a man who repeatedly tried to enter her Manhattan apartment building. Mohammed Jaffar allegedly harassed the "Bad Blood" singer since 2014. A judge ruled in 2017 that Jaffar was unfit to stand trial and he entered a mental institution.
In 2016, Frank Andrew Hoover sent Swift and her father threatening messages before he tried to get past her bodyguards at a Formula One concert. And in 2013, an Illinois man was arrested for trespassing after he swam –yes, swam — to Swift's Rhode Island beach house in the middle of the night.
Next: This supermodel took big measures to stay safe from her stalker.
15. Gigi Hadid
The model's stalker got into her New York City pad and apparently made it to her front door, which he boasted about on Facebook. Police arrested Marcell Porter in 2015 on eight counts including burglary and stalking.
Consequences: He was sentenced up to three years in prison, but scared the supermodel so bad she put her Soho apartment up for sale following the ordeal.
Follow Michelle Kapusta on Twitter @philamichelle.
Read more: The Most Volatile Celebrity Relationships of All Time
Check out The Cheat Sheet on Facebook!