David Beckham And The Romantic Keepsake He Cherishes
David Beckham recently shared that after twenty years of marriage, he still has a small token of love that he treasures from the couple's first meeting.
Here's the adorably endearing story, right from the 44-year-old soccer superstar himself.
Their rise to celebrity couple status
Meeting in 1997 and marrying in 1998, the Beckhams' courtship was an intense and whirlwind one. Once they got together, it wasn't long before the former Spice Girl (Posh Spice) and Beckham became a celebrity item. At one point, they earned the nickname "Posh & Becks" from the press.
Victoria, in writing a letter to her younger self for British Vogue in 2016, said, "While the other football players stand at the bar drinking with their mates, you will see David standing aside with his family. (He's not even in the first team at this stage—you are the famous one.) And he has such a cute smile. You, too, are close to your family, and you will think how similar he feels to you."
The couple and their children
David Beckham was a rising soccer star when he met Victoria in 1997. Announcing their engagement in 1998, the couple got started right away growing a family. Just a few months before they married, they welcomed first son, Brooklyn Beckham. The kids kept coming after that: Romeo Beckham, born in 2002, Cruz Beckham, born in 2005, and their only daughter Harper Beckham, born in 2011.
The 45-year-old fashion designer joked on Jimmy Kimmel Live! in 2019, "I've got so many kids. So many kids…it's less about parenting and more about crowd control when it gets to that many. All four kids bring all their friends over to the house. When we come home at the end of the day, there's always lots and lots of children. And I think the main focus is making sure that they all leave empty-handed and the the art is still on the wall."
How they met and the memento Beckham kept
David Beckham visited The Tonight Show with Jimmy Fallon and the conversation came around to how he met his wife of twenty years.
"I first met her, she came to watch me in a game in London with her manager at the time and one of the other Spice Girls, Sporty Spice," David recalled. "We knew of them, obviously, because they were pretty big at the time, and I was just establishing myself in the Manchester United team at the time, but we all had our favorite Spice Girl. So that was the first time I met her."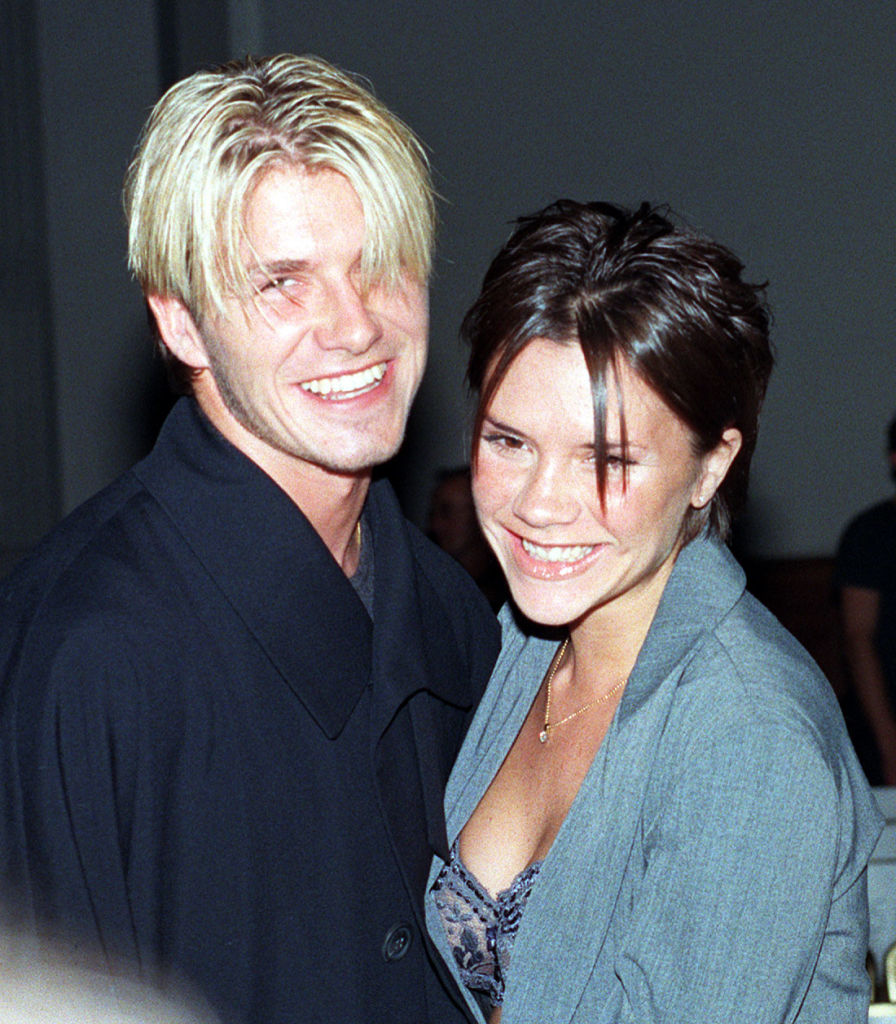 "She was obviously my favorite," he said of his wife. "Might be a bit awkward if she wasn't." Although he didn't have a chance to speak with her that day, he seized the opportunity the next time she stopped by.
"She came back to Manchester to watch another game and she had a couple of drinks so I decided I'll try to get her number," David continued. "We talked for about an hour in the player's lounge and she was actually on the train that day, so she wrote her number down on her train ticket. Which I still have."
Host Jimmy Fallon was touched by David's sentimentality.
"You kept the ticket?" Fallon asked. "That's so cool that you kept that, that's amazing. And here you are, 20 years later."
David added, "Twenty years later and four kids later."
Read more: This Is What Victoria Beckham Eats 3 or 4 Times a Day