'Dawn of the Planet of the Apes' Comes Back for Seconds, Gets First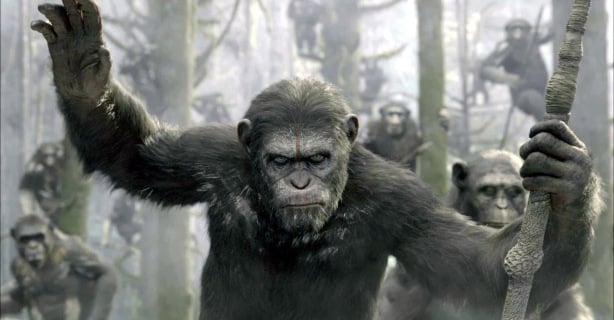 Dawn of the Planet of the Apes continued to dominate at movie theaters, coming in at No. 1 at the box office for the second week in a row with over $36.2 million in weekend gross, according to Box Office Mojo.
Though it seemed the scary flick The Purge: Anarchy would knock Apes out of the top spot after its strong opening night on Friday, the sequel to last year's horror flick, about surviving a 12-hour period in which no crime is illegal, didn't quite manage to best it in earnings. However, the movie still performed well, grossing an impressive $29.8 million in its debut (about 13 percent down from the first Purge's $34.1 million debut) and taking second place at the box office.
While Apes fell about 50 percent since last week's turnout, it's still an improvement over other major blockbuster sequels of the summer, like The Amazing Spider-Man 2 and X-Men: Days of Future Past, which fell about 61 percent at the same point. So far, the movie has grossed a total of $139.2 million. Its success is probably largely due to the glowing reviews from critics and an A- from polling firm CinemaScore.
Meanwhile, The Purge, slightly lower-graded with a CinemaScore of a B, should still be considered a win for Universal. While the film may have failed to win the box office this weekend, it earned significantly more than its meager $9 million budget (compared to an estimated $170 million budget for the Apes follow-up.) The Purge earned $13 million from its Friday night showings alone, seemingly on the right track to beat Apes, which earned $10.4 million. But things turned around for Apes on Saturday, when it earned $14.8 million as opposed to The Purge's 9.5 million.
Yet another sequel, Planes: Fire & Rescue, the follow-up to last year's kid-friendly spinoff of Cars, slid into the No. 3 slot. According to Box Office Mojo, the animated flick earned only $17.5 million, around $4 million less than the original film. It's low gross is a little surprising, given that it's a family movie in the middle of summer and that the film is well-reviewed, earning an A at CinemaScore.
But the weakest turnout goes to Columbia Pictures' Sex Tape. Despite heavy promotion, the Cameron Diaz and Jason Segal comedy fell flat, earning a disappointing $15 million and falling into fourth place at the box office. Despite poor review, the movie, which cost a reported $40 million to make, seemed to have decent box office potential, especially given Diaz's recent success with romantic comedies, like this year's The Other Woman and 2011's Bad Teacher, which was also directed by Sex Tape's Jake Kasdan. Still, the R-rated movie, which holds a C+ Cinemascore, failed to meet its expected earnings of $23 million and will have to look overseas to make back its budget.
Transformers: Age of Extinction rounded out the top five, earning another $9.8 million and pushing its domestic total to $227 million. Meanwhile, in limited release, Zach Braff's Wish I Was Here, partially funded by Kickstarter, earned $495,000 in 68 theaters. The French dramedy Mood Indigo (directed by Eternal Sunshine of the Spotless Mind's Michael Gondry) collected $25,100 in two locations.Richard Linklater's Boyhood expanded and has now grossed $1.8 million in two weeks.
Action films Lucy and Hercules will be hitting theaters this weekend, potentially bringing in more energy a recently lagging box office.
More From Wall St. Cheat Sheet:
Want more great content like this? Sign up here to receive the best of Cheat Sheet delivered daily. No spam; just tailored content straight to your inbox.