Dean Unglert Explains Exactly Why He Went on 'Bachelor in Paradise' — and It Wasn't for Love
This season of Bachelor in Paradise is now over, and it had plenty of twists and turns the entire way through. And one of the most unlikely — yet most loved — couples to find love was Caelynn Miller-Keyes and Dean Unglert. We first remember Caelynn Miller-Keyes from Colton Underwood's season of The Bachelor. And while Miller-Keyes first came to the beaches of Paradise with a chip on her shoulder from her soured relationship with Blake Horstmann, everything changed when Unglert arrived.
Miller-Keyes made it clear she was searching for a relationship, but Unglert had other thoughts. Here's what he said about why he returned to Paradise.
Dean Unglert and Caelynn Miller-Keyes are still going strong
Dean Unglert and Caelynn Miller-Keyes had an immediate romance once they laid eyes on each other in Paradise, but it wasn't all good. As we know, Unglert left Miller-Keyes high and dry on her birthday after giving her a rose. While he really liked Miller-Keyes' company, he didn't believe they'd be compatible outside of the show and in the real world, thus causing him to leave her behind.
After realizing how much Unglert liked Miller-Keyes, however, he returned to Paradise to ask if she'd leave with him. And though she had a relationship with Connor Saeli she was willing to explore, Miller-Keyes chose to leave with Unglert. Now, the two are going strong — and Unglert even mentioned on his podcast, Help! I Suck at Dating …, that he and Miller-Keyes have a two-year phone plan. Not only that, but the two of them are now traveling together and posting their life in Unglert's van on Instagram.
Unglert's gotten into trouble on Bachelor in Paradise in the past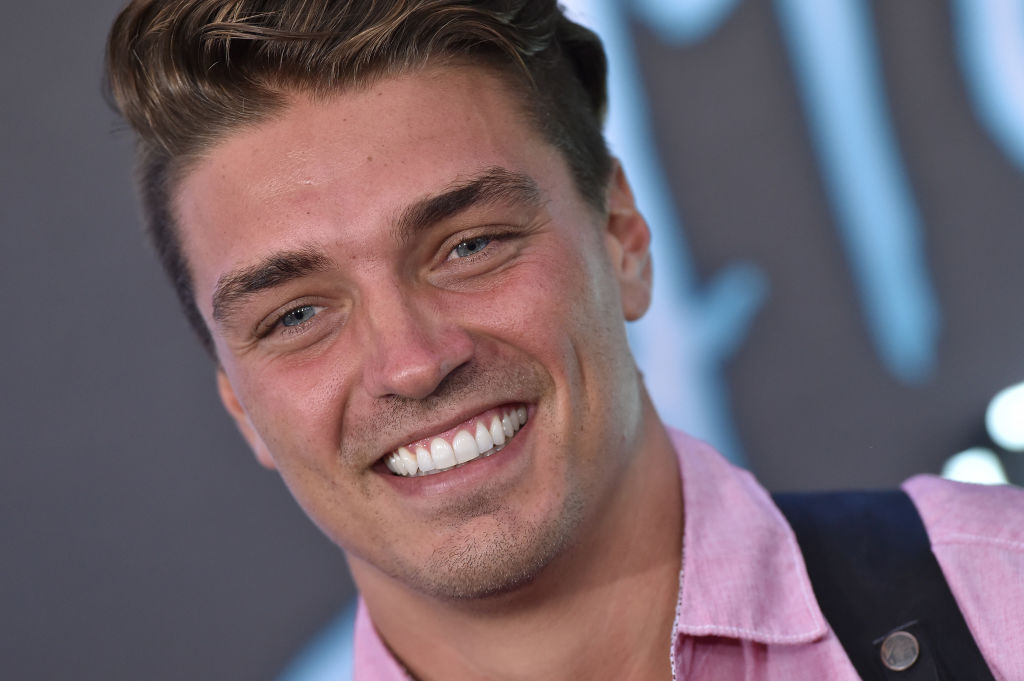 Unglert may have found love this time on Bachelor in Paradise, but we can't forget his negative track record of the past. On a previous season of the show, he was romantically involved with Kristina Schulman when things went south. While Schulman was really into Unglert, Unglert also struck a romance with Daniel Lombard. This ultimately created a vicious love triangle that worked in nobody's favor — and Schulman left that season of the show on her own accord after Unglert accepted a rose from Lombard.
Those two relationships certainly aren't the only ones Unglert's known for, either. He was also deeply involved with Lesley Murphy on The Bachelor Winter Games — and their relationship got so serious that Unglert gave Murphy keys to his apartment. They didn't last either, however, and this led Unglert to swearing off Bachelor Nation relationships for good.
He explained the real reason he went on the show again
So, if Unglert had trouble with his Bachelor Nation relationships before and didn't aim to date anyone from the franchise anymore, why head to the beaches of Paradise again? On his podcast, he explained his reasoning. "The entire time I was like, 'yeah, I'm just here.' I'm not gonna leave as a boyfriend, I'm not gonna leave with a girlfriend. … I went because it was fun." Unglert also added that he was completely transparent with his intentions to just go to the beach, hang out, and have fun with the producers and all of the contestants on the show, which is what makes his relationship with Miller-Keyes even more surprising now.
"It's silly to say no to things," Unglert added in regards to his opportunity to return to Paradise. "I didn't miss out on anything by not going, so what's the point in not going? … It was a very well-known fact that me being on that beach was just there to have a good experience."
Despite wanting to have a fun, no-strings-attached type of Paradise journey, Unglert ended up with a lot more than he initially bargained for. Either way, it seems he and Miller-Keyes are very happy together.
Check out Showbiz Cheat Sheet on Facebook!