Demi Lovato Is Done Editing Her Photos And Being Ashamed Of Her Body
Amidst an industry that runs on the idea of perfection, Demi Lovato posted an unedited photo of herself in a bikini to Instagram last night.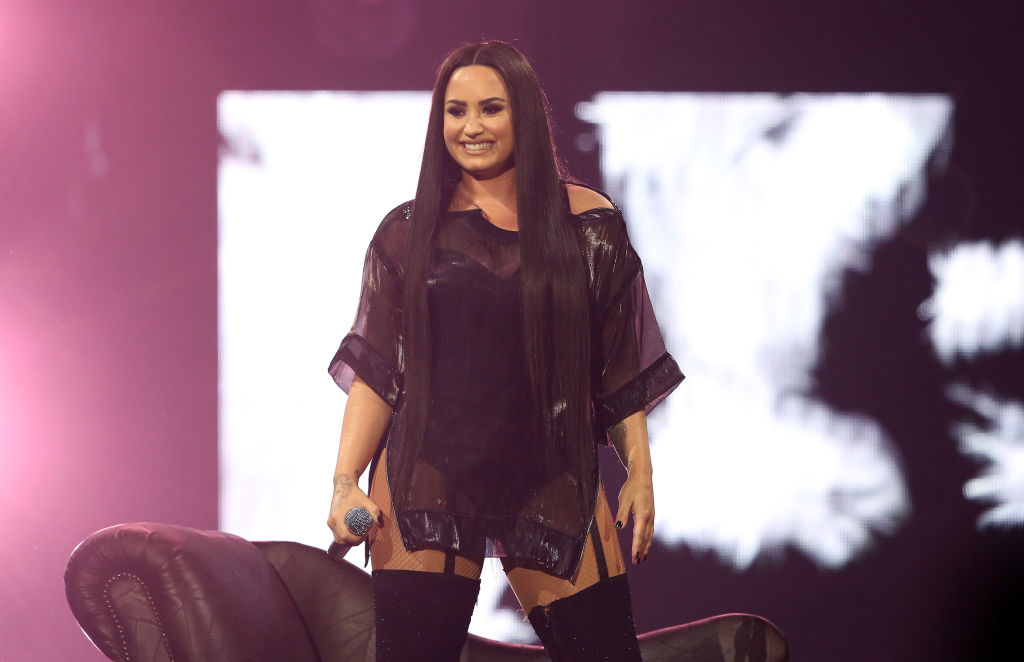 She's in a beautiful location, in a pool overlooking a natural body of water below a sky so blue the viewer can hardly tell where the water ends and it begins, save for the lush treeline in the distance. She's wearing a leopard print bikini and looking fiercely at the camera over her shoulder.
Lovato's posted several other photos of herself in the same bathing suit, in what looks to be the same place, Bora Bora. In these photos, her skin is smoothe, almost airbrushed-looking, perfect.
Demi Lovato's body-positive Instagram post
In the caption of the most recent photograph of Lovato in the bikini, the singer, songwriter, actress admits that she's terrified.
"This is my biggest fear," she begins. "A photo of me in a bikini unedited. And guess what, it's CELLULIT!!!! I'm just literally sooooo tired of being ashamed of my body, editing it (yes the other bikini pics were edited – and I hate that I did that but it's the truth) so that others think I'm THEIR idea of what beautiful is, but it's just not me. This is what I got. I want this new chapter in my life to be about being authentic to who I am rather than trying to meet someone else's standards."
Lovato just had a birthday and it seems, with the beginning of this new year, she's adopted a new outlook.
"So here's me, unashamed, unafraid and proud to own a body that has fought through so much and will continue to amaze me when I hopefully give birth one day. It's such a great feeling to be back in tv/film while not stressing myself with a strenuous workout schedule before 14 hour days, or depriving myself from a real birthday cake rather than opting for watermelon & whip cream with candles because I was terrified of REAL cake and was miserable on some crazy diet sh*t," she wrote.
Lovato finishes her post by teasing a new song she's working on, "an anthem." She also lets her following know that she's "not stoked on my appearance BUT I am appreciative of it and sometimes that's the best I can do."
Demi Lovato's fans are thankful, encouraging
Immediately, Lovato received an outpouring of support and thanks for her post.
"Love how vulnerable you are in this crazy world of perfected photoshop and messages everywhere telling us we aren't good enough. Thank you for being strong and authentically you," commented one Instagram user.
"THANK YOU! You truly don't know how much this helps me and others. Keep being your true, beautiful, authentic self," wrote another.
Shortly after posting, Lovato took to her Instagram stories to thank her fans for the response.
"Literally shaking still.. that was so hard for me to post But wow.. so blown away by the love and support.. let's be the change we want to see!!!" she wrote.
And a few minutes later: "WOW.. STILL BLOWN AWAY BY THE FEEDBACK FROM MY POST.. SERIOUSLY GUYS – THANK YOU"
From an outside perspective, posting a photo to Instagram may seem undeserving of words like "strong" and "empowering," but there's a reason Lovato's post struck a chord with so many women.
According to BroadbandSearch, in 2018, the average time spent on social networking sites and apps was projected as 144 minutes a day. Each year, that number grows.
If, every day, the average Instagram user scrolls through photos of idealized versions of women and men for 144 minutes, their expectations of their own body can't help but be affected.
So when a celebrity who typically has all the resources in the world to achieve the illusion of perfection posts an unedited photo of herself for the world to see, with a body that looks much like many of the bodies viewing the post, and with a message of love and acceptance, it's important.
Demi Lovato appreciates her strong body that's gotten her through hell and back, and she hopes you appreciate your body that's gotten you this far, too.
Read more: Get to Know Lizzo, the Music Superstar Who Has Been Rising Up the Charts