Demi Lovato Shows Support for 'Lover' Amidst Taylor Swift Feud Rumors
Demi Lovato and Taylor Swift feud rumors have been alive for well over a decade. Though the talented singers seem to be at peace currently, they have publicly traded jabs for several years. Lovato has not been shy about calling Swift out for behavior that she feels is inappropriate. Most recently, Lovato defended Scotter Braun after Swift publicly called him out as a bully.
Ke$ha
But Lovatics and Swifties alike noticed that tensions between the two pop stars seemed to be high long before Braun was even in the picture. Prior to this, Lovato appeared to call Swift out for not being the feminist she claims to be on Twitter. Back in 2016, Swift donated a whopping $250,000 to Ke$ha to help with the legal fees and financial burdens that she was incurring as she fought to be released from a contract with a producer who allegedly sexually, mentally, and emotionally abused her. "Take something to Capitol Hill or actually speak out about something and then I'll be impressed," Lovato tweeted which many thought was in response to Swift's donation.
Selena Gomez
The situation with Ke$ha was hardly the first time that Lovato appeared to be calling Swift out. In 2010, Lovato was asked about Swift's long-time best friend Selena Gomez. In 2010, Gomez and Swift had only been friends for about four years, whilst Gomez and Lovato had been best friends since their childhood days acting on the hit TV series, Barney And Friends. When Lovato was out and about, she got stopped by the paparazzi and was asked how Gomez was, she famously responded: "Ask Taylor!" while sporting a huge smile.
Taylor Swift calls out Scooter Braun
The situation with Braun added more fuel to the alleged fire. When Swift learned that Braun had acquired Big Machine Records (her old label company where she recorded all six albums prior to Lover) she published a personal note to her Tumblr page, which detailed her many concerns. Citing Braun's bullying, Swift expressed that Braun had tried to ruin her musical legacy multiple times.
"When I left my masters in Scott's hands, I made peace with the fact that eventually, he would sell them. Never in my worst nightmares did I imagine the buyer would be Scooter. Any time Scott Borchetta has heard the words 'Scooter Braun' escape my lips, it was when I was either crying or trying not to. He knew what he was doing; they both did. Controlling a woman who didn't want to be associated with them," Swift penned in response to the news the Braun would now own her masters.
Demi Lovato defends Scooter Braun amidst Taylor Swift feud
While many celebrities stepped up to show their support of Swift (Cara Delevingne was particularly vocal), Lovato threw her support behind her new manager, Braun. "I have dealt with bad people in this industry, and Scooter is not one of them. He's a good man. Personally, I'm grateful he came into my life when he did. Please stop 'dragging' people or bullying them. There's enough hate in this world as it is. Y'all can come after me all you want, but I'm always gonna stay loyal to my team. I value loyalty more than most people in this world, and if my name is gonna be brought into conversations, I'm gonna stand up for myself and the ones on my team," Lovato wrote.
Lovato praises Swift for Lover
Immediately, Lovato was flooded with hate by critics accusing her of only being a feminist for women she personally liked. The hate got so bad, that Lovato took a break from social media for a while. But, just a couple of months later, Lovato is squashing all rumors of a feud between herself and Swift. Taking to her Instagram story, she called Swift's new song "Cruel Summer" from her Lover album "a jam." A few hours later she doubled down on her statements and posted another message of support.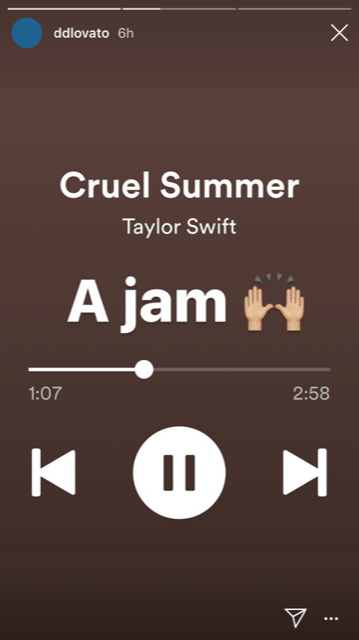 "Life's too short for women not to support other women…especially when women release great music," she wrote, adding "great job @taylorswift," Lovato followed up on her story. Swift reposted the compliment in her own story and wrote a sweet message in response. "This is so awesome and put the biggest smile on my face. Thank you @ddlovato," Swift wrote.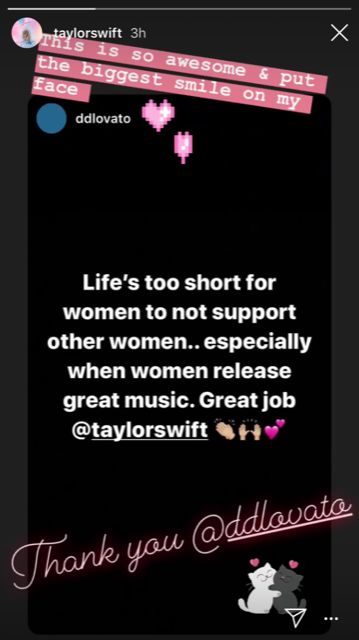 It's great to see these two talented women let bygones be bygones. We look forward to seeing more work from both of them in the future. Hopefully, they will continue to show support for one another along the way.