Demi Moore Speaks on Addiction Issues and Marriages to Bruce Willis and Ashton Kutcher in Her Upcoming Memoir
Actress Demi Moore is one of today's most familiar faces. Appearing in iconic films such as A Few Good Men, Ghost, and St. Elmo's Fire, Moore has established herself as a Hollywood star. Within the past decade, she has publicly struggled with some personal issues but now appears to be in a healthy place. Moore is sharing her journey to becoming a celebrity and living life in the spotlight in an upcoming book that's coming out this month.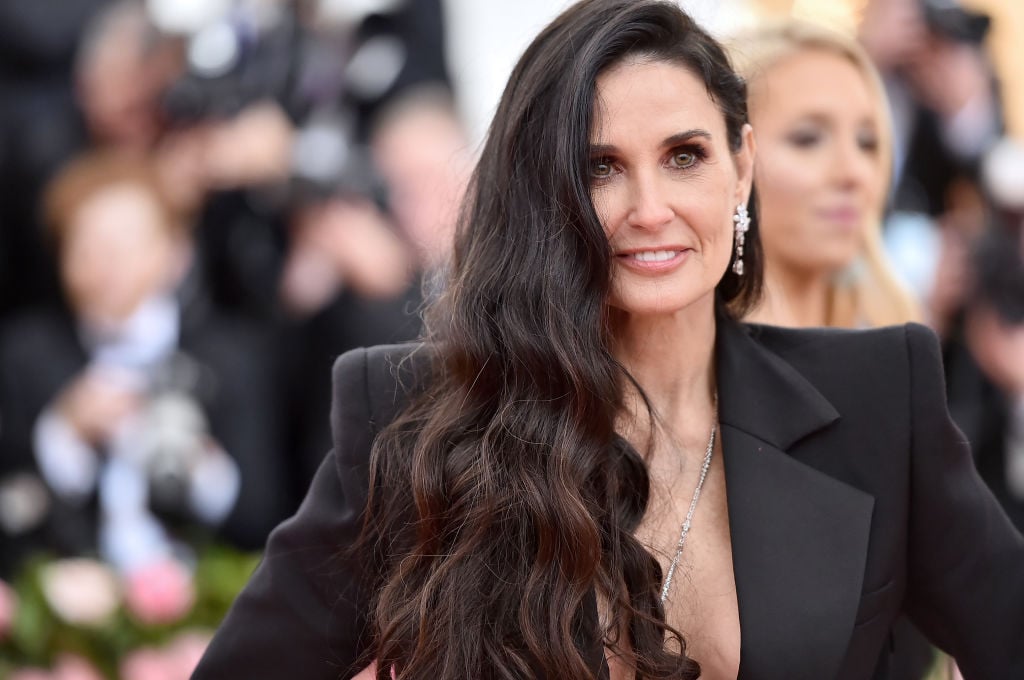 Starting at the beginning
Moore's memoir, "Inside Out," chronicles her life beginning from her youth, where she talks about being moved from state to state. Her years growing up were tumultuous, where Moore reveals her father would ask for her help in preventing her mother from following through on various suicide attempts. After her parents separated, the actress learned that the dad who had raised her was not her biological father, as The New York Times reports.
Moore also reveals that she was sexually assaulted at age 15. She ended up leaving her mother's home and marrying musician Freddy Moore at 18, to whom she admits she was unfaithful.
Though her personal life was chaotic, her professional life was taking off starting with a role on the ABC soap opera General Hospital, leading to film roles including Blame it on Rio and About Last Night. Many of Moore's roles required nude scenes, which harmed her self-image and led her to an eating disorder and substance abuse. "When I was younger, I was obligated to be of service," Moore told The New York Times. "I wouldn't be loved if I wasn't — if I didn't give of myself. My value was tied into my body."
Broken engagement followed by a Vegas wedding
Moore had been engaged to her St. Elmo's Fire co-star Emilio Estevez, but broke off the relationship and married superstar Bruce Willis in Las Vegas in 1987 just a few months after meeting him. At this point, her career was soaring with roles in box office blockbusters including Ghost and Indecent Proposal.
According to the interview, Moore's rising fame wasn't greatly supported by Willis, who didn't like the time it took her away from him and their three daughters. At one point, he revealed to her that he may not want to be married. The couple split in 1998 but remain close to this day.
Trying marriage again
Moore's highly publicized romance with actor Ashton Kutcher began in 2003 when she was 41 years old and he was 25. The actress didn't allow the 15-year age gap to bother her, writing in her book that the relationship was "a do-over, like I could just go back in time and experience what it was like to be young, with him — much more so than I'd ever been able to experience it when I was actually in my twenties."
She goes on to reveal that she became pregnant at one point in the relationship, but miscarried during her sixth month. The pain and self-blame she experienced triggered her drinking addiction. Despite her personal battles, the couple wed in 2005 and even tried fertility treatments in the hopes of conceiving again. Moore shares in the book that while her drinking was continuing, she also turned back to substance abuse using Vicodin. Moore goes on to share she had discovered Kutcher had been unfaithful to her during their marriage.
The couple separated in 2011 and divorced two years later, as reported by NYT. "It is with great sadness and a heavy heart that I have decided to end my six-year marriage to Ashton," Moore told Us Weekly at the time. "As a woman, a mother and a wife there are certain values and vows that I hold sacred. And it is in this spirit that I have chosen to move forward with my life."
The book goes on to detail Moore's health issues, including her increasing battle with substance addiction that caused a 911 call due to a seizure after smoking synthetic cannabis and inhaling nitrous oxide at a party she attended with daughter Rumer in 2012. Moore also reveals that she was estranged from her daughters for years due to her behavior. "Part of my life was clearly unraveling," she said in the interview.
More is now in recovery and has reconciled with her daughters, all topics covered in her memoir. The actress holds nothing back in her upcoming book, which is sure to become a best seller.