Denzel Washington and 'Training Day' Director Reunite for Vengeance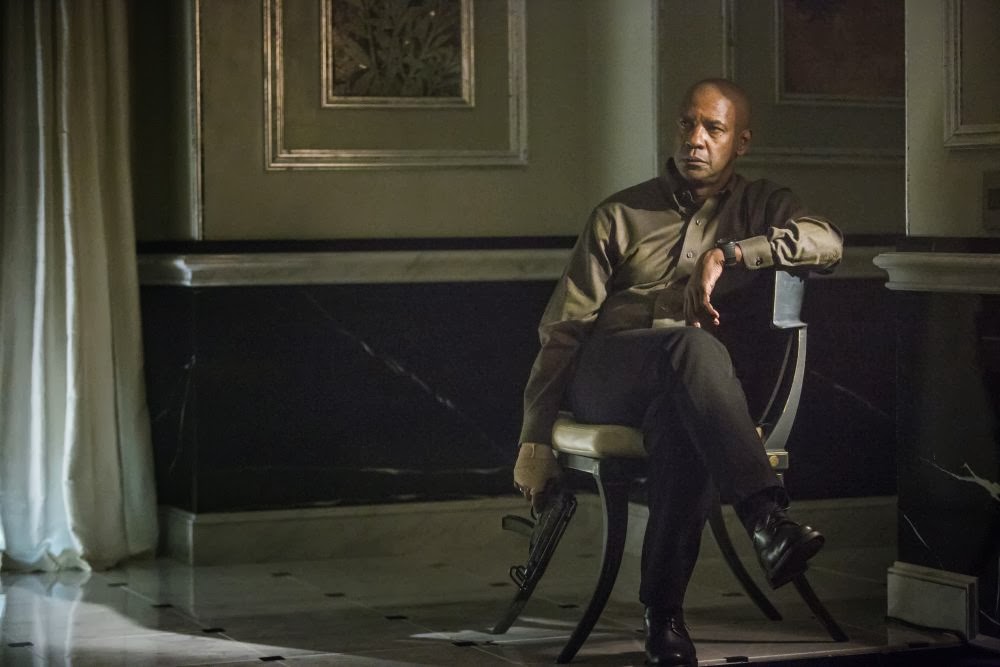 Denzel Washington is one of the most consistent actors working today, both in his quality acting and his penchant for bad action movies. Equally rife with performances of searing beauty (Malcolm X, The Hurricane, Training Day) and brooding men with dark histories seeking vengeance for some wrong doing. Unlike Liam Neeson, who basically seems resigned to doing the same movie several times a year now, Washington has been able to balance the two extremes, his art and his play.
The trailer for Denzel Washington's newest brooding man film, The Equalizer (could they think of a more generic name?), looks sort of promising — kind of, for the first few seconds. Washington broods, of course, as he talks with Chloë Grace Moretz (playing a hooker, of course) about knights in shining armor and following your dreams and stuff, all while the Hans Zimmer derived atmospheric music slowly swells, and you know something awful is going to happen to the girl. Washington's brooding man needs a reason to seek vengeance. Then the screen says, "From the director of Training Day," and all hope is lost.
Antoine Fuqua has been riding the glory of Training Day for 13 years because he hasn't made a good film since. (In all fairness, Training Day is completely propelled by Washington and Ethan Hawke's monumental performances. Hawke really got ripped off by the Academy.) All of his subsequent films involve brooding men with guns: Shooter with Mark Wahlberg; Brooklyn's Finest with Richard Gere; and Olympus Has Fallen with Aaron Eckhart and that Prince of Thespians Gerard Butler.
What makes The Equalizer stand out is, simply put, Denzel Washington. Not that any of the aforementioned actors are bad per se, but Washington is, by far, the best actor that Fuqua has worked with (with Hawker coming in second.) Since his first real action film, 1995′s Crimson Tide (his first of five collaborations with the late Tony Scott), Washington has been bouncing back and forth between genres, never sleepwalking through his action film roles. Look at the otherwise execrable Man on Fire, one of Washington's five collaborations with the late Tony Scott. Washington is magnetic — a walking, talking, breathing manifestation of anger. He's stoic but incendiary, and as the film around him burns and writhes and flashes like the eyes of someone tripping on really bad LSD, Washington manages to draw your attention past the hyper fidgety chaos.
Scott made a lot of bad films, but he was undeniably an auteur: his films had a wholly unique, and often unfortunate sense of style. The same cannot be said of Fuqua's films, although you can rest assured that the trailers for his films will always mention that he directed Training Day. The Equalizer is based on the 1980s television show that starred Edward Woodward. The trailer tries to establish a gimmick to set the film apart from the rest of the herd. Washington's vigilante sets his watch before he dispatches thugs, trying to guess how long it will take him to clear the room. It's not a very clever gimmick, but at least Fuqua is trying to do something different.
Part Taken, part Man on Fire, part Malcolm X (just kidding), Fuqua's film sort of fits with Washington's pattern. Coming off a great, Oscar nominated turn in Flight, Washington has starred in two action films: Stolen House, with Ryan Reynolds and now The Equalizer. A quick look through his filmography reveals a tendency to follow-up his "serious" movies with a few throwaways, like a lifter who has a cheat day after a hard week of workouts. If nothing else, The Equalizer will have at least one committed performance in it.
More from Wall St Cheat Sheet