Details About The MCU's Phase 5 Might Come Sooner Than You Think
Marvel Studios has turned into the gold-standard for Hollywood superhero films. This last decade, they turned Iron Man and Captain America into household names outside of the comic books they originated from. They released 23 movies and connected all these massive comic figures to create the MCU and lead to the explosive decade conclusion of Avengers: Endgame.
Going into Phase 4 of the MCU, there are a lot of things to be excited about. Black Widow, The Eternals, and Falcon and The Winter Soldier are set to debut in 2020, marking this new era post-Endgame. But none of these things have a lot of details attached to them, and with Black Widow coming out in June, it would make sense if some footage or content is released at CCXP in Brazil, coming up on Dec. 7. Marvel might even release some Phase 5 titles and info, too.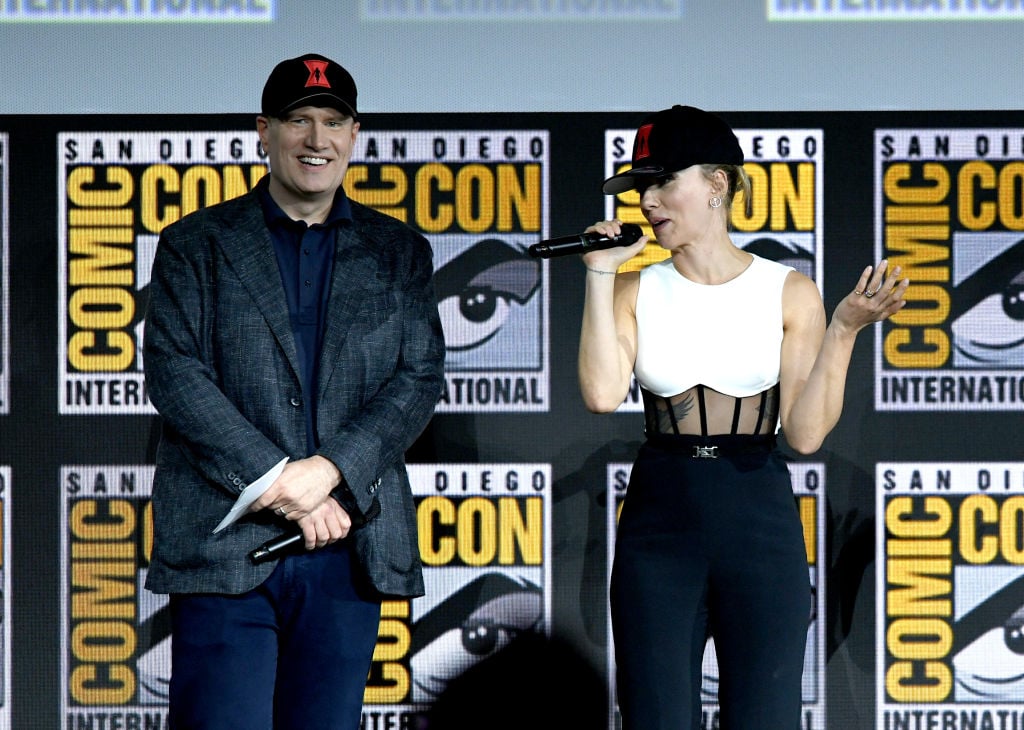 What we already know about the MCU's upcoming plans
Between San Diego Comic-Con (SDCC) in July and Disney's D23 Expo in August, Marvel has released a lot of titles and upcoming buzz surrounding the MCU. At SDCC, Feige dropped a ton of forthcoming titles, including Blade and the fact that Natalie Portman would be back in Thor: Love and Thunder as Mighty Thor.
A lot of Disney+ news came out during those two presentations as well, including The Falcon and The Winter Soldier, WandaVision, and Hawkeye, and plans to start development on She-Hulk, Ms. Marvel, and Moon Knight.
Feige will speak at CCXP and reveal more about the future of Marvel
According to ScreenRant, Marvel president Kevin Feige is coming to CCXP in Brazil on Dec. 7. The Brazilian outlet, Omelete, reported that Feige would touch on "news about the future of the studio, including films such as Black Widow and The Eternals."
Those are two of the films that Marvel has announced, but with Feige's hints about future X-Men and Fantastic Four movies, fans suspect that there's much more.
There are currently MCU release dates without titles attached
One of the driving factors fueling fans' suspicions about what Feige will reveal at CCXP involves the untitled Marvel films slated for 2023. A lot of people were sad to hear that Captain Marvel 2, Guardians of the Galaxy Vol. 3, and Ant-Man 3 don't have release dates yet, but this convention might provide some more answers.
As CNET reported, there are four Marvel movies set for a 2023 release date, but no titles are attached. All of the sequels mentioned above are highly anticipated, and it seems like Feige is itching to work on X-Men and Fantastic Four. Fans pointed out the Marvel panel at the Brazilian convention is twice as long as the ones in the past. And at those, Feige revealed all of those titles and projects already mentioned above. Reddit user u/Pomojema_SWNN wrote:
I'm wondering if they're going to be willing to delve into Phase 5, likely to satisfy some investors who want to know when the heck the next Guardians of the Galaxy or Captain Marvel movies are going to drop. 45 minutes is close to double the amount of presentation time that they used when they dropped the Phase 3 slate. The timing of the announcements of no less than five additional Marvel movies is also of interest to me.
Does this mean that Black Widow footage and Phase 5 info could be released? It's certainly possible, otherwise a panel length that long wouldn't be needed. Whatever Feige has up his sleeve, it's a lot of Marvel content to look for on Dec. 7.
Last year exclusive 'Captain Marvel' content was released
As a whole, CCXP is a convention to keep an eye on anyway. Marvel has released exclusive content there in the past, like last year. Captain Marvel footage, posters, and more were released in 2018 alongside Brie Larson making an appearance at the panel. On top of that, Spider-Man: Far From Home footage was shown, and so was a closer look at his new stealth suit.
You never know what to expect with these cons, sometimes. But whatever is released Saturday is undoubtedly going to interest MCU fans everywhere.