Did Aaron Carter and Melanie Martin Just Take Their Relationship to the Next Level?
It may be hard for some fans to keep up with the different events taking place in Aaron Carter's life, especially lately. He was dating someone new, that is until he picked things back up with his on-again off-again girlfriend, Melanie Martin. They just revealed some surprising information and fans have a lot of feelings about it.
Aaron Carter and Melanie Martin have had a rocky relationship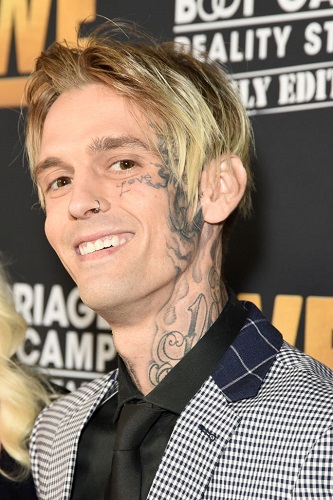 The couple has been together for some months and they've already had a lot of drama surrounding the relationship. At the end of March, Martin was arrested on a felony domestic violence charge. After that, the couple tried to repair things, but trouble soon returned to paradise.
The two were back together and Carter announced they were having a child together. According to E! News, Carter showed off a positive pregnancy test on Instagram Live. It seemed like the happy couple was going to make things work, but they broke up again.
Carter started dating Viktoria Alexeeva and each appeared on the other's social media, but that relationship didn't last for very long.
Aaron Carter recently announced that he and Melanie Martin are back together again
Carter recently announced that he's back with Martin once again. They sat next to each other in a video live streamed on YouTube and reposted on Carter's social media. They appeared very happy together and showed off a lot of PDA.
According to Entertainment Tonight, during a YouTube live video, Carter said that Martin had a miscarriage. "She suffered a miscarriage due to stress conditions," Carter revealed. "We're gonna give it some time, let her heal and then we're going to try again. We both want that. I gotta take care of her."
Did Aaron Carter and Melanie Martin just take their relationship to the next level?
RELATED: Aaron Carter Just Live Streamed With Melanie Martin — Are They Back Together, Again?
Aaron Carter just posted a very surprising picture to his Instagram. It shows a set of hands wearing an engagement ring. According to The Daily Mail, Melanie Martin and Carter have become engaged.
Carter captioned the image with: "Lövē wins ❤️😍💍 #iloveyou3000 #engaged #fiance #ourlovestory." Carter turned off comments to the image, and unfortunately fans can't comment their thoughts on the engagement directly on the post.
Fans react to the engagement news
Carter reshared the URL to the recent Instagram image with his Twitter followers who couldn't hold back their comments. People seem pretty divided on the subject. Some people are happy for the couple, while others don't think it will work out.
"Run Mel RUNNNNNNNN," a Twitter user commented.
"Melanie, run for the hills girl. It ain't gonna get better," another Twitter user said.
Some fans congratulated the couple on their engagement and hope the best for them both. "Congratulations Aaron and Melanie on your engagement, so happy for you both. I wish you guys nothing but love and happiness," said a fan.
One Twitter user thinks Carter's social media is quite entertaining. "Your Twitter beats any scripted soap opera on daytime television," a Twitter user wrote in the comments.
It looks like Aaron Carter and Melanie Martin are engaged. We'll keep you updated on all the latest having to do with their relationship.