Did Anthony Scaramucci's Wife Almost Become a Real Housewife (And What Is the Key To Getting On the Show)?
The Real Housewives are always cycling in new cast members. Kathy Hilton and Tori Spelling were rumored to be joining The Real Housewives of Beverly Hills, but neither seemed to agree to be on the show … or make the cut.
So what does it take to become a Bravo Real Housewife? One former cast member dished about the one surprising quality producers desire. Plus, which socialites or women in the media have vied for a coveted spot?
According to Page Six, several surprising women have tried out more than once to become a cast member. Many of the ladies are married to famous men, which they thought would have made them perfect for the role.
How many times did Deidre Scaramucci audition?
After her husband, Anthony Scaramucci left his post in the Trump administration, Deidre Scaramucci was approached by a Bravo producer from The Real Housewives of New York City, according to the New York Post.
"I think we've gotten a bad rep in the media and [that's] skewed people's views of us," she said, referring to her on-again, off-again, on-again marriage. "I thought, potentially I could show them what we are really like."
Scaramucci reports she underwent four Skype interviews with producers before they decided to pass on her for the show. "They decided not to offer me the job, but I wouldn't have taken the job anyway once I thought about it," she said. "I'd have no say over how it's edited or what gets put out there . . . I didn't want to double down on any negative press."
Many women see this as a badge of honor
Former Yankee player David Cone's wife Taja could totally see herself on the small Bravo screen. She too has gone through four interviews and hasn't been invited to join the cast. "My life is so perfect for TV that it's unbelievable to me that they don't see that. And that's the truth," she said.
"I don't think they get the Yankee logo — how important that is in New York. Are they serious?" Cone added. While she was gunning for a spot, a casting agent told The Post it is tough to find ladies with "integrity" to fill roles. "All the 'Housewives' are hard to cast," the casting agent said. "We are lucky if we interview six to 10 people a season. Nobody with integrity is going to go on a reality show like that where you are flaunting your lifestyle and flashing cash."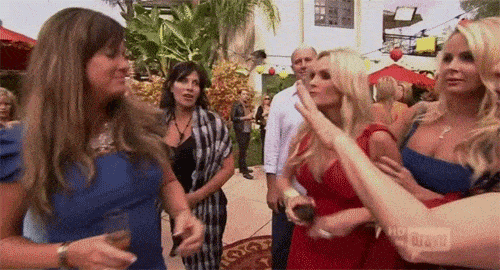 A publicist said some of the women don't understand that people don't watch the shows to be impressed. "They think their lives will be transformed. They think there will be an element of happiness that will result in being ­famous," the publicist said. Adding, "They don't understand that most people watch the show because they are watching train wrecks."
What does it really take to get on the show?
Producers and casting agents usually interview potential cast members by phone or Skype before an in-person meeting. Some franchises also look for specifics too. "In Beverly Hills, you cast the house first, then you cast the Housewife," as casting agent said. "[Producers] are looking for the big, pretty houses/ You can't cast a girl who looks amazing and lives in a one-bedroom apartment."
Bravo refuted this statement. Viewers may remember that at least for RHONY, living in a one-bedroom apartment is fine. Hello, first season Bethenny Frankel. A former Real Housewife, who asked her identity to remain concealed, said producers look for women who have famous connections or who used to be famous but aren't any longer.
But Heather Thomson formerly from RHONY said being funny is the top quality to get on the show. "That's the only thing they care about right now. They don't care if [a potential Housewife] is skinny, fat, young or old — she just has to be funny," she said. "[Producers] need someone who is quick-witted and the queen of the one-liner. If you're going to keep up with Bethenny [Frankel] and Dorinda [Medley], you need to be a quick thinker."