Did Ariana Grande Leave Pete Davidson, or was the Breakup Mutual?
You remember seeing their whirlwind romance play out all over the internet — and before anyone could see another matching tattoo on their fingers, Pete Davidson and Ariana Grande were engaged. They weren't even dating a year before they decided to take things to the next level. But somehow, they knew their romance was something special — and by June, they were willing to commit to each other for a lifetime.
Now, Ariana and Pete have gone their separate ways. Here's what likely prompted the breakup, as well as if it was really mutual.
The relationship seemed serious from day one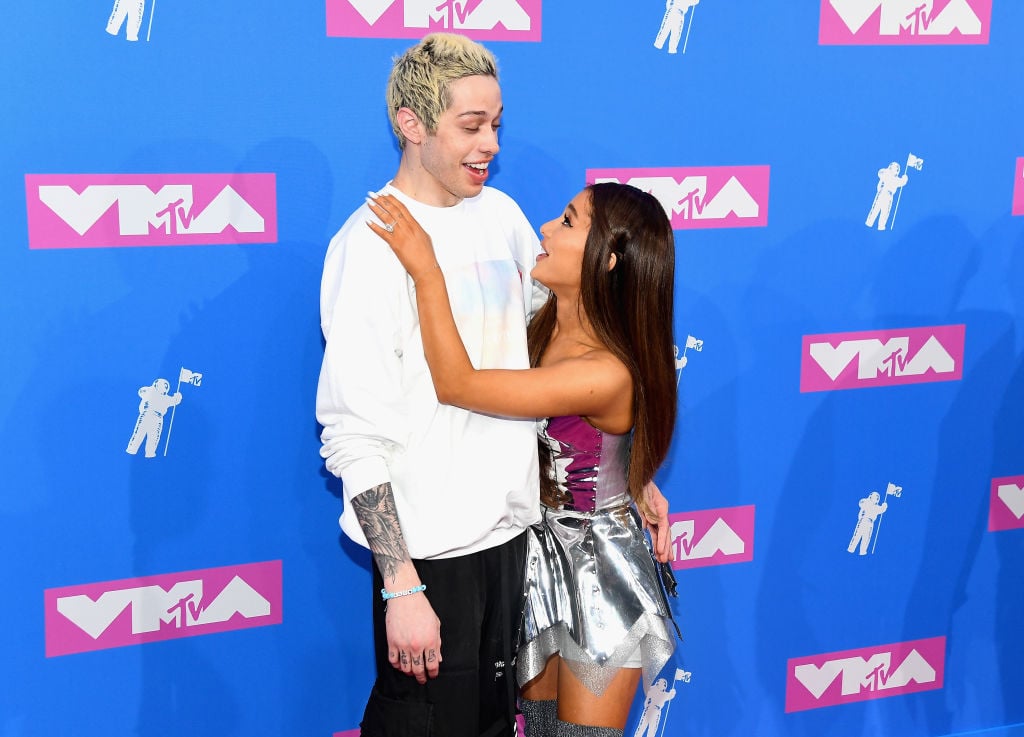 When Ariana and Pete first met on the set of Saturday Night Live, they both allegedly joked that they'd love to marry each other one day. And once they started casually dating in May 2018, they seemed to be quite smitten with each other every moment they were together. By June, Pete had popped the question, People reminds us — and Ariana was rocking a huge engagement ring on her finger.
From the outside, things looked perfect. They got multiple matching tattoos, an apartment, and a pet together — and Pete repeatedly mentioned on live TV how elated he was to be with Ariana. Ariana also mentioned that she thought Pete was her soulmate. And though close friends reportedly seemed worried about the breakneck speed of the relationship, neither party here seemed concerned. If anything, they appeared happy they finally found each other.
Ariana was reportedly reevaluating her life after the death of ex Mac Miller
2018 was full of ups and downs for Ariana. While her new album, "Sweetener" was a huge success (and also boasted a song title that was the name of her then-fiancé), she was still dealing with PTSD from her Manchester concert attack. Things took an even bigger dive when her ex-boyfriend, Mac Miller, died of a drug overdose in September, People reports. The two dated for two years and ended their relationship May 2018 — the same month she started dating Pete.
"It was devastating and shocking to her. It's had a huge, negative impact on her life," a source close to Ariana told People. "It made her rethink many things in her life." One of those things, evidently, was her upcoming marriage. "She realized that planning a wedding right now felt very rushed. It's not what she wants to do right now," the source added.
As one source close to Pete Davidson said, "They're dealing with things that people wouldn't have to deal with in a lifetime — an ex-boyfriend reportedly overdosing and having all of this fame and attention. These followers and living their lives on social media … it's a different world."
Was the breakup mutual? Perhaps not
Before the news of a breakup hit, fans could tell there was trouble in paradise. Ariana posted multiple helpless-sounding tweets, and Pete covered up his neck tattoo of his fiancé with new ink. More recently, Ariana has reportedly given the engagement ring back, too, says Elle.
So, was the breakup mutual? According to sources close to both of them, Ariana and Pete agreed that right now wasn't the best time to move forward with their engagement or a romantic relationship, TMZ reports. The publication was also told that while there's still love between them, things are completely over for now — but perhaps there will be a rekindling in the future.
A contrasting report from The Sun claims the split may not have been totally mutual after all, though. According to their sources, Ariana split from Pete due to his lack of support after the death of Mac Miller. As one source says, "Ariana has been devastated and Pete couldn't handle it. She realised she needs a grown-up who can support her and that's not him."
Check out The Cheat Sheet on Facebook!