Did Ariel Winter Get Plastic Surgery? This Is What She Had to Say
Ariel Winter is often getting grief for her Instagram posts. In the past, it has been more about what she wore but this time around she is making headlines because fans thought she looked very different in a recent photo. So different that they were wondering did she get plastic surgery? This is what she had to say about that question and more.
Fans wondered if Ariel Winter got plastic surgery due to her new look in a photo
https://www.instagram.com/p/BtIVJkAgdJS/
The Modern Family actress is often defending herself on social media. This time around she did after she posted a series of pictures from her friend's birthday celebration. She looked slimmer and her face looks a little different, which led to many comments on the picture wondering if she got plastic surgery.
Winter responded saying she didn't get plastic surgery
One fan wrote according to People, "Nothing wrong with being honest and telling her we liked her better before 'the change' she was so beautiful before she started chopping up her body and if me saying so helps one gurl out here to feel beautiful who's thinking of PS its worth it."
The actress replied to the comment with "I appreciate you wanting to help girls love themselves the way they are, but you are also kind of cutting someone (me) down which isn't what I think you were trying to do?"
She added, "I also didn't get plastic surgery. That is also not supportive of women if you're just assuming about the way they look."
Someone else commented on the post accusing the TV actress of using drugs. "Not half as bad as all the coke/meth she uses. She literally dropped 30 pounds," the person wrote.
Winter responded to this accusation with sarcasm. She wrote, "My psychiatrist switched me from my previous anti depressant that didn't work and made me gain weight to coke/meth!! Definitely not a new one that worked and then regulated metabolism. Coke/meth was a controversial decision but she stands by it."
The actress has been open about getting surgery in the past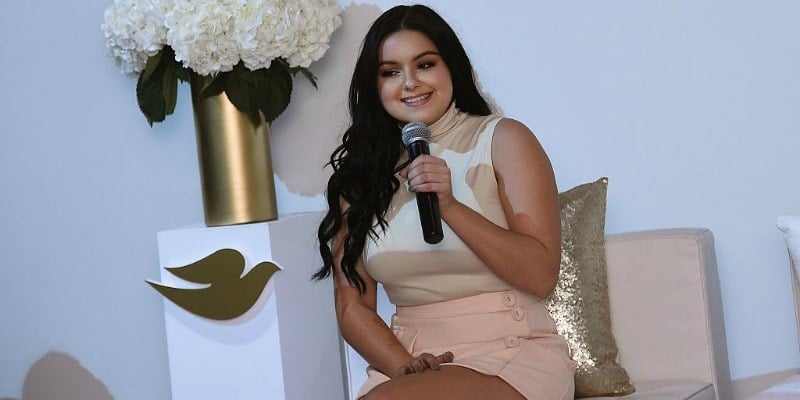 The young actress has been open about when she did get surgery in the past. She revealed at 17 years old that she got a breast reduction. "It started to hurt so bad that I couldn't take the pain," she told Glamour. The women in her family have had similar issues and got breast reductions so Winter did the same.
"A few of my cousins have had breast reductions, so it wasn't a shock when I decided to get one," she said. "I got it for myself. I can't even really put it into words about how amazing it feels to really feel right." Winter went from 32F to a 34D and she was happy with the results. "It's amazing to finally feel right," she said.
So Ariel Winter said she hasn't gotten any plastic surgery, but slimmed down for what seems to be switching to a new antidepressant.
Read more: This Is Why Ariel Winter Is Taking a Break from College
Check out The Cheat Sheet on Facebook!