Did Bobby Flay Leave 'Iron Chef' or Was He Fired After This Controversial Stunt?
In 2018, Bobby Flay surprised fans around the world with the announcement that he is quitting Iron Chef. After appearing on the Food Network show for close to two decades, Fly did not say why he left the cooking competition. There are rumors, however, that Flay did not resign and that the Food Network actually fired him over a controversial stunt. Here's a look at the real reason why Flay left Iron Chef.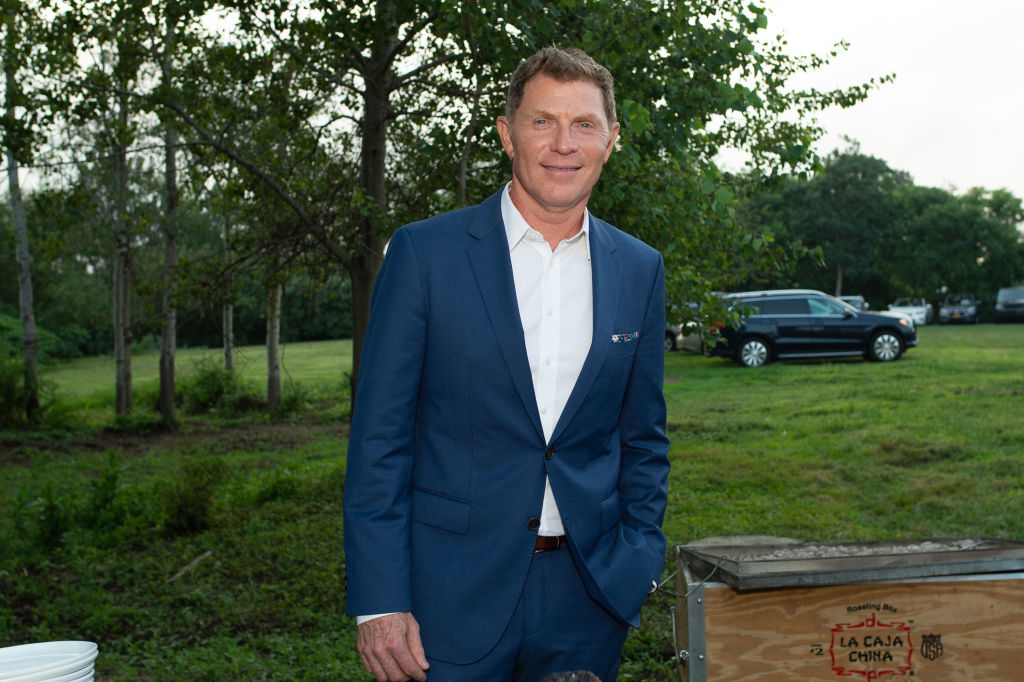 Inside Flay's scandalous stunt
As fans are probably aware, the contestants on Iron Chef cook their hearts out in front of a live crowd. Producers edit the episodes ahead of time, but none of the scenes can be redone.
This is why Bobby Flay's stunt in 2017 was so controversial. During an Iron Chef showdown, Flay rocked a t-shirt that said, "THIS IS MY LAST IRON CHEF BATTLE EVER."
According to Mashed, producers had no idea Flay was going to pull the stunt and when they had a chance to say something, they told him that editing around the shirt was not going to happen.
Flay reportedly told them, "I know. That's the point."
While Iron Chef producers were not happy with Flay, the situation turned from bad to worse after fans got wind of what happened prior to the season's premiere.
At the time, the Food Network refused to acknowledge that Bobby Flay was quitting the show, yet inside sources claimed that the celebrity chef wore the shirt without getting approval from the network.
Flay later assured fans that the shirt was nothing more than a stunt. In fact, he admitted that it was not the brightest decision on his part because it made people think that he was actually quitting.
"Food Network has been part of my family for over 20 years and will absolutely continue to be, and though there is a talented bench of Iron Chefs to tap, if I were asked, I'd be excited to return to Kitchen Stadium, whenever my schedule allows," Flay shared.
Why did Bobby Flay quit Iron Chef?
Despite the statement, we now know that Flay departed Iron Chef and has no plans to return to the show.
In his official exit statement – which he gave four months after assuring fans that he was staying – Flay revealed that taking part in over 100 Iron Chef battles has been a huge drain.
Flay explained how the competition is physically and emotionally exhausting and has been eating too much of his time. At the end of the day, Bobby Flay realized that he wanted out and that leaving on a high note was ideal.
He explained how wearing the t-shirt was his way of telling fans that he was leaving, though he confessed that it probably wasn't his best idea.
While it certainly sounds like Flay was the one who quit the series, his stunt no doubt angered Food Network executives. Not only did his exit blindside the network, but they also had to black-out his t-shirt in the editing room – a process that wasn't cheap.
Bobby Flay even admitted that he angered the network and that they did not think the stunt was good for the show.
But as far as the firing rumors are concerned, it doesn't sound like the network forced Flay out. Instead, producers may have tried to keep Flay on board, which is why he originally backtracked. Unfortunately, we may never learn the truth of what really happened.
What will Flay do next?
Now that his schedule is free, Flay has turned his attention to his various restaurant ventures.
The former Iron Chef star has dozens of eateries around the country, which he previously managed while working in television. His schedule was so hectic, there were days when he would visit 10 different locations in the same day.
Now that he no longer has to film Iron Chef, Bobby Flay is free to devote his time and energy to his restaurants.
Flay still has Beat Bobby Flay on Food Network and can also be seen doing cooking demos on Food Network's updated app.
When he is not managing his favorite places to eat, Flay is busy working on his love life. The chef has watched three different marriages fall apart and is currently dating Helene York.
Flay's packed schedule was to blame for some of his failed marriages, so it's good that he has some free time to devote to York.
While Bobby Flay is no doubt enjoying his free time, we have a feeling it won't be long until he's back in front of a camera.