Did Craig Conover from 'Southern Charm' Just Use a Hunting Knife To Make a Pocket Square?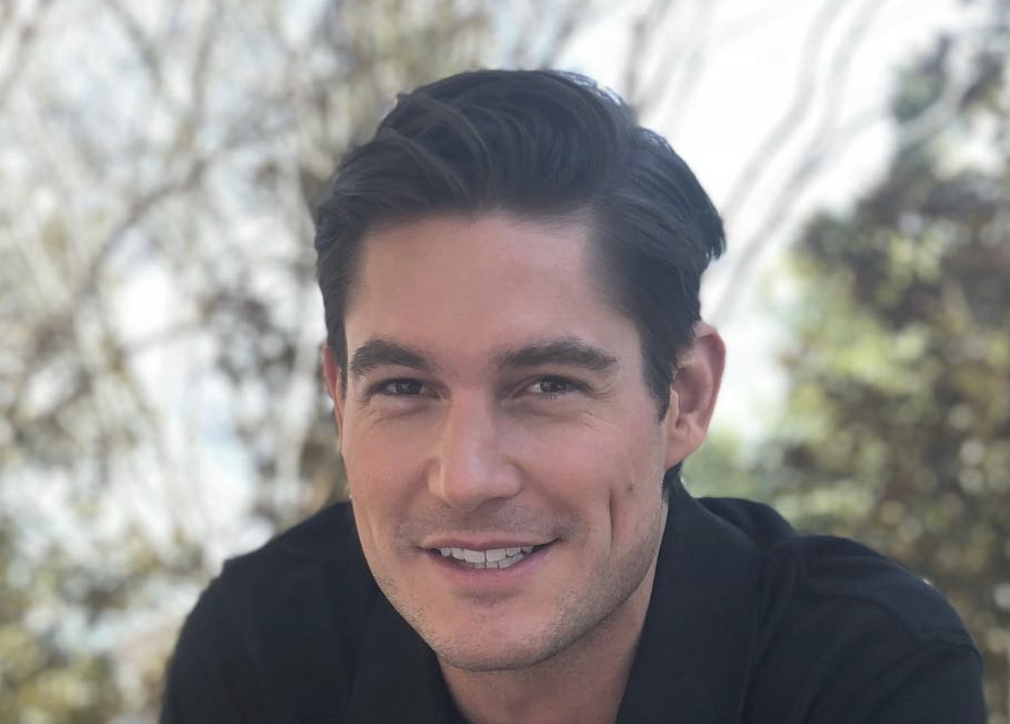 Craig Conover from Southern Charm is known for his unique sense of style. Plus the attorney turned tailor also has mad sewing skills too.
But when cast member Kathryn Dennis spotted Conover amid a fashion emergency, she hilariously recorded and posted it to her Instagram story. Conover was (gasp) without a pocket square, which would have made his look complete for the night.
Instead of just going without, the quick thinking Renaissance man used whatever he had on hand to finish his outfit. So how do you create a pocket square with a button down shirt, a pocket knife and a lighter? Conover shows us how.
He starts hacking away at a shirt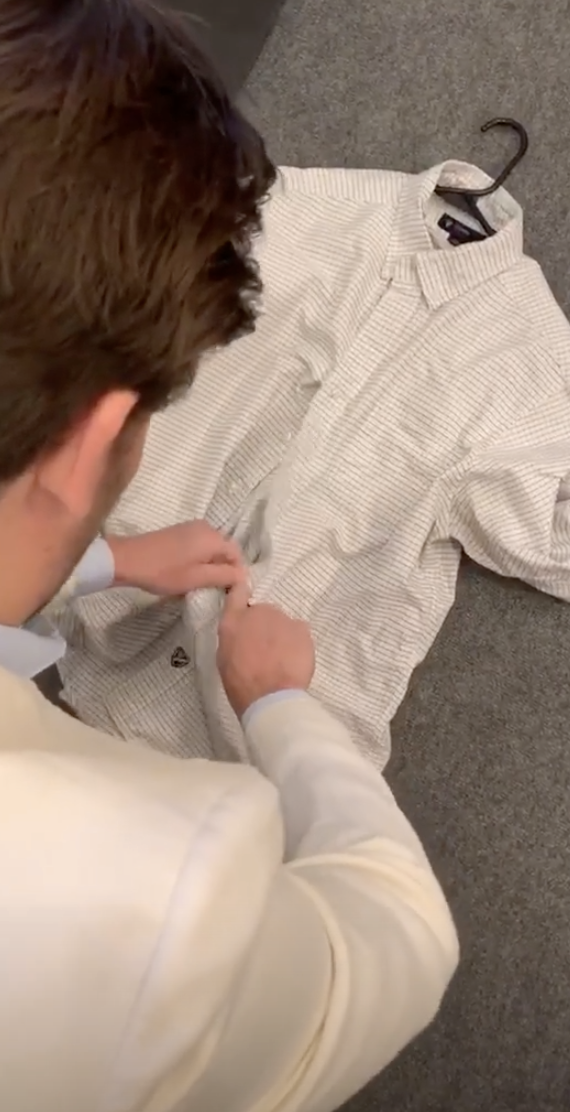 Dennis spies Conover on his knees with a (pretty nice) shirt in front of him. The shirt is still on the hanger and is laying flat on the floor. She sees him mercilessly hacking away at the poor shirt and coyly asks him what he is doing. He is also seen jamming something into the shirt's buttonhole. "Whatcha doing," Dennis inquires. "I'm making an impromptu pocket square," Conover says while diligently working. "The dry cleaner lost mine."
Dennis says, "Oh my God this is amazing. Very savvy." Meanwhile it is finally revealed that Conover is using a large hunting knife as his cutting tool. He slashes along the bottom portion of the shirt.
But then Conover aggressively starts hacking away at the shirt in a direction toward himself. "This is how you do it," Dennis says, likely knowing full well the sewing lesson could end with her taking Conover to the hospital.
Conover finishes cutting the fabric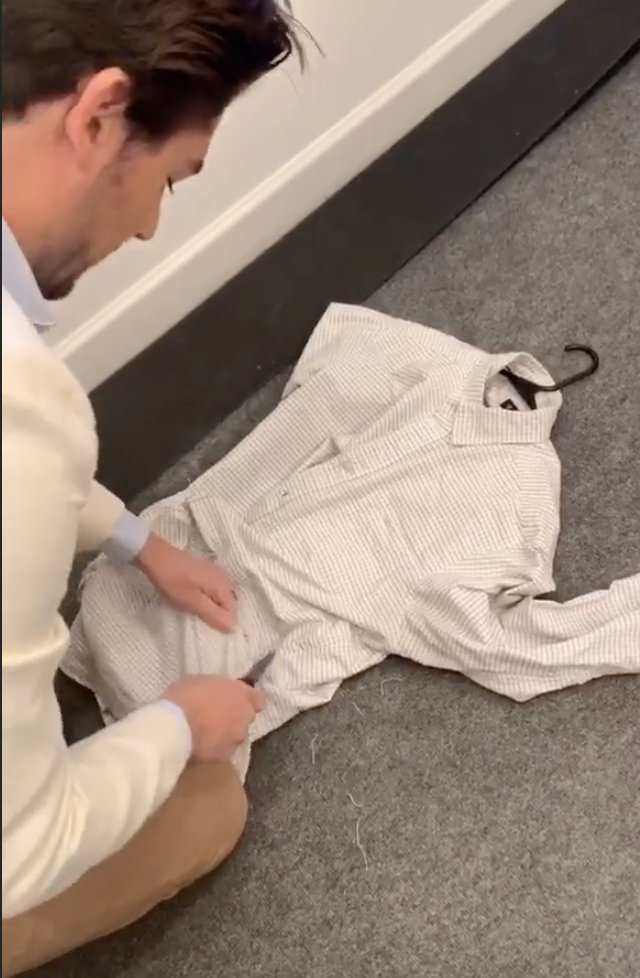 Thankfully Conover manages to avoid hacking into his thigh (or worse). He frees what appears to be a very rough rectangle of fabric from the shirt. Meanwhile, Dennis continues to look on and comment. She seems to share Conover's vision and reiterates that this is how you do it.
Conover lays the roughly cut fabric on the floor to examine the shape and then leaps to his feet. Conover is a man with a mission.
He lights the fabric on fire (what)?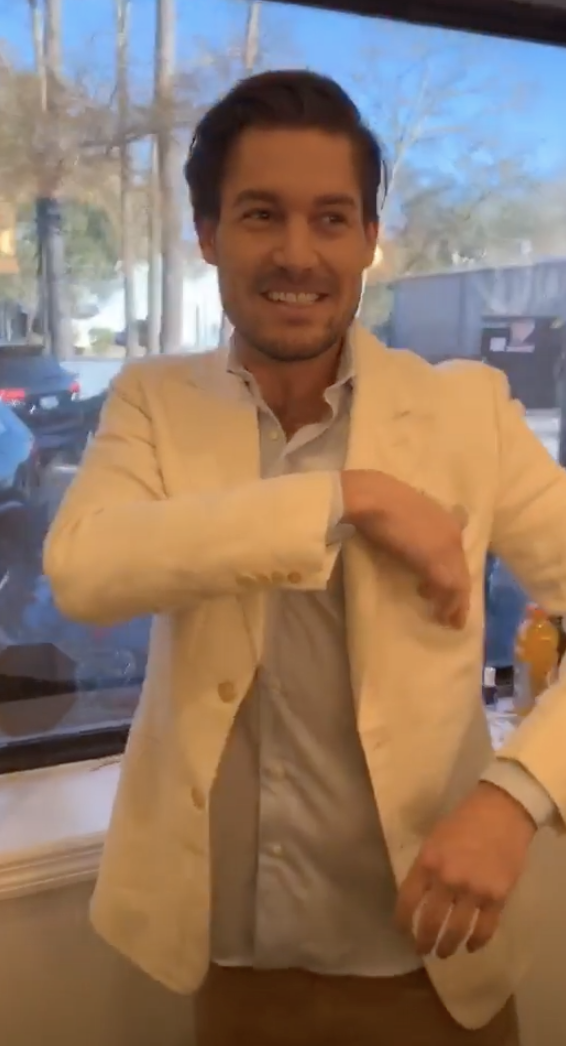 Now standing, Conover holds the piece of fabric and whips out his lighter. He lights one side on fire and as the flames build he quickly blows it out. "Why are you lighting it on fire," another person in the room remarks.
"Wow its pretty clean on the end there," Dennis observes. Conover grins and holds the jagged, burnt piece of fabric up to the camera. "There you go, I love it," Dennis adds. The other friend says, "That's what you call rustic."
As Conover turns the fabric around and makes a few quips, he folds the fabric. The next frame is the pocket square in place, looking quite professional. "Wow, that looks legit, Craig," Dennis exclaims. "Look at you!"
Check out The Cheat Sheet on Facebook!